All educators approach online education with varying degrees of enthusiasm and concern. I think I hold an optimistic perspective about online learning. Delivering courses online could offer more learning opportunities for students. For teachers, parents, and students, it is important to consider both the pros and cons of online learning so teachers and parents can help their children better prepare to face the challenge of studying online as well as embrace the new opportunities that it has to offer (University of Illinois, 2021).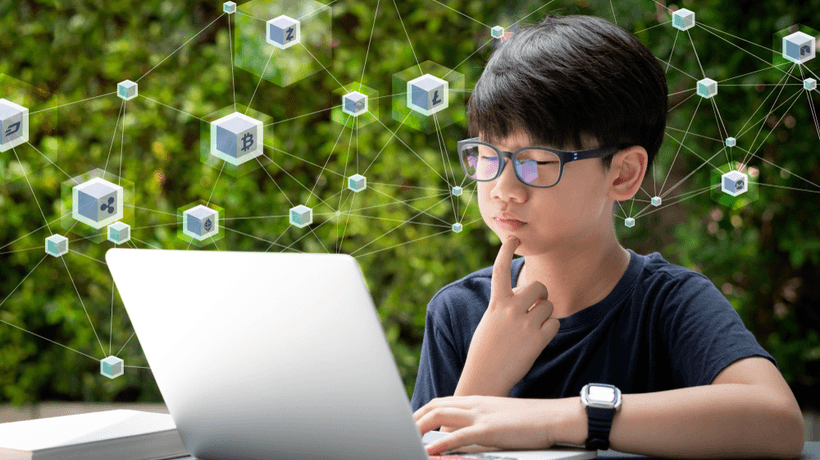 Strengths of Online Learning
Anywhere & Anytime
There are many reasons why online learning become popular among teachers, parents and students. As the disagreed side mentioned, online learning is flexible compared with in-person learning. It allows students to participate in high-quality learning when a location becomes an issue. For example, my niece in China can learn English online with a foreign teacher who might be in the USA, Canada or Australia. Online learning allows her to practice oral English with foreign teachers through an online platform. This has created a positive English learning environment for her. Nowadays, many American English teachers are remotely teaching English to Chinese students. Here is an example:
Every morning at 5 a.m., Autmn Fletcher walks into her home office in Monmouth, Illinois, and switches on her laptop, just in time to teach English to Chinese children arriving home after school in Beijing.
Tens of thousands of Americans are teaching English remotely, connecting to a massive Chinese population eager to learn the language, and aided by advances in global communication technology (Zhang, 2019). Technology has made remote teaching English and learning English easier, and helped students improve academic performance in English.
Students can participate in classes from anywhere in the world, provided they have a computer and Internet connection. In addition, the online format allows physically challenged students (and teachers) more freedom to participate in class. Participants access the virtual classroom through their computers instead of having to "go to class" physically (University of Illinois, 2021). Online learning makes education accessible.
Student-Centered Learning (SCL)
In traditional in-person schools, students respond to learning content differently. Online learning can be a more student-centred learning experience for students. For example, online learning classes can be a one-on-one model. Teachers can provide learning materials based on the students' understanding level and abilities. Students can choose what they are interested in and want to learn, and have more control over their studies. Online learning is usually very interactive. The use of interactive learning environments as contributing to self-direction and critical thinking. Many traditional classes are still based on lectures and memorization of materials. Self-directed and student-centred online learning provides innovative and creative approaches and creates a dynamic learning environment.
Supplement to In-person Learning
The disagreed side also mentioned that online learning can act as a supplement for traditional in-person learning, and online learning cannot replace in-person learning. I agree with that. Due to the COVID-19 pandemic, online learning has been adopted in all stages of education. This sudden change from traditional learning to 100% online learning may affect students' learning effectiveness (Hong et al., 2021). Teachers and students mush adapt quickly to a new learning model which differs from face-to-face learning. However, the vast majority of online courses lack hands-on activities requiring experimental operations. When online learning becomes the only method for teaching, such as during the pandemic, it has caused ineffective learning for students, but if online learning act as a supplement for in-person learning. Students would have more opportunities to study something that may not be covered in the in-person classroom, and learn more about what they want to learn. 
Weaknesses of Online Learning
Limitations of Technology
The agreed side argued that not every student and every family has access to high-speed Internet and digital devices. Technology also has its limitation. When everything is running smoothly, technology is intended to be low profile and is used as a tool in the learning process. However, breakdowns can occur at any point along with the system. For example, the server which hosts the program could crash and cut all participants off from the class; a participant may access the class through a networked computer which could go down; individual PCs can have numerous problems which could limit students' access; finally, the Internet connection could fail, or the institution hosting the connection could become bogged down with users and either slow down or fail altogether. In situations like these, the technology is neither seamless nor reliable, and it can detract from the learning experience (University of Illinois, 2021).
Quality of Education
A successful in-person course does not mean it can be successfully transformed into an online course. Some teachers do not acquire essential online teaching abilities. For example, they are not properly trained in designing online class curricula, delivering online classes, interacting with students online, and using online platforms and tools. Thus, the success of the online classes would be compromised, and the quality of online classes would be reduced. Teachers who are teaching classes online need to have enough knowledge and skills to facilitate online classes. Teachers need to know how to create a supportive environment in a virtual classroom where all students feel comfortable participating. If not, an online class would be weakened.
Responsibilities for Students
Not every student is suitable for online learning. As previously mentioned, online learning allows students have more control over their own studies. Thus, students need to become more mature and self-disciplined. They need to have more responsibilities to manage their learning experience. The features of flexibility and accessibility for online learning require more management for students over their schedules and calendar. Online learning may not be appropriate for more dependent learners. For these reasons, online education is not appropriate for younger students, such as elementary or secondary school age, and other students who are dependent learners and have difficulty assuming responsibilities required by the online paradigm (University of Illinois, 2021).
I am just listing a few of the strengths and weaknesses of online learning, and I am having an optimistic perspective on it. Although there are many weaknesses to online learning, I think with a balanced practice from teachers and parents, students would benefit more from both in-person learning and online studying.
Thank you for reading my blogs throughout the EC&I 830!