Digital citizenship is a concept that applies to everyone, regardless if you are in the field of education as a teacher or student, or in another branch of life. With reliance on the internet and social media becoming more common, it is critical to exhibit control and awareness. In recent years and towards the end of my High School experience I was having more discussions from the student perspective towards how I can personally ensure the safety of my digital citizenship. At the time I was not connected to certain social media platforms such as Facebook and Instagram.  I primarily focused on cyber safety. After a series of events and now in the position of a future educator, I have had the opportunity to realize how large of a topic this is and the impacts it can have on certain students and younger adults, for example, Amanda Todd. Looking at the Saskatchewan Curriculum I noted that there are elements of online learning present, for example in the Curricula and resources section involves online magazines and the Rover section as well as the administrative support section. This shows that education is able to adapt and incorporate online tools quickly and smoothly.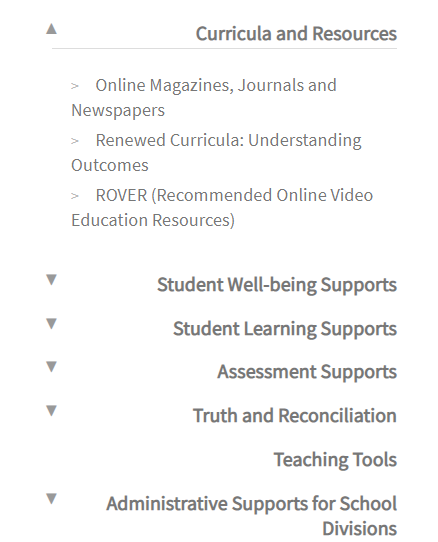 The relationship between digital citizenship and the SK curriculum could involve incorporating the 9 core elements into each branch of the curriculum. This may not be easy at first, as we have had the chance to see in class each section brings questions for discussion. The core elements of digital citizenship all tie into different behaviours that students need to follow for both in person and online learning and both branches are directly connected to students' life. By discussing different elements of digital citizenship in classes allows students to understand safety in the context of individual classes. This way a larger topic such as this one can be broken into smaller segments to help students understand all the information without facing pressure or concern. The relationship allows digital citizenship to enhance the material in the curriculum.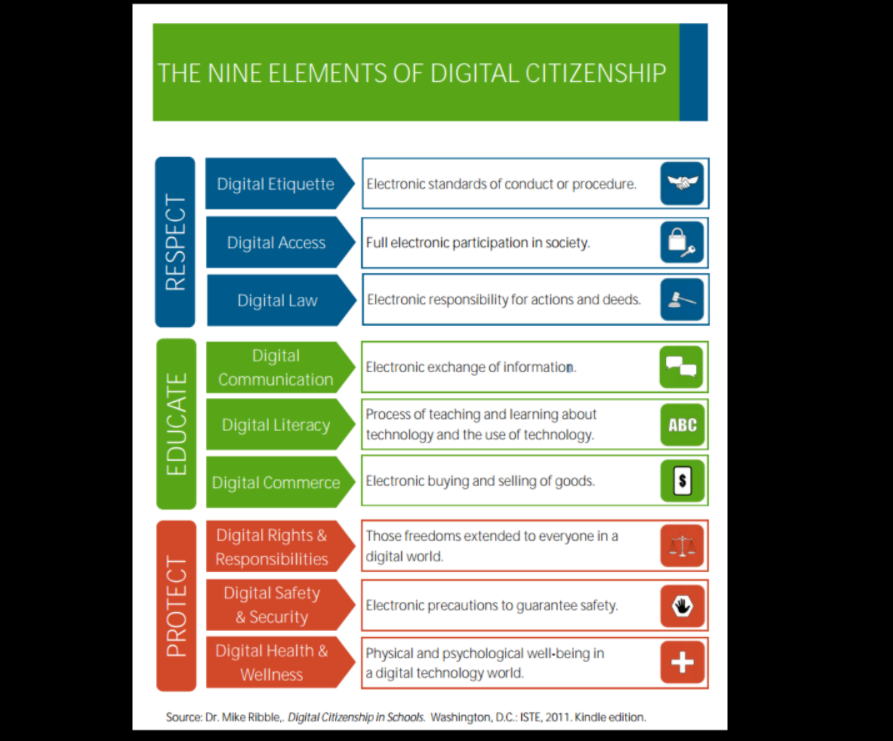 Being in the secondary education program and working with High School students is a critical time in adolescence as the majority of students will have phones or mobile devices and a presence on social media. I see myself integrating different aspects of digital citizenship into many different classes through different possible options. In the field of languages for grades 9 through 12 elements that fall under the respect category, including digital etiquette, digital access, and digital law can be integrated and emphasized by ensuring that students who may not have English as a primary language are able to communicate online in the language they feel comfortable. The second large section of digital citizenship, known as educate, looks at digital communication, digital literacy, and digital commerce. All of these elements are unique and incredibly important for students which is why they can be applied to any class and involve discussing a wide variety of sources. For example, educating students on sharing information they found on Feedly, in the fields of social studies or science then applying the information to peers through digital literacy or being aware from an educator perspective that digital commerce will attempt to influence purchasable items for you and your students, a prime example of this would be eBooks in ELA based classes.
The protect branch of digital citizenship looks into projecting students rights and in this time should be dedicated in different lessons to teach students that impacting or insulting others online is a form of bullying and can have a large scale of the person being affected, a key component of a classroom relationship is respecting and caring for our peers. As well as confirm that there plans in place if a certain online communication situation does come to pass. The next element that could be applied to a series of different courses outlined in the curriculum would be digital wellness and being in the position of an educator to ensure that students are able to learn away from screens and the online environment. Before the start of the Pandemic, many students were able to experience social interaction and attend recess, although now this is different and students are facing fatigue from spending all this time online. Discussing with peers on Twitter, I have come across different resources that serve as brain breaks that do not need to be digitally connected. Throughout different courses in the curriculum, we need to incorporate the awareness of different hackers and the concerns that arise with social media control. As we have had the chance to see in class, different institutions of size and scale have been impacted and this reaffirms that anyone could face this concern. Technology is a wonderful tool that inspires many different students and allows them to learn more about their interests in a way that is accessible for them but faces challenges that are changing each day and because of this, the SK curriculum needs to continue to stay adaptable for future learners and educators, and they should start incorporating this on day one.