For my fifth learning project post, I will be moving forward in my final goal with all the preparation done, it is time for me to start cooking. With everything laid out and ready to go it should take me about 1 hour including my clean-up.
In my last learning project post, I highlighted that my potatoes are pre-cooked and mashed with a bit of butter, milk, and salt, and pepper. I took them out of the fridge to get to room temperature earlier. This makes them easier to work with this way.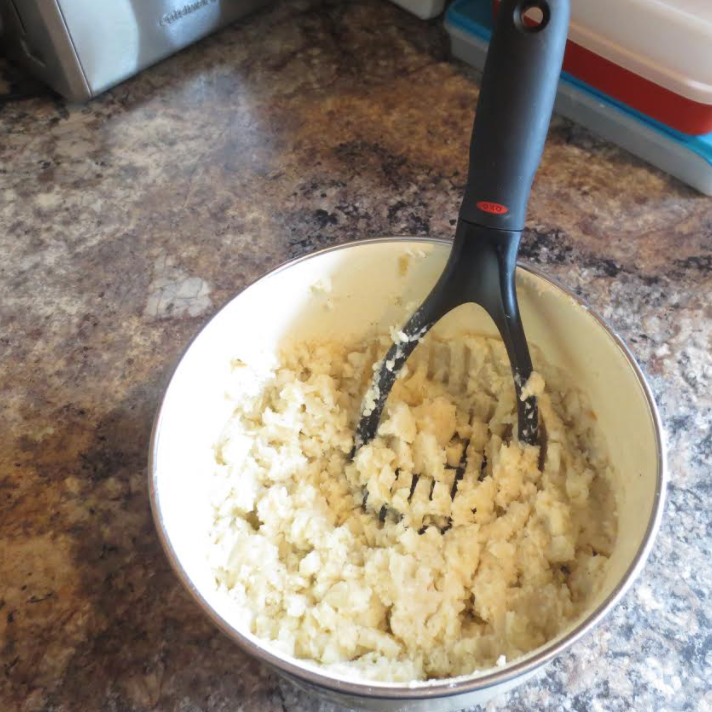 I cooked the veggies in a large frying pan on low heat.  I wanted them to sauté to release the juices and flavours.  I do not want them to brown so I stir continually.  When this is done I set them aside to cool.  Using fresh vegetables I have beautifully bright colours in the pan.  It's so good, you forget it is vegetables.
I put both types of meat into a large frying pan on low heat to cook through.  I did not drain off the fat or the broth from cooking.  I want that to be part of the gravy.  A little fat is needed anyway for both moisture and for flavour. Once the meat is cooked – no more pink bits, I can add the seasoning.  I do not want to be tasting for flavour if the meat is not done, I need to be safe. I added all of the seasonings and I like the flavour.  Different from how my Mom makes it, but that is OK.  I am in charge of the kitchen today as seen in my first Youtube video.
As the meat and veggies cool and the potatoes warm up, I get on with marking the containers for freezing.  I need to make the contents – Shepherd's Pie, the date prepared – 05 June 2021 and the cooking instructions – 350 degrees for 1 hour from frozen or 30 minutes if thawed. It is easier to mark the lids before they go on the pies.
It is ready to assemble at last, as seen in my second Youtube video.  Do not overfill the container; remember the gravy will boil up as it cooks.  Leave room in the container for this or else you will be cleaning the oven after you cook it.
I put a layer of meat – 1/3 of the container deep.  This is followed by a layer of veggies – 1/3 of the container deep.  Then I added the potatoes.  Not quite 1/3 as I need room for the gravy and the cheese on the top.  This of course can be changed up if you like potatoes more than veggies or meat.  That is the great thing about this dish – you can make it yours so easily. Just make sure that you stick to the basics so that you get a shepherd's pie.  Going too far off the recipe can mean disaster.
A theme we have discussed in class that I found very interesting is how people rely on all different forms of media to learn new information. This could be through social media and discussing with others through internet communication, although before the period of social media, television influenced many different people. Looking at the popular sitcom " Friends" we see there debates and scenes in which different culinary items are discussed, an example of this is would be the shepherd's pie parody discussed in the Thanksgiving episode. This article can now be found on the internet and highlights the shift in focus from the mainstream to the internet. Although there is a typical way of making Shepards Pie composing the use of veggies, meat, and potatoes and based on British history. My personal version that I have decided on making is based upon a family recipe and thus follows a more traditional route with the ingredients. The shredded cheese is sprinkled over the top.  I used orange and white cheese this time because that is what we had on hand.  The type and the amount of cheese of course can be changed up as well.
Finally, Pop the lids on the finished product and seal tightly.  Get it into the freezer as soon as possible. Of course, I kept one for supper tonight.  I will just have to warm it up while I tackle the dishes and clean up.  Need to get the kitchen back to the state it was when I started.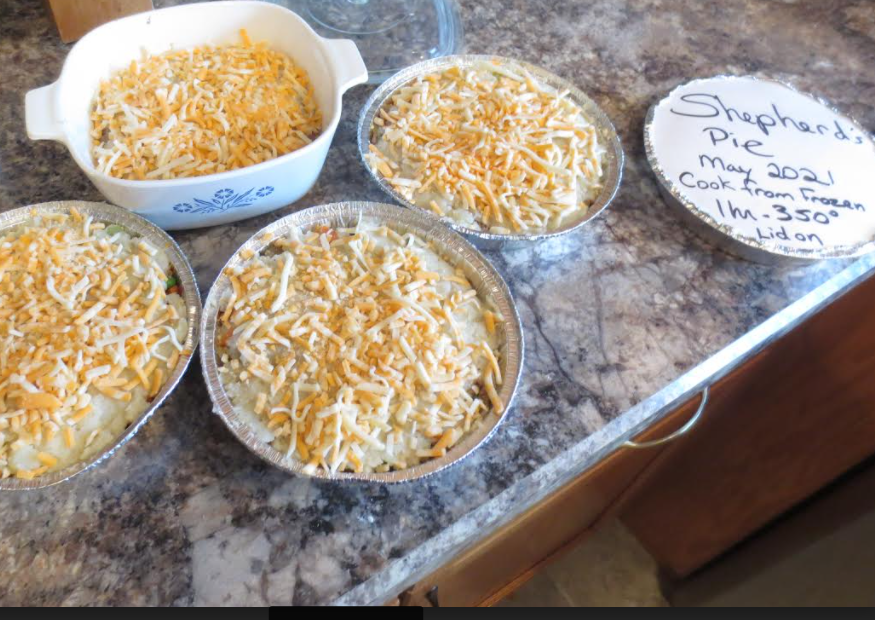 With the meal underway, my next task is to ensure that the cleaning process is applied and done efficiently. In this context, I included using the dishwasher and the freezer. The dish can be initially cleaned and washed by hand and then following this, you would be able to load the items in the dishwasher. Keeping in mind that many handfuls of online resources have videos of posts containing information in different fields, including dishwashing, I decided to see what I could find on Youtube. I was able to find a helpful video that provided some key points for me to keep in mind. Although, the most part of this for me was the fact the video had been viewed millions of times. After having the chance to read fellow classmates' blog posts and spend time with the platform, I thought Tik-Tok would have some useful tips or tricks for me to keep in mind during the clean-up process. After looking into the different hashtags features, I was able to find different short pieces of information to keep in mind. By investing the time into online resources to look for a particular set of information, you most likely would be able to find something that can be of assistance. The field of cooking is prominent throughout the world, and each day more and more online resources are being shared on different platforms to make the task easier.