Coding 101
Posted On April 15, 2021
In my last EDTC 300 class, we discussed coding for students. I was very nervous about this as I have little knowledge about what code is and how to even start doing it. We were asked to complete some coding and reflect on it. I can happily say that I completed one hour of code!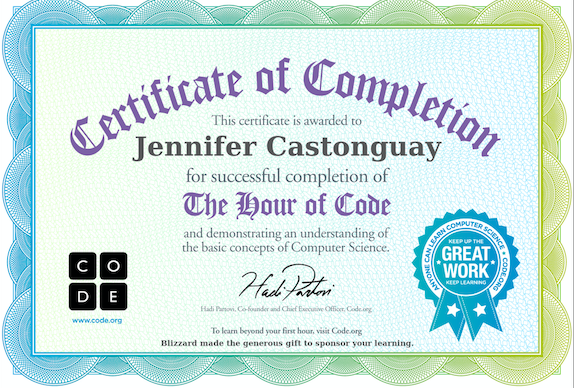 Dance Party Coding
For my hour of code assignment, I chose to complete an dance party activity. I found the activites easy and straight forward. There were many options that were very funny to play around with. Students would love to see all of the different types of dancers and how they can get them to move. However, I did run into technological issues mutliple times. Either the dance music did not work, or the coding program itself. If a student was to use this, they may need help if any issues like this due arise. I ended up with this complete dance party including aliens and robots.
Overall View on Coding
I will admit that coding is not really something that I enjoy doing or working on. However, I do see the importance in our modern technologically advanced society. Throughout the Dance Party coding, there were videos that explained and shown the uses that coding can have, as well as individuals who use coding on a daily. This is great for students to experience, as it makes coding an activity that everyone can do!
In the classroom, I can see many beneficial factors that coding can have. Chontelle Bonfiglio explores 8 reasons why every child should learn to code. One reason is that coding supports student's problem-solving skills. Students need to make critical and logical decisions in the coding process Another reason that Bonfiglio states are that coding allows for students to be creative. All of the coding websites and apps that we explored in EDTC 300 demonstrated the fun activities that heavily rely on student's creativity. Even the Dance Party activity that I completed had awesome options that would engage students and each student will create something different. I hope that I will be able to implement coding in my future classroom.