Learning to Dress up my Cakes ?
Posted On May 17, 2022
Throughout my life I have always been pretty great at baking, whether it was cupcakes, cookies, or muffins, I always made some delicious tasting treats. The thing that I don't have a skill for is being able to dress up my baking with icing. My whole learning project is learning how to decorate cakes, so this week I started with the video from Cakes by MK that I shared in my blog last week. I watched her video about 15 times practicing different wrist motions and taking in what she had to say. Her video was absolutely an amazing source for a beginner to start learning. She explained things very clearly while showing the technique multiple times. I found how clear, direct, and the visuals really helped me understand what I needed to be doing while trying out the techniques. It truly was directed at beginners because she started with which piping tip she was using, how to put the icing in the bag, and how to put the tip in properly. From watching my mom decorate cakes in the past, I did know how to do these things, but not everyone does so I thought that was amazing!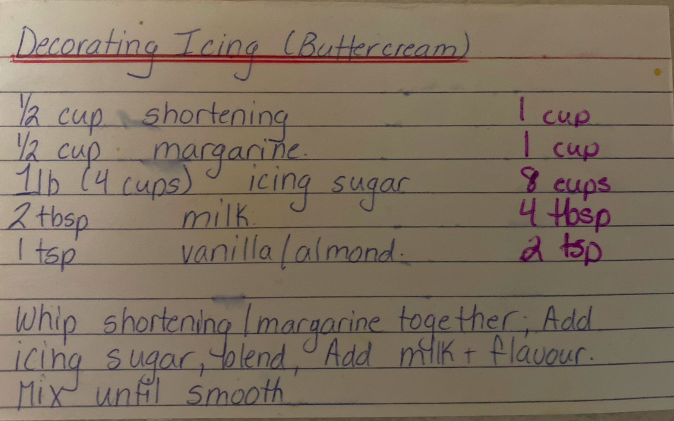 I could have just done these techniques on parchment paper, but my goal is to decorate cakes, so I figured there was no better way to practice than on a cake. I made my cake using this recipe. The cake itself tasted absolutely AMAZING, but I had to start the part I'm not so good at… decorating. I made up my buttercream using my mom's recipe (which is the picture next to this! Try it out – it's delicious). For some added fun I decided to colour my icing, but I forgot about the fact that the buttercream starts off with a yellowish hue from the butter. When I added the blue food colouring it ended up turning light green (which you can see in my video below!). I was a little disappointed, but lucky me, I know colour theory! During my next decorating day, I know that I need to add a little bit of purple into the icing in order to counteract the yellow. This will make sure that my icing stays true to the colour I'm putting in. 
Instead of explaining how my first attempt at doing some piping techniques with my words, I documented the process with some videos that I put together and posted! Check out the video below:
I had a lot of fun working on this project this weekend, and even though it isn't perfect work, I am so excited to see how I improve throughout the weeks. I need to work on being able to create even and symmetrical piping designs. My favourite piping technique was definitely the rosette piping! Next week I plan to learn how to do a proper crumb coat, so I can ice my cake properly. I also think I'm going to practice the rosette piping technique over it to see how it looks on a full cake!