It's a wrap! My hands (literally) Thank you
I can not believe that three months have already passed, and that I am at the end of this learning project. I also can't believe how much of a challenge it turned out to be. First it was difficult to choose a learning project. I thought about guitar, but felt that would be cheating, since I have been playing for years, and have only put it down since being in school. I also thought about piano. That would have been a good one, but I thought maybe too many other people had done it.  I also considered art, and then flute… and finally settled on ASL (American Sign Language). I want to say I enjoyed this process, and part of me did, however I can't do anything half way. Ever. And.. I said I was going to learn ASL, so I really committed myself to it. I can't say I was able to learn as much as I wanted to… but I did learn some stuff.. and I plan on keeping it up. (Maybe just not until I am done school… I am really tired.) This is where I didn't enjoy the assignment. It was another commitment on an already busy schedule. There were days when I really didn't want to do it.  The reason I took it though was because one of my best friends is deaf, and I haven't used ASL much since I was a kid, so it can be difficult to talk. We text, but it would be better to be able to talk properly with sign.
Outline of My Learning Journey
 Introduction – My Learning (And Relearning) Journey with American Sign Language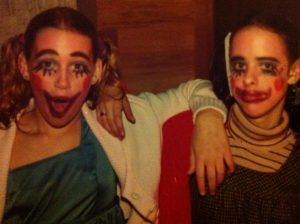 This week I introduced what I was going to learn, (ASL) and why I wanted to learn it (Debbie). I shared what I still remember of ASL. This included the alphabet, which I shared on video. I also shared a chart of ASL so that readers could see what the proper signs should look like.
In week one I shared some further reasons for wanting to learn ASL (it is helpful for people with autism, and I feel it would benefit me as a teacher in the classroom. I also shared some of the benefits of using ASL in the classroom. I shared my plan for what website I would be learning from the following week.
Free poster from Special Learning House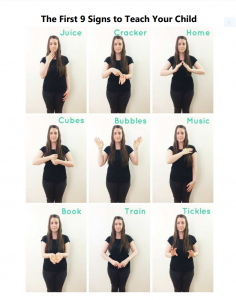 Week 2 – Lingvano.com – My First Learning Experience!
This was my first foray into a website to learn sign language. Lingvano uses interactive videos to teach signa, and it is fairly easy to use. The segments are about ten minutes long, and they test you as well. It was fairly easy…  I also added a video of my youngest girl learning some signs.
Week 3 – Sign Language for Netflix and Disney and Sign Search- Chrome Extensions
This was the week we talked about Chrome Extensions in class, so I decided to take my post another way and see if I could find any Chrome extensions for people who were hard of hearing or deaf. I actually found two interesting ones. The first was Sign Language for Netflix or Disney. 
This is a fairly new app that has sign language at the bottom so that deaf and hard of hearing viewers can know what is being said. The only unfortunate part is that right now it only works for a few movies. The addition of this extension would be great for classrooms where there are deaf, non-speaking autistic or language delays.
Sign Search was another extension I looked into. Sign Search is a dictionary. :Type in your word, and the dictionary will show you the sign.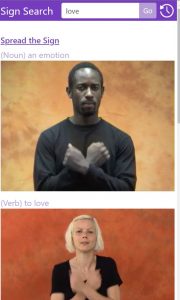 Week 4 – Deaf People Answer Commonly Googled Questions About Being Deaf
This wasn't necessarily a part of my assignment, but rather a video that I found amusing and thought others might enjoy watching.
The sign language learning experience I tried this week was called ASL THAT! ASL That is a series of YouTube videos that you can access to learn sign language. While I did like that the videos were free, there were not enough of them to keep me interested for a long period of time. There were some other videos on the site that were not actually about teaching sign. They were more informational or interest stories. This was the explanation on the YouTube Channel: Description: ASL lessons. ASL vocabulary. Topics in ASL and Deaf Culture. Some of them were also good.  The best thing about ASL THAT is that it is free.
I also shared one of the videos on that site called What is it like to be Deaf.
Although I enjoyed learning sign language from this You Tube Channel, I probably won't use it again.
Week 8 and 9 – My Favorite Sign Language Lesson Site!
This week I tried another You Tube site called American Sign Language – ASL with Dr. Bill Vicars. This was by FAR my favorite site. Dr. Bill Vicars is amusing, and a great teacher.
At first, I had some difficulty following, because he would often turn of the video text and just start to have conversations with people, but I found the longer I watched the videos, the more I was actually picking up and remembering. I enjoyed this channel so much that I actually spent two weeks on it. I practiced with videos – American Sign Language – ASL Lesson 01, and American Sign language – ASL Lesson 02
I learned many words here, far too many to list. Dr. Vicars also indicates that facial expression is super important when signing. I found out later, through talking to a friend who is deaf, that not having the right facial expression can actually change how people perceive what you are saying. This is a bit of a problem for me, because I don't do many facial expressions normally when I speak, so I really had to think about it. I  plan to go back to these videos after and continue on because I learned so much from them.
Dr. Bill Vicars, American Sign Language – ASL
Week 10 – Sign Language has Multiple Applications
Sign language has other applications for other communities as well. This week I learned that sign language often helps non-verbal autistic children to speak. It is also good for those autistic people who have trouble communicating their thoughts and might help prevent a meltdown. I also learned that the signs can be different. In ASL, the format is subject – verb. Sign for autistic people usually follows the same rules as the English Language.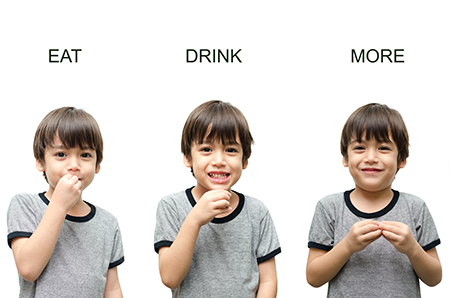 Shield Healthcare.com
As I studied this week, I learned some of the benefits and cons of sign language for those who are autistic. as well as some tips for those who want to learn sign.
Week 11 – Facebook Can Teach You Something?
This week, I decided to check out Facebook and see if there was anything useful on there I could use. It worked out about how I expected. I did find one page, called
The method of teaching sign on this Facebook page was pictures like this. I didn't engage a lot with this page, because I find it difficult to learn this way. I find I do better with videos. There was a fair amount of information on it though.
I did follow the links on some of their posters, and came to this site: free-printable-functional-sign-language-for-the-childcare-setting. (that is where the poster above is from).Signs with Jess
When I was reading here, that signs can also be used for children with Downs Syndrome, apraxia and other speech delay issues. Modified versions of sign language is also used for babies. Some of those signs are at this link. Baby Sign Language   
Week 12- Can Babies Understand Tik Tok?
In this final week of my Learning Assignment, I decided to look into Tik Tok and see what resources were available here.  To be honest, I didn't expect much, so I was pleasantly surprised to find that there were some helpful resources. I learned some family names from smartguy85. When I viewed the video of Signs with Jess 
I found some signs that you can teach children, and finally on Gabriel Manalo I learned some phrases like "Good morning," or "Good afternoon" , and other phrases that explain what kind of day you are having. On  the website The Bump.com  I read about the benefits of teaching your baby sign. Here are some links to some books you can buy for your little one about sign.
For this week, I decided to facetime my friend Debbie. (With her permission) Normally we text, I am not a huge fan of videos, but in order to show some of my learning, we had a brief (kind of weird) conversation… LOL.  Before the video, we used a hybrid of text and sign. For now that is what works better, but I am going to keep practicing. (If you want to view the awkward conversation.. The text has been written out in week 13….
      Before and After Learning!
Just some final thoughts.. I really enjoyed learning ASL online. It is something I never actually considered doing. I don't know why, since I learn Spanish on Duolingo. I also think I need some practice with some real humans. It is one thing to practice online, but quite another to be dropped into the real thing. I would like to continue learning however, for my own personal use, and because I feel it has practical uses in the classroom…
I do need to work on my facial expressions. I typically do not normally express much with my face while I am talking… and something I had never realized is that a very large part.. as much as 50% of communication in sign language is facial expressions. The meaning of what you are saying can actually be misconstrued by the expression on your face. I have to really think about that while I am signing, and it is a challenge. It is bad enough while I am having verbal conversations.  (Olaf is doing better then me most days… I also realized that some of the signs I knew as a child have either changed or were wrong. Things to think about….
i would just like to say thankyou to my EDTC instructor Dr. Katia Hildebrandt for giving us this learning project. It has allowed me to reconnect with someone I have been friends with for 40+ years, and given us a chance to "hang out" online for a bit. It has also given me the chance to spend time doing something I loved as a child, and was no longer doing. I hope to continue to build my skills using ASL for use both in everyday life and in the classroom. Learning online has been a positive experience and proven that "an old dog can learn new tricks… :D)
Other Helpful Links: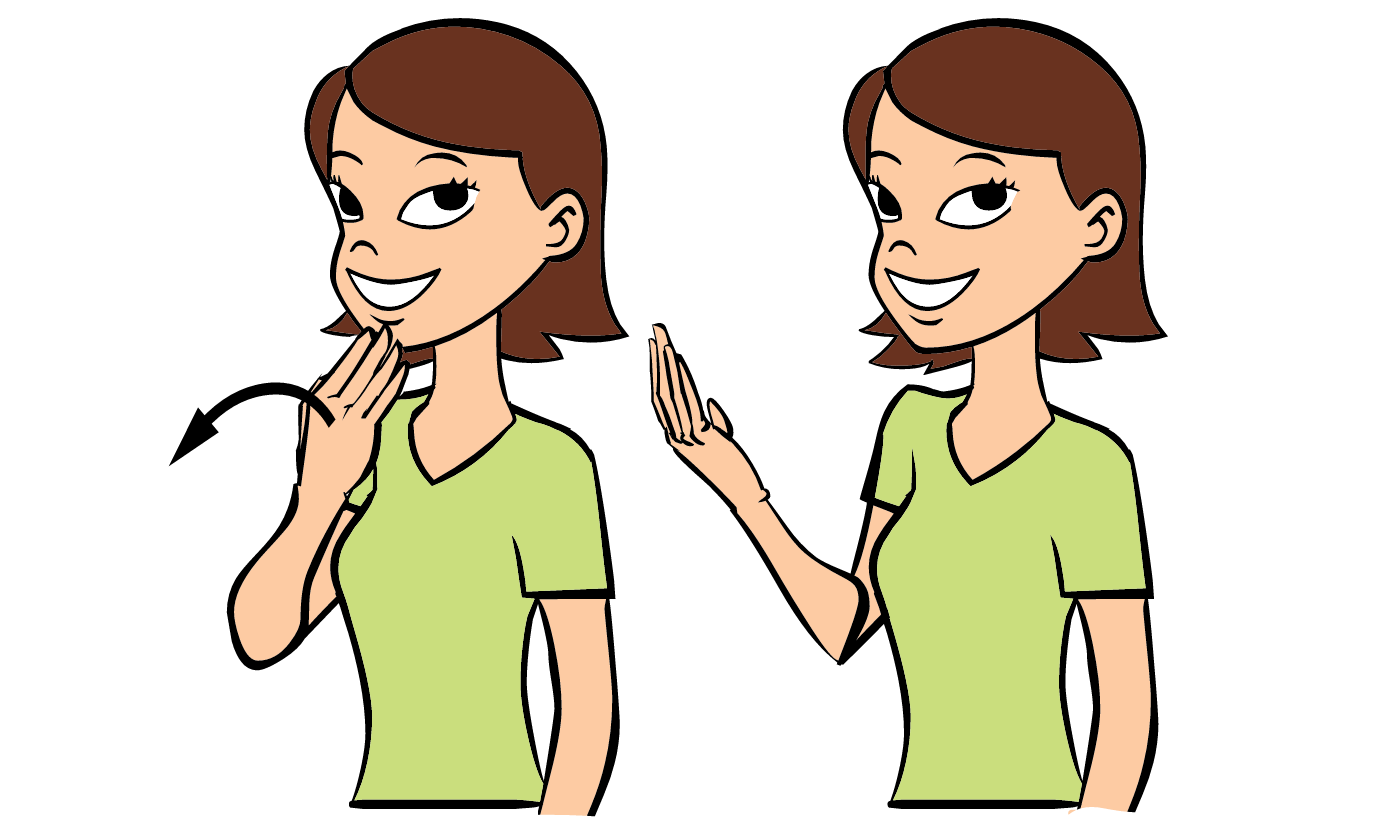 https://babysignlanguage.com/dictionary/thank-you/