My name is Shivali. I am from India and this is my fifth course in master of education and the third ED tech class. In the modern world, Technology plays an important role in everyone's life. Our lives are becoming more and more reliant on technology like computers, laptops, tablets, and smartphones. It makes reasonable that these practical tools are becoming much more prevalent in the classroom as well. The vast majority of schools, colleges, universities, and other training facilities are already looking at how to incorporate new technology into their course curriculum. I think that the expectations, learning preferences, and interests of students are always being taken into account while developing teaching and learning strategies. The most recent changes to the traditional classroom have been mostly driven by technology. This resulted in the creation of blended learning, where students and teachers are no longer only limited to interacting face-to-face but also have a wide range of tools and technology at their fingertips. Blended learning has evolved into a highly successful and worthwhile method of teaching that many career institutions have started employing. This is thanks to the development of digital education technologies including web conferencing, eBooks, simulations, movies, games, and more. Active learning in the classroom can improve student engagement and advance learning. Blended courses—those having both online and in-person components—offer a chance to combine online and in-person learning so that students may see the links between their work in the two settings. Students learning can be "closed looped" if an online activity is introduced in class and then evaluated in class after completion.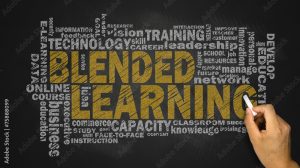 Due to COVID-19 school closings, I entered the virtual learning environment in 2019. Many teachers in my school were getting used to sitting in front of a screen, learning how to best translate the advantages of in-person learning to the virtual world, and figuring out how to use technology-supported instruction to improve student learning I implemented this teaching strategy in my classroom. when I switched to remote study in 2019, I had to make the best of hybrid learning work in a wholly virtual environment. I had previously looked into the flipped-classroom model, a popular type of blended learning that often combines independent home viewing of instructional videos with class time devoted to completing assignments, Through live, virtual small-group classes, which gave students the chance to ask clarifying questions in real-time and to provide peer-to-peer learning opportunities as well as crucial social interactions, I worked to replicate the advantages of "traditional" in-person learning as I made the transition to remote learning. Prior to introducing the idea in class, I often displayed an introductory video to help students get interested. I believe that the best way to improve learning is to combine traditional training with technology.
According to my perspective, To create dynamic, inclusive, and personalized hybrid learning experiences, new technologies, and collaborative tools must be combined with innovative teaching techniques. Teachers are helped and given the opportunity to improve their teaching techniques through digital technologies. For instance, including game-based activities in the learning process might increase student motivation and engagement, particularly with younger students. Systems for learning analytics can also assist teachers in evaluating student performance in the classroom and informing decisions that will enhance learning outcomes. However, one of the biggest obstacles to blended learning is still a lack of digital literacy among instructors. With the transition to a digital curriculum, it is crucial for teachers to develop digital skills and for students to comprehend how to use technologies efficiently. I think that in order to improve teachers' skills and fully utilize blended learning, it is important to increase teacher empowerment and professional development funding.