The teaching and learning environment is adopting a number of advances, some of which involve the use of technology through blended learning. Despite going through a process, this novel teaching technique has gained popularity quickly. Almost everyone in the globe now has access to a computer, a tablet, or a smartphone, and technology-enhanced learning has expanded in scope and accessibility. Web-based learning is becoming more and more common among institutions and educators, and students have access to a wide range of programs to help in their education. Contrary to traditional teaching, which has focused on the physical classroom and the teacher delivering knowledge to students face-to-face, blended learning offers a diversified and dynamic teaching and learning experience that involves both in-person and online contexts. The combination of different delivery methods promotes engaging, purposeful learning opportunities and guarantees academic continuity. A blended learning model meets the demands of a variety of learners, making it the perfect option to engage students and teach. Since education is not done solely through one media, various learning preferences are accommodated. Instead, a range of instructional techniques, such as in-person instruction, live video conferencing, surveys, discussion boards, polls, quizzes, and online submissions for evaluation, is feasible.
According to me, using technology has made teaching and learning more enjoyable. The COVID-19 Pandemic has made us more dependent on technology than ever before. I still remember the day I started working at Tagore Model School in 2019 after receiving my bachelor's in teaching. Schools were closed because of COVID-19, and I had been a science and math teacher. Learn how things function in reality by studying science. I was eager to instruct students in a lab setting because it is a subject that is also highly practical. Teaching students in grades 6 through 8 was a remarkable experience for me, but after COVID-19, everything was different. The COVID-19 education shutdowns have prevented many students, instructors, and parents from returning to their regular academic routines. I  started using technology on a regular base in my classrooms to teach the students. I consciously tried to integrate as many relevant videos and technologically savvy approaches into my assignments as possible. To make my argument more effective, I frequently found it helpful to intersperse a few shorter movies with questions. I totally embraced Google Classroom when I first started online teaching. I struggled a little bit and was quite hesitant. I had trouble at first figuring out how to submit stuff and make lesson plans. At that time, one of my colleagues, Ritika, assisted me in developing a lesson plan and finding alternative approaches to instruct students.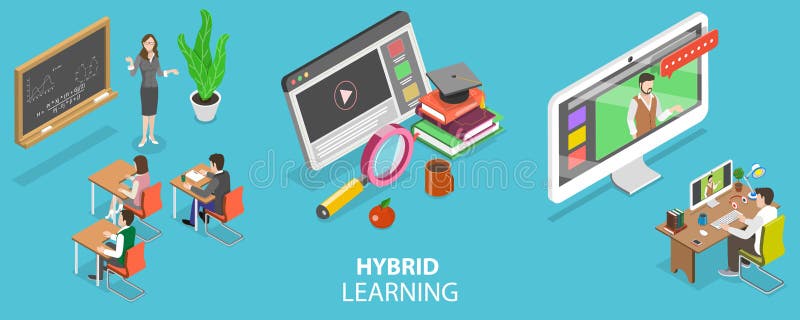 Although blended learning offers opportunities for richer and more flexible instruction, social interaction, knowledge access, personal agency, cost-effectiveness, and improved learner outcomes, policymakers, and funders are largely unaware of the extent to which it is being used and the opportunities and challenges that go along with it. The digital gap is one of the major challenges I've encountered. It was unavoidable that not all students and even teachers had the same amount of access to technology due to economic, social, and personal factors.  Most families with children only have one laptop, managing remote learning was very challenging for me during covid 19. Students had minimal prior experience with teamwork, discussion participation, and online learning tools. When I first implemented online learning in the classroom, students needed extra assistance to stay current on the first few weeks of course material. A great deal of self-motivation, time management, and sustained attention are needed for remote learning in the face of distractions that students would not generally encounter in a traditional classroom. Teachers are also unable to monitor students as closely digitally as they could in a classroom. From behind a screen, it becomes more challenging to keep control of a class, allowing students to concentrate and study. Students may fall behind in their work and not take it as seriously as they would in a regular classroom setting due to a lack of focus, low motivation, and an increase in distractions. Despite the conveniences of at-home education, a lack of social interaction can be detrimental. When participating remotely from home collaborating with classmates, building relationships with teachers, or even chatting with friends, these tasks become much more challenging. The resulting distance may have a negative effect on students' communication abilities, self-confidence, and capacity for teamwork. Even while students are more used to socializing online than ever before, it still cannot replace the value of verbal and in-person connections.
The ultimate objective of integrating technology in the classroom is to give every student, regardless of their abilities, talents, or needs, the chance to fully engage in their studies and take an active role in their education. Students will gain self-confidence and, more significantly, empowerment. Technology is not an end in and of itself. Rather, the progressive adoption of technology into the regular classroom experience would not only enhance the learning environment but also enable all students to take part more fully in their academic lives. It is possible for teachers to promote and improve student learning through the use of computer technology in the classroom. It also gives teachers a chance to engage with their students and inspire them to interact with the material in novel and engaging ways. Students are given new skills as digital learners with supportive guidance, precisely defined objectives, and attentive instruction on how to use technology effectively and responsibly. These skills have been linked to both improved academic performance and increased success in personal and professional endeavors.