For this weeks learning project, I have decided to try making something that I have never cooked before on my own, like most of my previous Learning Projects. As a student who has just moved out of her house in September, I am only familiar with cooking chicken and beef, and when I say I am familiar with them, I mean frying hamburger and cooking the chicken breasts in the oven.
My boyfriend and his family enjoy hunting so they always have some kind of wild meat in their freezer from them getting drawn so the last time we were there, we grabbed a couple of things from the freezer. One of the things we grabbed was a moose loin, so I decided to cook it up and also made some things to go with it.
To be honest, cooking any of the meat we eat is not really my thing as I always over cook it and never know what to marinate it with so luckily my boyfriend decided to help me in the kitchen this time. He took the lead on that side of the meal and showed me how he does it and I took the lead on the vegetable side. After he had showed me his way of doing things, that night I went and searched for some pointers on BBQ any type of meat. Some of the things I found that are that you are supposed to let your meat rest after taking it off the BBQ and that you are supposed to cook chicken over low heat and the pork and beef over high heat. Even though this just explains a couple of things that could help that I found, they were two things that neither my boyfriend and I knew about.
Back to the my learning project, along with the moose loin we made asparagus, potatoes, and broccoli.
Step #1: Marinating
Even though my boyfriend has his own marinade for everything he cooks, I told him we should change it a little bit because I found a marinade that is used for moose steak that was close to his recipe so we ended up combining the two of them together. In the end, we ended up mixing the following ingredients together and let it sit in our marinade container for 4 hours.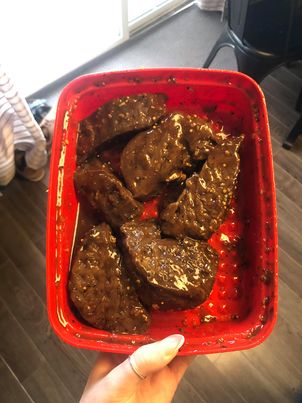 1/3 cup soy sauce
1/3 cup lemon juice
1/4 cup Worcestershire sauce
1 tablespoon garlic powder
3 tablespoons dried basil
1 tablespoon dried parsley
3 tablespoon Montreal steak spice
1 tablespoon bon-apatite
Dash of pepper
Step #2: The Potatoes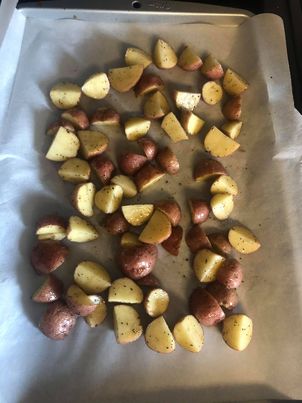 As a staple in our house, we use the Little Potato Company potatoes as they are easy and quick to cook with little preparation involved. I sliced them in quarters and covered them in oil, salt, pepper, bon-apatite and garlic powder. I then put them in the oven at 350°F on a cookie sheet to cook for 30 minutes or until they have a soft inside and crispy outside.
Step #3: The Veggies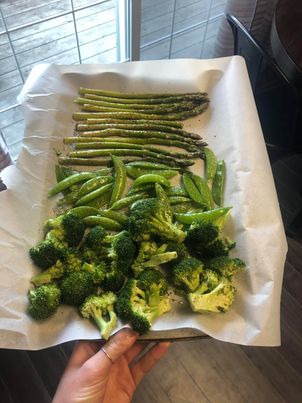 While the potatoes are in the oven, I did the same thing with the asparagus and the broccoli as I did with the potatoes. I have only ever cooked asparagus once before this and I did the same thing except I cooked it in a pan instead of in the oven. I decided to do it this way this time as last time they were fairly soggy and I wanted them to have more of a crispy texture to them which they did. I then put the broccoli on the same cookie sheet and placed them in the oven beside the potatoes 15 minutes after I had put them in there.
Step #4: Barbequing Time!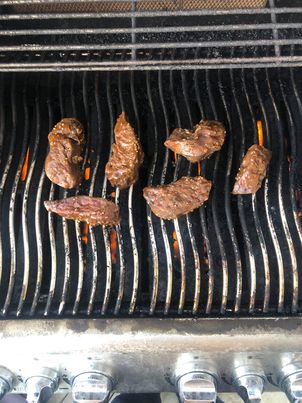 Once I had the potatoes and other vegetables in the oven and after they were just about done, Luc and I started to BBQ the moose loins on high heat. This part only took about 10 minutes including flipping them over half way in-between. Before flipping them over, we took the marinade from the bottom of the container and glazed it on top again. While they were cooking, our potatoes and vegetables were done so we took them out and waited for the loins to be done.
The Final Product
Once when the loins were done, we pulled them off of the BBQ and set the table and dug in! Everything was cooked perfectly and tasted amazing. One thing I am going to try and do next time I BBQ anything is that I am going to let it sit for 5 minutes before we eat it and see if there is a difference.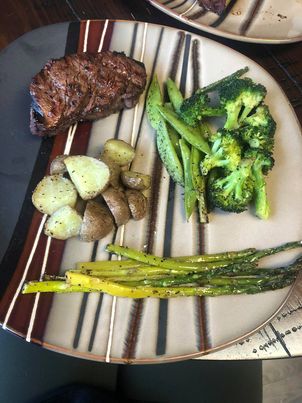 Thank you for continuing to follow me and my learning project along. Next week I am thinking about making another full course meal. Let me know what you think in the comments!
Ciera