If my title reeled you in again, I am happy you fell for it and welcome back! This week was delightful for my guitar skills. I am starting feel competent at something musical. I did have to enlist in some help this week from a few family members: my sister, Danica, and my cousin, Madison. They both have played the guitar and/or had lessons for quite some time now.
Resources used this week:
Breaking up the skills
This week I decided to start to pick (pun intended) away at the skills involved to play the song. I started with the strumming pattern then worked on the plucking pattern.
Strumming Pattern
Plucking Pattern
I literally feel so much progress from this week's practice and I am thrilled to keep going! Let me know what you think of my progress! I am slow but I know the notes – I close my eyes and I see myself doing it on the guitar!
After speaking with my sister, she said I chose too hard of a song but that has not deterred my motivation to play a Maroon 5 song by the end of this course!
I am struggling to read chords properly. I see what notes that are being played during the song and sometimes they are way too difficult for me. They also show me where they are played but I cannot connect where and how to strum the strumming pattern. It is extremely frustrating and I would love to find some other resources to help read these types of things.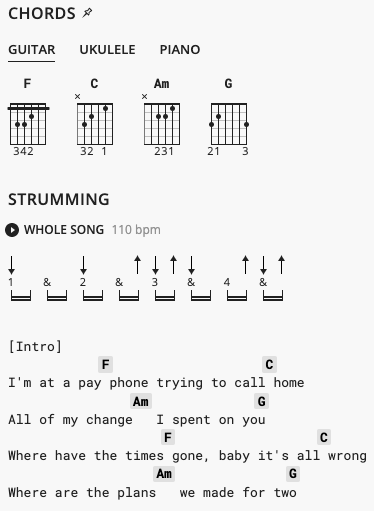 Other resources for learning guitar:
Artist works – this is a paid subscription and I have not tried it but it looks like it is at least equal with Fender Play
JamPlay – very similar to Fender Play and Artist Works
Keep following along for more progress!