I have been using the myfitnesspal app as the main platform for my project. Its main purpose is to track caloric intake and expenditure. Being three weeks into using the app, I thought this would be a good time to give my initial thoughts on strengths and weaknesses of the platform. Hopefully this will be useful information for anyone considering using this type of app.
Home-screen View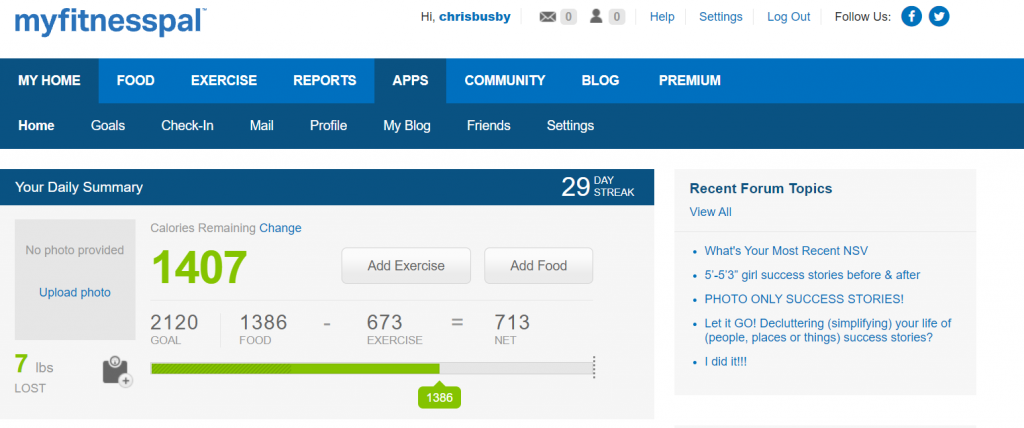 Strengths:
Easy to navigate and user friendly – both the app and website are easy to navigate. Tabs and pages that you use most often are easy to find and learn how to use.
The website and app sync immediately.
Ability to connect to a variety of fitness watches to track steps and calculate caloric expenditures.
Easy to navigate food and exercise diary – as you can see below it gives you a breakdown of the foods you have eaten and gives you updates on your daily progress. It is very easy to add and search for foods.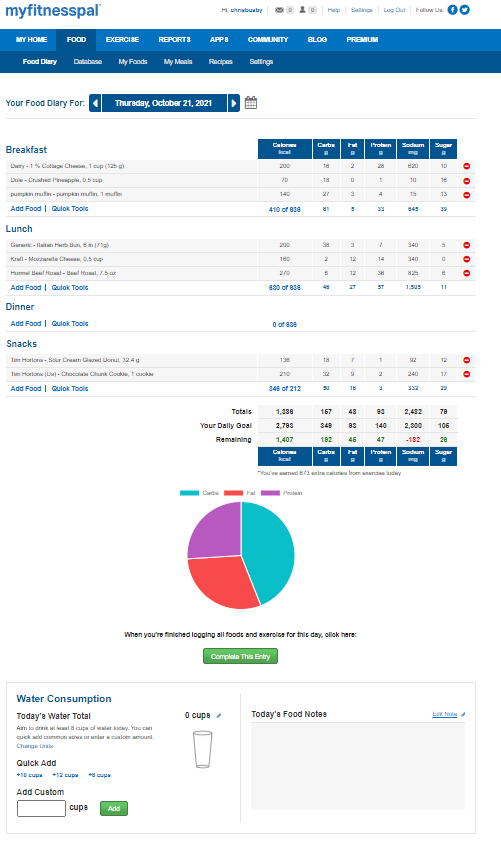 Food inventory – I don't think I've found a food yet that hasn't already been entered with accurate nutritional information.
Breakdowns of nutrients – options to select which nutrients you want broken down and displayed (i.e. carbs, fats, sugar, sodium…).
Graphs and visuals to track progress – available with Premium subscription at what I thought was a reasonable price.
When you submit each day's diary it tells you how much you would weigh in the future if every day were like that day – this is a great motivator to stick with your plan and goals
Weaknesses:
Unit conversions – many food items are entered in grams or ounces. I usually picture amounts in cups when estimating how much I ate (no, I don't measure everything precisely!)
When entering strength training workouts it asks you to enter specific exercises that you did. This isn't practical when doing a 30 minute workout that might include 15+ different exercises. I have been entering my strength training workouts under the cardiovascular as a result.
There is so much more to this app that I have to explore. There is a community section and blog section that I have no explored at all. For a first time user, I am very impressed with it so far!