Wow! I can't believe it has been a month since I've provided an update on my project. Time flies! I am happy to report that I have had a busy and successful month of project work with my Grade 3/4 students. Over the past month we have:
continued our use of Microsoft Teams for daily check-ins with our feelings monsters
continued to learn about zones of regulation
discussed emotions related to anger, frustration, being upset
learned and practiced coping strategies for our toolboxes
administered three surveys – primary, middle years, parents
analyzed survey results and generated some ideas for the future to address needs
Let's chat about all of this in a little more detail.
Our daily Teams check-ins continue to be extremely valuable. The kids are so into it and are so forthcoming with how they are feeling. It has really helped us touch base with students and identify who needs a little extra attention each day. The language and understanding the kids are using and showing is truly remarkable.
I mentioned in my last post that we learned about the Zones of Regulation.
Students have continued to use the language of the zones and can easily identify what zone they are in.
We have spent a lot of time talking about different levels of emotions. Emotions can be similar and related, but can also be at different levels, and therefore in different zones. A great example of this is the emotions related to being upset. We used a Ladder resource to get a visual understanding of this: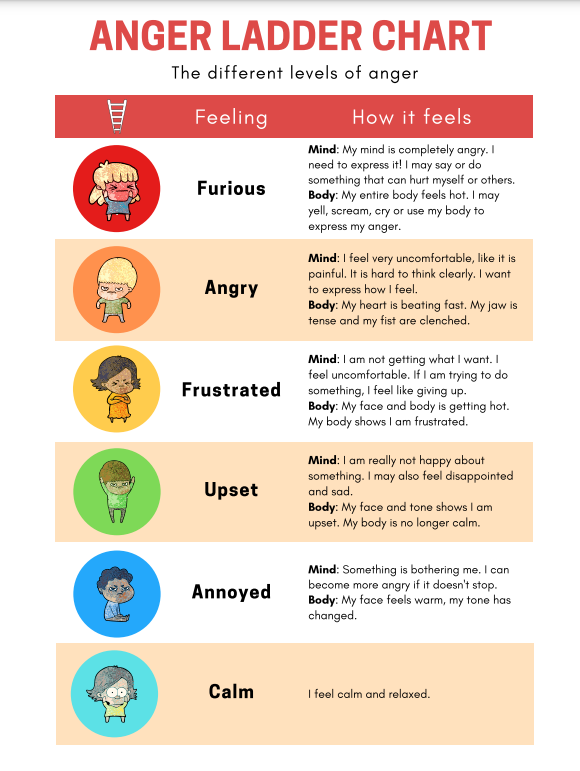 This visual helped students understand the different intensity of emotions. We put a focus on recognizing when we are experiencing emotions that are at the top of the ladder which lead to us being out of control and in a state where we are unable to learn and make good decisions.
In health, we did a unit on Stress – works nicely with my project doesn't it?!?! Wink wink, nudge nudge! We learned what stress is, our stressors, how our bodies react to stress, and of course practiced some coping strategies. I have to share a story from today that demonstrates the learning of one of our students. He was having an off morning and was found hiding behind a door in the hallway. When asked why, he said he was walking down the hallway and heard footsteps and a voice behind him. In his words, "this caused my body to Fight or Flight and I flighted!" Great evidence of learning haha.
I am going to end this post with some of the strategies we have been practicing as we try to fill our personal toolboxes. The big goal of my project is to have students have a number of strategies they can use when they feel anxious, upset, stressed etc. Thus far we have tried:
a variety of breathing exercises – counting, box breathes, smelling the flower blowing out the candle, tracing your hand…
guided muscle relaxation – tensing muscles, exhaling as tension is released
coloring
making personal music playlists – check out this article for some interesting facts about music
We will continue learning and practicing more strategies as the weeks go on.
Okay, still with me??? I feel like this has been a lot. I am going to leave the survey details and results for an update next week. We plan to begin implementing some of our new ideas to address the student's feedback next week. Please stay tuned for more to come…