With the weather being so cold, what a good time to get my family together in the kitchen and make some perogies. My family LOVES perogies and they have been a main component in our weekly meals and have always been a staple food in our house. We usually make around 350 perogies each time my grandma is down from Alberta, however, with no one being able to get together we had ran out and decided to give them a go and make a couple hundred. Below is my grandmas recipe that has been apart of my family FOREVER. All of my aunts, uncles, cousins, etcetera use it and it is so easy to make! One thing to note about the recipe is that my grandma guesses some things like the filling recipe which you will notice below. I basically had to guess with those ingredients until I thought it looked good enough.
Dough Recipe (makes roughly 125 circles)
3 eggs
1/4 c. oil
2 tbsp. vinegar
3 c. water
1 tbsp. salt
flour to create a soft dough
Filling Recipe
Enough peeled and cut potatoes to fill a large pot or two
1 block of Old Fort cheese, shredded (one per pot)
Pan full of onions that are cooked in butter
Salt
STEP #1
Mix your dough ingredients into a bowl and add flower slowly until you get a nice soft dough that is still a bit sticky. You want to leave it a little sticky because when you roll it out you add more flour.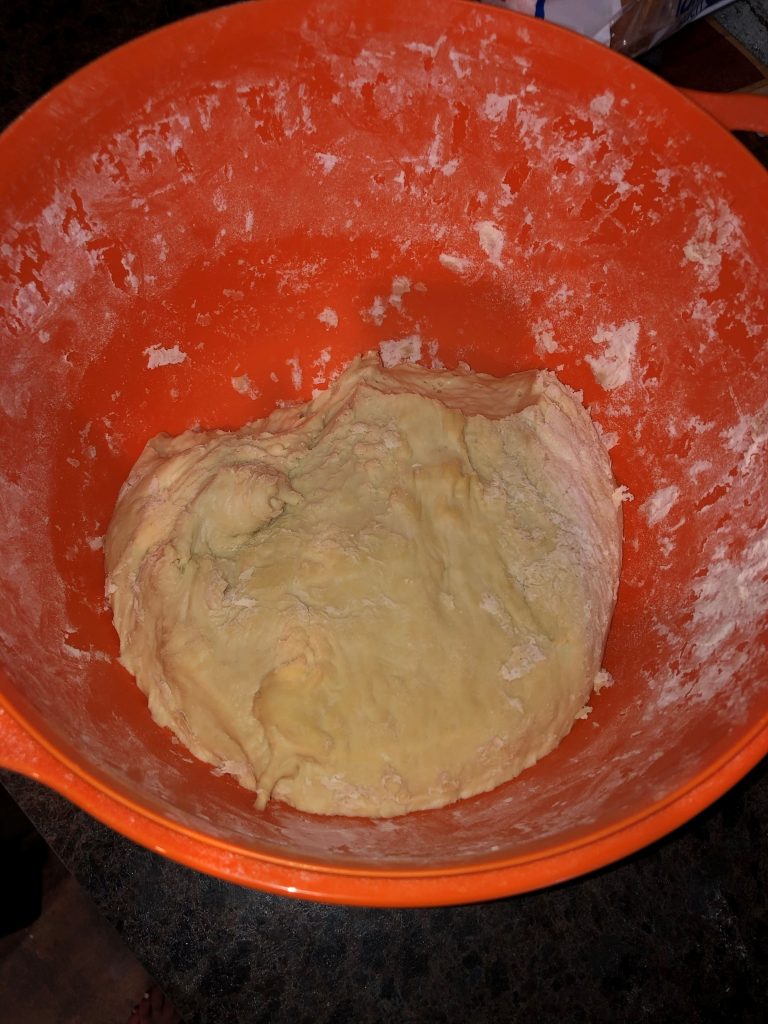 STEP #2
Flour the surface that you are going to roll the dough out onto. Take small proportions of the dough at a time. You then want to add a little flour to take away the stickiness. After I roll it out, I guess on the thickness and test some as you do not want it too think or too thin, I get a washed soup can and cut out my circles. A soup can is the perfect size for your circles.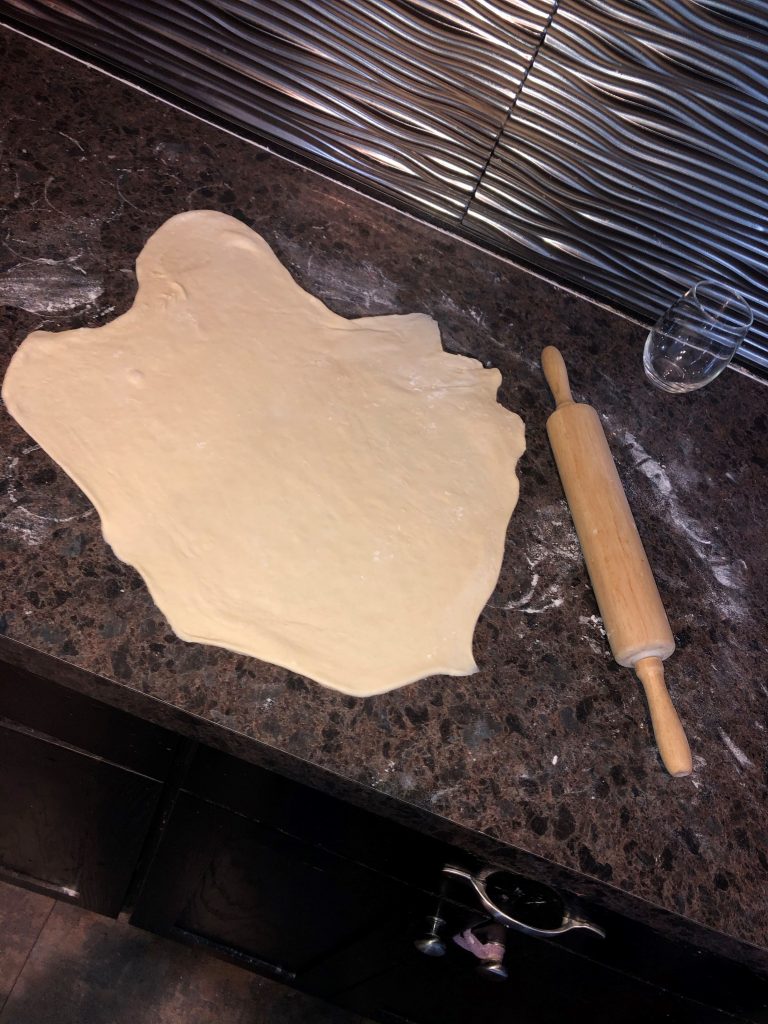 STEP #3
Here is what my potatoes look like after I had boiled the potatoes, cooked the onions, shredded my cheese and then mixed it all together. After I mixed it all together it looked whipped and then I set it outside to cool off which did not take long to do in this weather.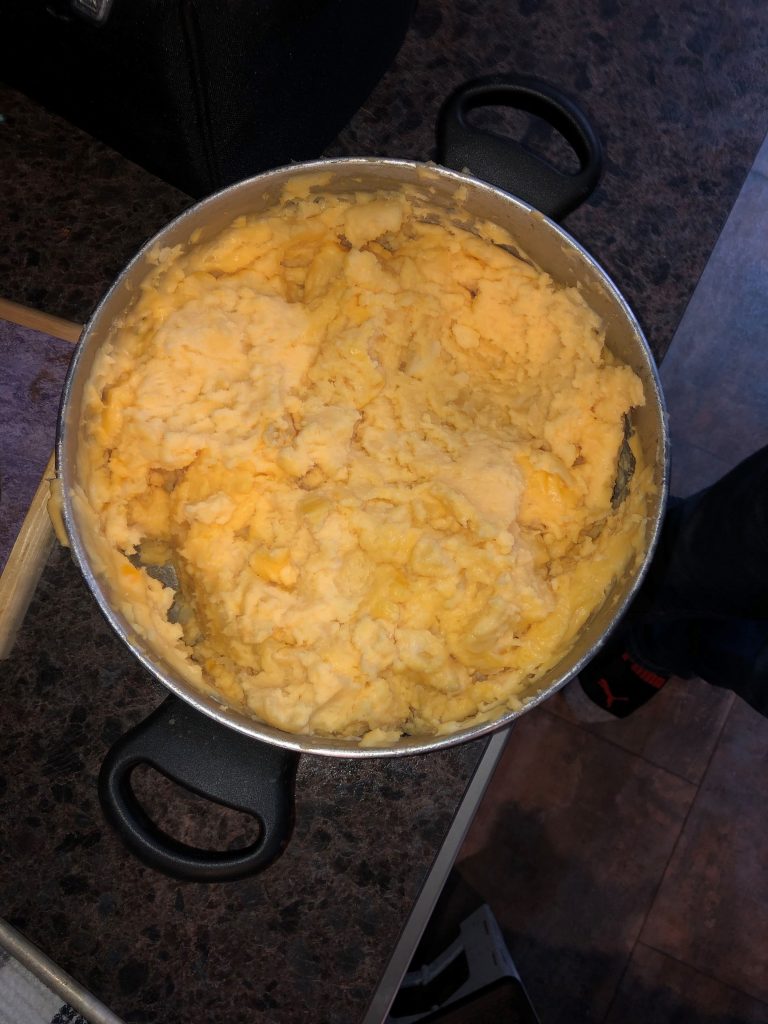 STEP #4
Here you will see the circles on a cookie sheet with a towel, a bowl of flour, filling and my brother pinching. We use towels to stop them from sticking to anything and easy clean up. The flour is to stop the starch, from the potatoes, making your fingers sticky which makes it easier to pinch.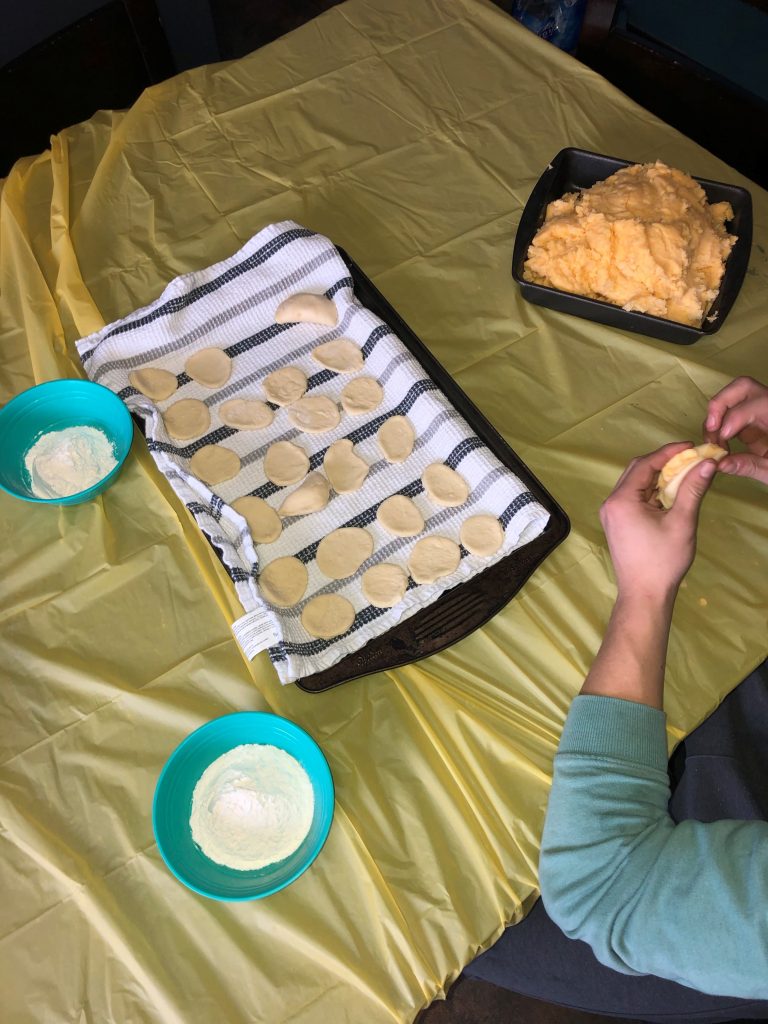 STEP #5
Here is our boiling station. This is what you do when you get a sheet full of pinched perogies. You get a large pot of water boiling with a little bit of salt in the water and drop in a couple perogies at a time. For that pot, we put 10 perogies in at a time. Once they are done, they will float up to the top and that is when you take them out of the water and put them in the strainer. Once they are in the strainer, coat them in melted butter. This stops them from sticking together in the bag when you freeze them. After you are done the boiling process, my Dad would take them outside and lay them out on a table with plastic wrap to let them cool before bagging.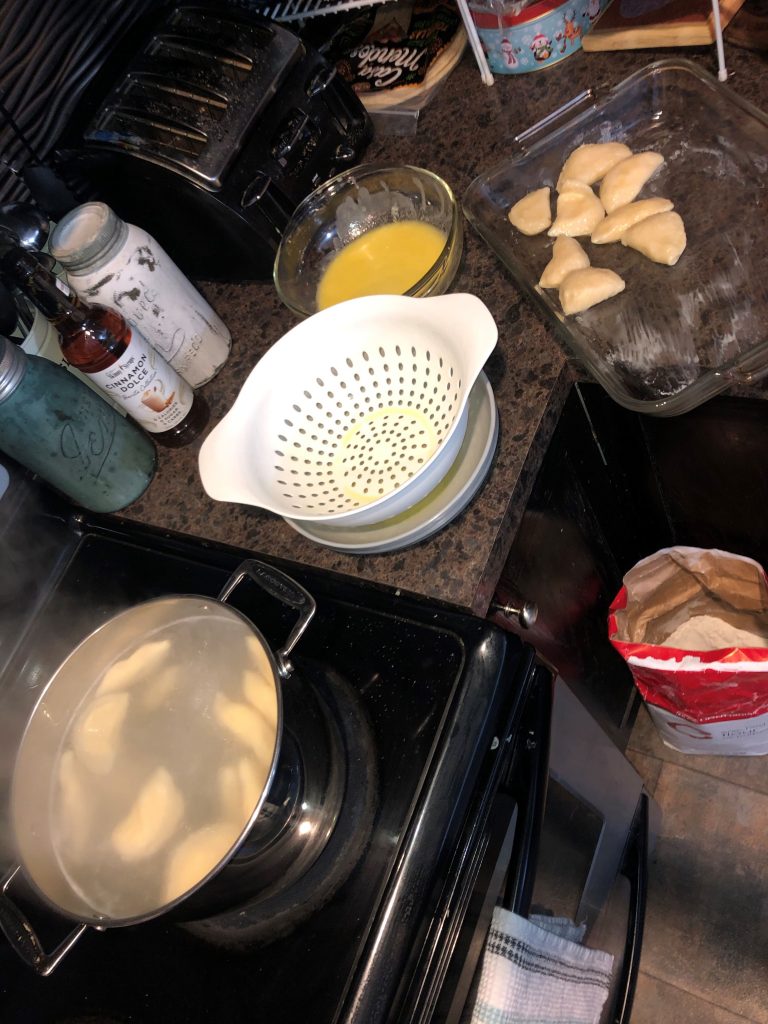 We made 300 perogies that day and I doubled my grandmas dough recipe. Forewarning, this is a long process and will take up a whole day or afternoon. My family is a family of six and it took us 5 hours from start to finish. However, it is a fun time where you get to sit and visit with your family. My family has the joke of who has the best PPM, pinches per minute, which often turns into a competition.
In conclusion, they turned out amazing and are DELICIOUS. If any of you fellow friends and followers try this recipe, let me know how they turn out for you!
Ciera