When I was told that we were to use an RSS reader, I had no idea what that was or what to even expect that it was going to be about. Little did I know that it would be a handy little tool to know about and use.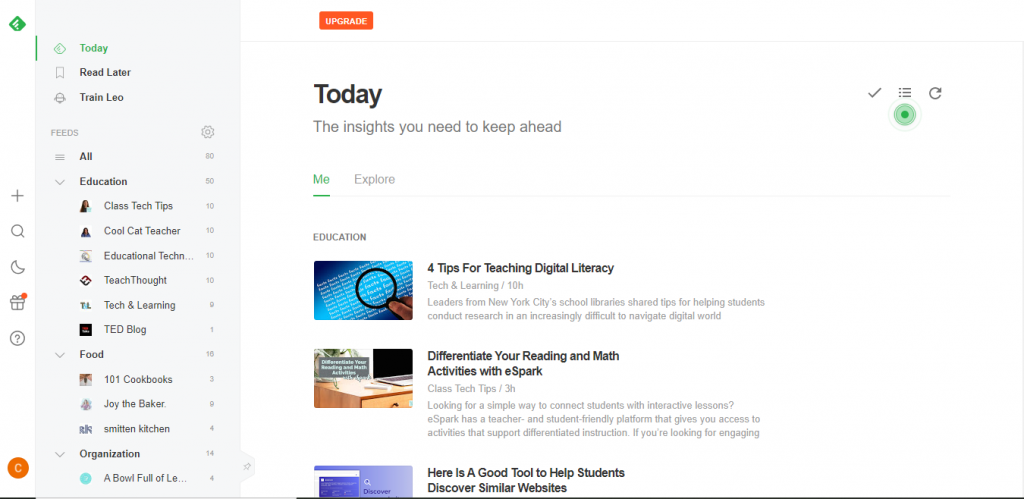 The purpose of an RSS reader is to gather and organize different resources like websites, blogs, and other useful sites that you have taken interest in or are of use to you, and to organize them in ways that are convenient for you to access. There are lots of RSS readers that you can choose from, but I had decided to choose Feedly as mine and honestly, there was no thought process on picking one at all. It just happened to be the first one suggested to me.
When I first started my Feedly account, I searched the first words that came to my head like teaching, education, online learning, food, and organization. For those who do not know me, I am a HUGE organization person. I then scrolled through and found sites that seemed to be interesting to me and were relevant in what I was searching for. I made categories and then kept adding them to the category that best fit them and continued to look for more.
One of the sources I follow is called 'Educational Technology' and it is by far one of my favourites. They share lots of content, 10 articles per week, and talk about everything. The one thing that caught my eye that made me follow them was their article titled '6 Awesome New Google Classroom Features Teachers Should Know About.' They talk about and share so many neat hacks that are so handy for teachers to know and get familiar with that are life savers. Being an Educational Assistant, I have come to known that with everything being online, google classrooms and that line of stuff has been a life saver for them so I would like to start knowing how to use them better.
Another source that I found interesting was one called 'A Bowl Full of Lemons." This to me was interesting as they have a 2021 Home Organization challenge going on right now that I have been trying to keep up with. Their challenges move from room to room every week and help you to declutter your house and to maintain it after you go through all of the work of cleaning it!
Overall, Feedly or using an RSS reader is something I definitely would not have bothered with learning on my own but now that I know about it, I use it so much! If any of my fellow followers have any recommendations on who to follow, comment them down below.
Ciera