I opened the terrarium…
Did the world end? No… but it could have.
---
Monday, my parents and I were in our garage examining some wood we have drying for a project. Upon further inspection, we spotted a rather large "grub" laying on top of one of the bark planks. Immediately, I wanted to see what would happen if the "grub" were put into a terrarium.
I quickly ran into an issue as I didn't have any materials on hand to start a new terrarium. This is what lead me to break my most important rule. I unscrewed the lid from the charcoal terrarium, breaking the sealed ecosystem I had created weeks prior. My dad helped me get the "grub" into the terrarium as I refused to touch it.
After getting it into the ecosystem, I quickly placed the lid back on before bringing the terrarium back inside to show my sister. Within the first minute of showing her the charcoal terrarium's new friend, she had already found and downloaded an insect identification app. We used the Picture Insect – Insect ID Pro app for iPhone to help is identify what kind of bug I had just introduced to my ecosystem.  The "grub" is actually a dead-wood borer moth, meaning if the environment within the ecosystem is appropriate, it should transform into a moth. Below is a quick screencast I recorded to silently show the different features and kinds of information that the app offers.
Overall, I enjoyed using this app, as it made identifying the moth larva a quick and easy process. It is important to note that the app requires payment as suggested by the word "pro" in the title. There is a week long free trial one can test before they must pay for a subscription to use it.
Tuesday, I checked back in on the terrarium. The larva had  moved from its spot in the middle of the terrarium to being out of sight. However, one can  see that Mr. Grub, the larva, has been busy at work chewing through the piece of driftwood.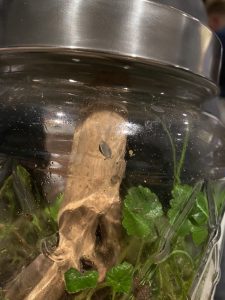 Wednesday after class, I decided to try and find Mr. Grub and was once again successful. However, based on the newly formed holes on the driftwood, he appears to have made himself a nice home. Although I couldn't find Mr. Grub, I made a new discovery, becoming more excited than a kid in a candy store. I have managed to foster a sealed ecosystem ideal to keep a little snail alive. This sneaky snail has managed to go undetected by me for almost four weeks. Stumbling across Sneak the snail makes me wonder what other organisms I have yet to notice.