As the weeks go by sometimes I feel like learning to play the guitar has shifted from being easy to hard, and vice versa. I have used MANY resources to ensure my success in playing Payphone by Maroon 5. Last week I felt good about my path and thought I would ride that idea out until the end. Now I feel incompetent with that path and have moved back to a previous resource: the video below by Fingerstyle Guitar Lessons.
To recall, the difference between fingerstyle and strumming is that fingerstyle uses fingers and single strings are played and strumming uses a pick and usually requires you to play all of the strings. Another difference is that usually, guitar tabs will only give you the guitar version of the song rather than the entire melody of the song. This was a struggle for me because I would find all of these great resources, play them, and it would sound nothing like the song or would sound like background music. In the fingerstyle version of the song, you can immediately tell you are playing the song because it sounds the same. I am also having a lot of success because I know the song and know how it should sound when I'm playing, making it easier to learn it.
Here is a sample of me playing the same song:
I actually used Callen Boutin's tweet to come up with the idea of using Chordify as an option to learn Payphone. I tried it, did not love it and was told, by my sister, that I played the "piano" version of the song because I was not playing the strumming enough notes. I was feeling pretty good about how I was playing it until she said that. I also wasn't shown how to strum the notes which, as a beginner, is difficult to guess.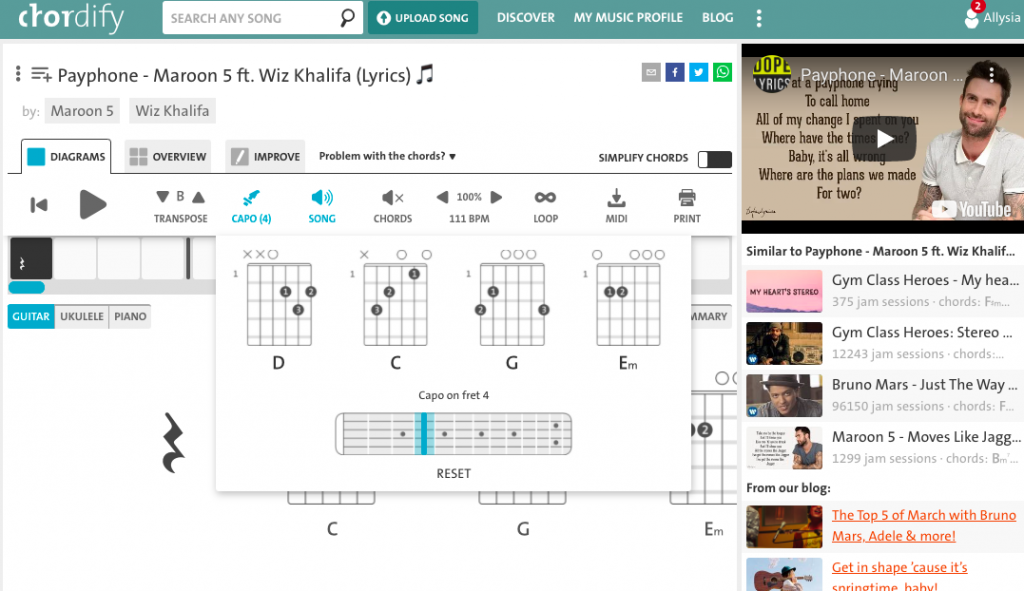 Although I did not enjoy the actually sound coming off of the guitar, it felt, for a second, that I was playing along with the song, even though it was 50% speed. I am sure that other songs exist that work better through this app.
If you have any suggestions on how to further my skills on this song, besides practicing, let me know in the comments! One more blog post to go and I hope I'll be playing this song for you all!