I cannot believe that this is our last week of prompted blog posts! This week we were asked to go and have some fun coding. We were given the following options to practice coding:
I chose to use Code and did the Hour of Code option: Intro to App Lab under the "comfortable" skill level because I have no issues picking up new skills when it comes to technology. Watch the progress below:
As expected, I didn't have any issues navigating the hour of code that ended in doing a second one called Dance Party.
What I Learned
I certainly learned how easy it was to code using this method. I also understand how difficult it can be for those using it to code apps we use on our phones daily. I cannot imagine how long it took to code all of the functions on Facebook, Twitter, Instagram or other related social media platforms.
Thoughts & Applications
I really like the idea of Code and how it has coding available for all different grades and skill levels. I think it makes it more welcoming for any kind of student. I also liked how easy it was to navigate the website and use filters to find the correct grade and level of difficulty. I also enjoyed that students receive a certificate for the completion of the coding tasks – it gives them a sense of accomplishment that they can share with their friends and family. Again, something that elementary and middle-year students would be more excited about than high school students. Ah, who am I kidding? I got one and I was excited for it.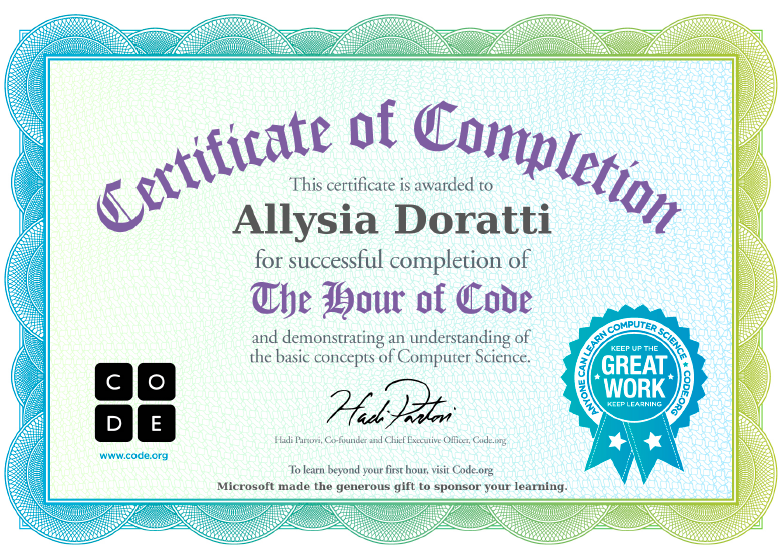 It has many applications to the school curriculum and makes learning not feel so much like 'work' for students. If I taught middle years, I feel like it would have multiple applications to those curricula. I have a hard time stretching how it would apply to the high school curriculum, especially mathematics. However, I did notice that there was university-level coding available but never had the chance to check that part of the website out.
Thanks for following along with my prompted posts and you will see, in the next week or so, some concluding thoughts on the class as well as a final learning project post!
Talk soon!