It's probably an understatement to say that the education system has been rocked by the COVID-19 pandemic and that many changes have been ushered in during the last few years, however I would argue that many of these changes were already starting and that the pandemic just worked to accelerate them. Take a look at technology as the most obvious example. Have we increased the use of technology since the pandemic? You bet! But I think for many years society had already been evolving towards more technology based classrooms. The process just sped up when we were forced to rely on it to be successful with remote learning.
Although technology changes have accelerated, I think for the most part it's hard to displace tradition. Because of that, I don't see any radical changes in the near future regarding the main structure of "traditional school", but I do think that there is a gathering movement towards more creativity and individuality within the system rather than just the churning out of like-minded students. In a timely discussion, I had the opportunity to hash out a similar idea regarding education in the future with Kara in another class this week where we considered the possibilities of flexible learning and students having more ability to pursue interest areas. I suggested that the big focus should be about teaching students skills (critical thinking, problem solving, inferencing, making connections, etc.) rather than knowledge that can be looked up online in an instant, so the article from this week titled 9 Things That Will Shape the Future of Education resonated with me as it speaks to a skill based future. I specifically like the idea of more project based work, field experiences, and moving away from traditional exams because it shows what the student can do, along with the process, rather than just focussing on what can be memorized.
Additionally, I think that because society is moving into a significantly more virtual world it is more important than ever to teach this generation of students how to safely and productively be a part of it. This has a wide scope though – students need to learn to be safe on social media sites and how to navigate the pressures and permanency of their posts, but they also need to know how to use technology tools that will give them success in grade school, post-secondary, and eventually the workplace. For example, many companies are now considering having more work from home and/or globally connected options since the pandemic, and we should embrace this societal shift and adjust education to prepare students for navigating those types of realities.
I think about my own children who are just starting in the school system and how different things will be when they join the workforce, so I found myself really mulling over the article Future Work Skills 2020. This article details what is causing change, then further outlines the author's suggestions of what skills (pictured below) will be needed in the future. It kind of comes back to the idea of skill based learning and makes me consider how, within a short span of coming years, my children's high school education will likely look different than how I am approaching teaching it today and much different than what I experienced myself. For me, this really highlighted the generational changes that have been taking place within education throughout the last 25+ years.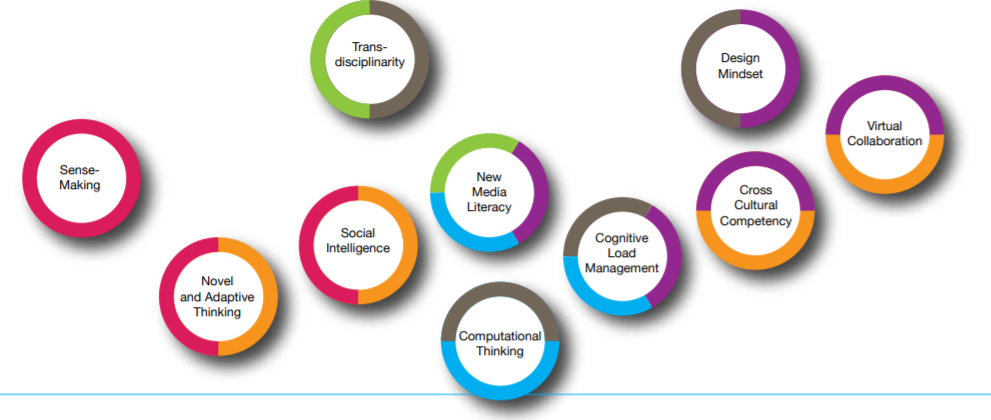 I find this to be a really interesting topic and can't wait to read more about how all of you feel about it too!