For this week of my chess journey, I ended up signing up for the one month trial of chess.com. This basically opens the door for unlimited puzzles and lessons regarding chess. I have spent a lot of time looking around the internet for different medias and websites to learn from but always ending up back at chess.com as it is the best place to put concepts and strategies into a reality.
For my strategy concept that I wanted to dive deeper into, I chose king safety. With king safety the objective is to position your king and know movements revolving the king to ultimately set yourself up to have the highest chance of winning. After all the entire game surrounds who's king falls first. Reading up from an article by chessfox.com I was able to better visualize a middle ground between king safety as well as putting the opposing king in a position to give up the game.
I moved into some king defence modules where I was really exposed to some poor king positioning and was taught where would be optimal movement to put myself back into the game.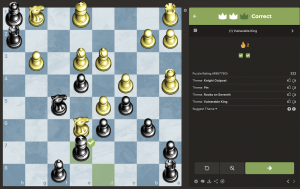 After a couple more puzzle modules I found myself back at the table to play more online opponents. This week I had my friend Travis watch some of my games to get live feedback which was one thing I felt like I was lacking from just trying to analyze my own mistakes. He pointed out things I wouldn't have even thought of and it was nice to get an outside perspective on certain matters.
Another great feature that I wanted to touch on is the chess.com game reviews. When you complete a game the application will break down every move you made and tell you how you played based on optimal outcomes. Its not only nice to break down my mistakes but to also get a feel for what I did right regarding positive moves.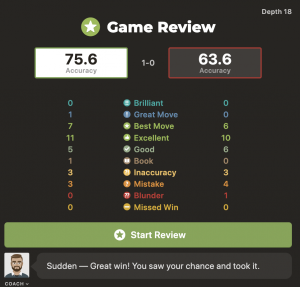 For next week I really aim to keep at practice matches as I'm wanting to improve my player score as the semester moves towards a close in the coming weeks.
Links:
https://chessfox.com/objectives-in-chess-keep-the-king-safe/
chess.com