All my fellow classmates have been looking to Tik Tok for inspiration for their learning posts, so I decided to follow suit! Now being that I am not a member of the TikTok community, this meant that I needed to sign up for an account and figure out how to use TikTok. In my search for pregnancy workouts, I did not find as many options as I thought I would find. After reviewing the options I choose the one I felt seemed like the best fit and offered multiple videos should I enjoy this way of learning.
My initial thoughts on this format of online learning was that it would be convienent to complete these workouts anywhere and while doing other things, such as cooking supper or watching TV. However fro my first attempt I did go down to our home gym, free from all other distractions. I am sure glad I did. Here is a review of the things I liked about learning from Tik Tok.
Here are the reasons I did not like using Tik Tok as a source of learning for this purpose.
The "catchy" tune that plays quickly becomes annoying
There are no verbal instructions to aid in which moves are next or how many reps etc are required
All instructions as offered by screen text which is the worst colour ever and blends into the background.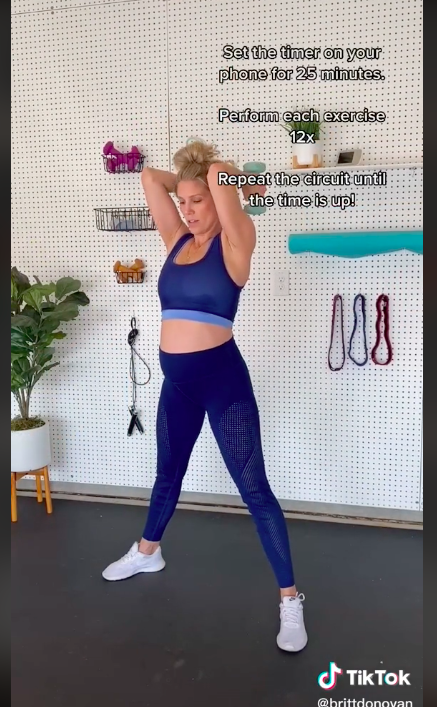 There is no guidance on the proper form
There are no reminders for what level of exertion you should be at to remain safe for pregnancy and/or signs when it is dangerous
There is no motivational talk
The moved switch so quickly that it is impossible to follow the sequence
After 15 minutes of frustration just trying to learn the moves, I could not handle it anymore. I felt like I spent more time standing watching the sequence to try to figure out what moves I had yet to do than I did actually working out.
When faced with frustration at trying something new, I decided it was time to resort to the source that I know and love, the source that I have intentionally avoided until now in order to force myself to try other sources of online learning. That source is Beach Body On Demand. Beach body is not a free online source which is the other reason that I avoided it until now. However, I have been a part of the Beach Body COmmunity for years and is the one thing that I have found always worked for me. However, I had yet to research the prenatal options. So my first step was to see what the options were through Beachbody on Demand. Ultimately I choose Active Maternity with Autumn Calabrese since she has been my favourite trainer for Beach Body, and I had the most success with her 21-day fix program.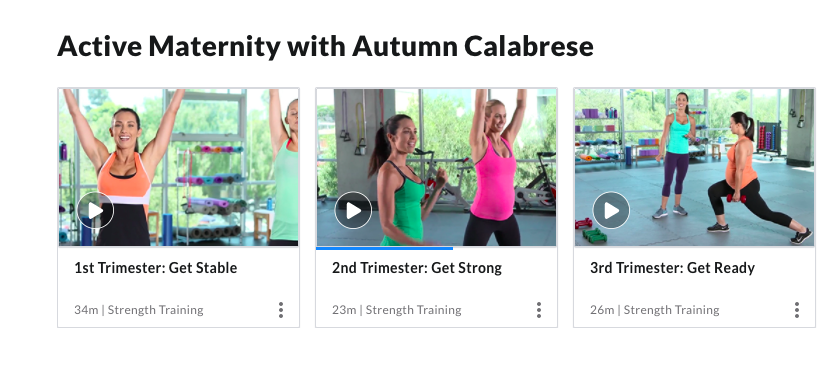 Here is what I loved about this workout:
Warm-up and cool down
Proper form instructions
Encouragement and words of wisdom as to why certain moves may seem more difficult
Options for modifications
Reminders about making sure to stay in a safe exertion zone
Tips on how moves are beneficial in labour and delivery as well as in taking care of the baby (ex: constantly holding baby uses muscles you didn't know you had)
Workout is fast-paced, changing between strength moves and cardio, the constant switching of moves makes the workout go by so fast
I felt like I had a better workout, both in the strength and cardio aspects than the other workouts I had done.
Multiple workouts to choose from for each trimester
I also love that the Beach body App lets me download workouts to my phone, so I can take them anywhere without worrying about the cell service or wifi connection.
Autumn Calabrese, she is my favorite trainer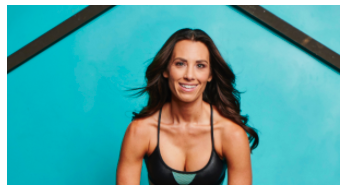 I wish I would have remembered to set my fit bit for this workout as I think the stats would have been pretty awesome!! I am a little disappointed that I waited so long to try this workout, yet at the same time, I know that if I had tried them earlier, I would not likely have explored the other options available online. I had to push myself out of my comfort zone to try new things, but there is nothing wrong with admitting what I know works for me!! Lucky for me I have another 12 weeks (hopefully) to explore all the prenatal workouts that Beach Body On Demand has to offer!
What is something you have done to push yourself out of your comfort zone? Did you find that you liked the new way of doing things, or did you gravitate back to what you knew before?