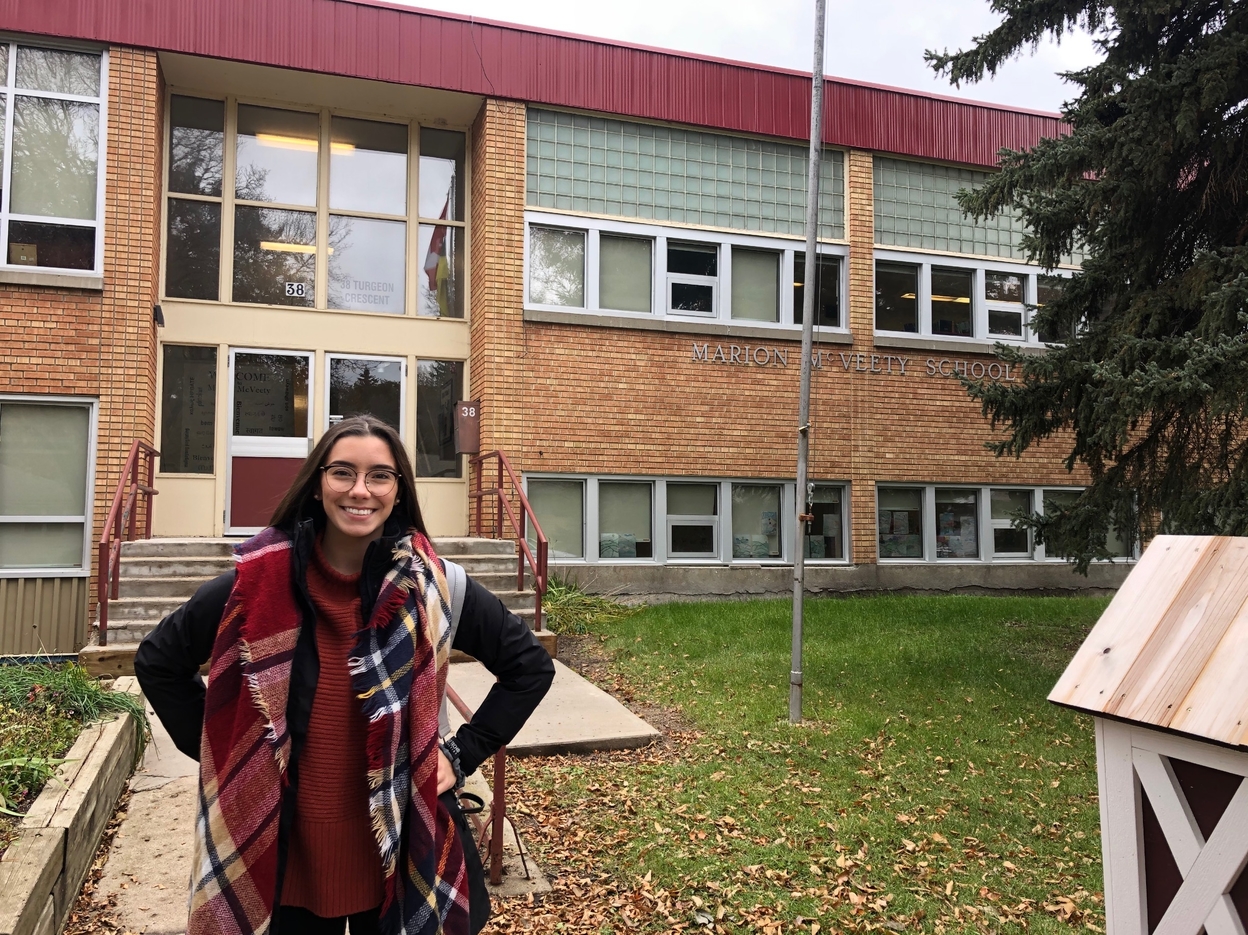 Introducing myself as "Ms. Hembroff" for the first time uprooted butterflies in my stomach that I have never felt before. I have never had such complex and compelling feelings as I did on that Tuesday. From excitement and optimism to nerves to the feeling of being uncomfortable, I was feeling it. What were the kids going to think of me? Will they like me? What if I say or do something I shouldn't have? What if I offend someone when I don't even realize it? These were all things (and so many more) going through my mind as I walked through the front doors of Marion McVeedy Elementary. Students from the height of my knees to a head taller than me filled the hallways. For a moment, I was confused as to what all the kids were doing, but I quickly was reminded of the recess shenanigans that I once took part in when I saw *and smelt* the boot room filled chaos as the students frantically put their shoes on. I thought to myself, oh boy, today is going to be an interesting one as I haven't been in an elementary school since I was a student in one. But, once I got into my 5/6 split classroom, all of those feelings and worries seemed to settle. I am reminded of the smell of cold air and winter coats' while the students entered the room with the most welcoming smiles to greet Christine and myslef.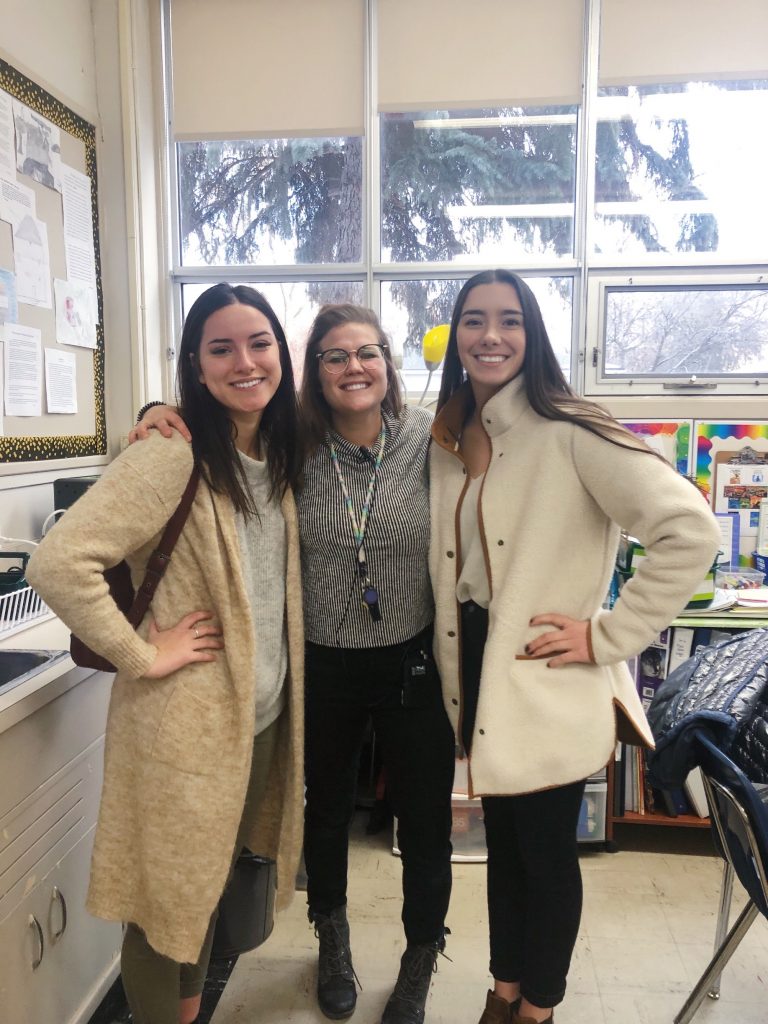 Caelyn's 5/6 Split Classroom: Week 2
I noticed that around the school hallways are decorated with different cultural banners and languages, even a map with stickers showing where every student is from. This was so heartwarming to see because moving to Canada would be a huge culture shock for a young student, so these welcoming signs of acknowledgement would help a student get a better sense of belonging in their new school and homes!


This is a small part of my blog post that I had made on the second week of my field placement.
Caelyn's 5/6 Split Classroom: Week 4
When Mrs. P went over the assignment, I noticed that the instructions were written in 3 different languages.

Week 4 of my field placement was focused around inclusive education and diversity. When I noticed that Mrs. P had done this on assignments, it demonstrated inclusive education in a way that students no matter what language they were most comfortable with, were able to do the same assignments as everyone else.
Caelyn's 5/6 Split Classroom: Week 5
The students were working on making themselves into superheroes and it was super interesting to look at what each of them created! To my surprise and I guess not surprise as well, the most popular qualities in the superheroes were based around the environment. Some students had the ability to "parish all plastics" some, at the point of their finger "bring back dead plants and extinct animals.


It was very humbling reading about their superheroes on this day and stepping into their shoes to see what they would change/help in this world- Adults have so much to learn from children!
Wow, it is hard to believe that this semester is already over! Even harder to believe that I had to say goodbye to those amazing students I just spent the past 8 weeks with. The things that I have learned from my first day in the classroom to now is immense and cannot be put into words. I am filled with nothing but gratitude for my cooperating teacher and the students I was so fortunate to learn alongside. The knowledge and memories that this field placement has given me, surpasses the course content a class has ever taught me. The students that I was able to share my Tuesday afternoons with this semester, were the most inspiring people I have ever met. I truly cannot wait to work alongside them for the rest of my working career. One of the biggest takeaways from my placement is how much adults have to learn from our young students. From staying on track in a classroom filled with 30 kids, avoiding picking up your phone that is going off with notifications or opening a new tab on the laptops, there are so many things that these students need to work with that I don't remember having as an elementary school student. Those kids are some of the hardest working people and I don't believe that we notice until we work alongside them. Classrooms have changed so much from even when I was an elementary student and with that, there are pros and cons that I am learning to find. Something that I would definitely like to focus on in my next placement is how much as an individual, I can learn from the students. This placement I feel like I was so focused on taking in as much as possible and answering my core questions that I lost focus on the things that I personally had questions about.

As I left my cooperating classroom I was filled with inspiration, sadness and of course about a million more questions than I had coming into the placement. However, along with with with those questions so so much clarity! Right from when I applied to the program, I had a hard time choosing what grades of students I would like to work with. Still to this day I second guess my choice but I think this is because I can see myself working with students of all ages! I didn't realize the passion I had in the classroom for inclusive education until I worked with my cooperating ⅚ class. I love those grade 5's and 6's dearly but, about halfway through my field experience, I decided that I wanted to transfer out of elementary education and enroll in high school with an inclusive education minor. Without the University's program that gets students into the schools so early on in their journey, I never would have made this switch until after I graduated and for that, I am so grateful! I believe that education is the greatest power in this world and I will forever be thankful that our country has that understanding.