Two weeks in the books and things continue to head in the proper direction: down! During my first week I was weighing myself every morning. I decided this was not a smart practice as daily fluctuations could set me up for disappointment. I am now weighing myself on Monday mornings.
The scale read 189.5lbs this morning! Down 3.1lbs for the week and 4.6lbs overall. I have a feeling some of the weight this week was water weight. However, I am happy that I continue to move in the right direction.
Here is my caloric intake summary for the week: Total calories: 13, 589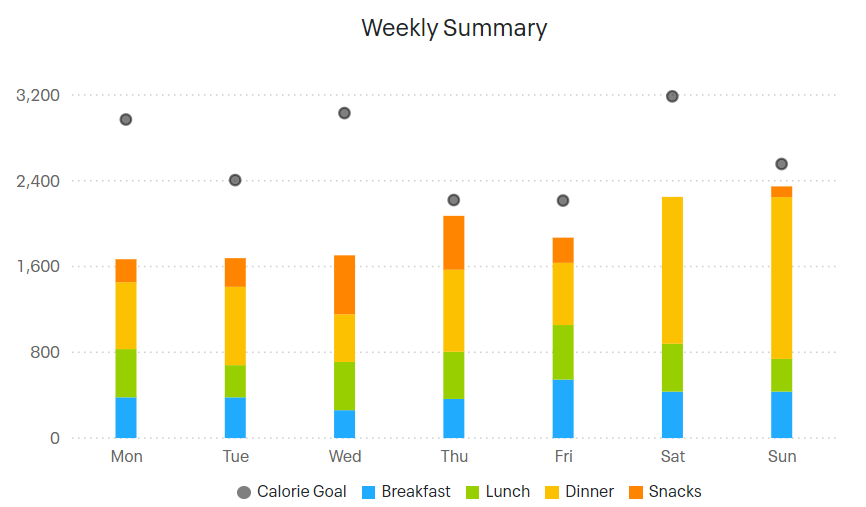 Total caloric expenditure: 3746 + 13608 (BMR) = 17354
Expenditure – Intake: 3765. With some additional expenditures that haven't been logged (i.e. walking throughout my day and working out during PE classes), it makes sense that I should have lost about another 1.5lbs. Hence, my thoughts on some water weight contributing to my weight loss this week.
For the most part, I continue to consume less calories than recommended, and burn significantly more than suggested. I continue to listen to my body, and I know when it needs more calories. I am learning to feel what it is like to be hungry again (which is a good thing), but I know there is a difference between being hungry and needing more calories.
I continue to run a lot. I know I have limited time left as I don't like running once there is snow and ice on the ground. I have found a strength workout program that I like on Youtube. It is a series of videos called Train with Jordan. I recommend it for anyone!
On we go!! I was proud that I got through Thanksgiving with no added weight. Unfortunately, I only ate one piece of pumpkin pie (my favorite). I guess it's all a part of the lifestyle change.