It has been six weeks since I began my journey, with a goal of losing 8-10lbs. As of Monday morning my weight has decreased from 194.1lbs to 183.7lbs. This is a loss of 10.4 lbs. I am definitely celebrating this success, but have my sights set on a new goal…
While I can notice some changes in my body, I am still not where I want to be with physical appearance. In reality, I know physical appearance is not the most important indicator of health…how I feel, move, eat, reduced body fat %…are much more important. Buuut, part of the reason I embarked on this journey was to look better as well.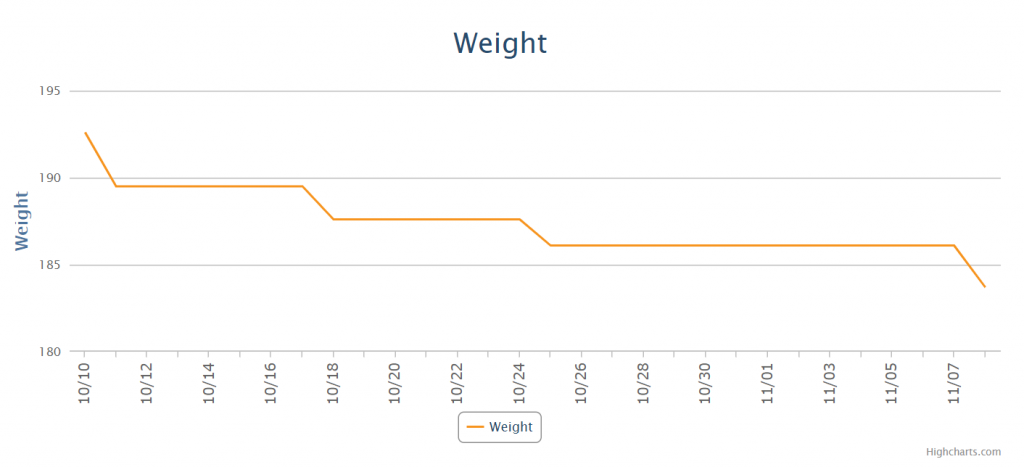 So with that in mind, I have set a new weight loss goal. I would like to get down to 178lbs before Christmas. I am also more focused on decreasing body fat % as opposed to just losing weight.
My weight loss has slowed slightly over the past couple weeks. Part of this is because I had some type of bug over the last week that caused me to miss my workouts for almost a week. My body just didn't have the energy to work out. Therefore, I lost some significant caloric expenditure. I also started eating more, knowing that the caloric deficit I was experiencing wasn't sustainable. I need to start fueling my body and adapting my workouts to target body fat loss.
I have accepted the fact that I will never be Mr. Muscles. I also realize that I am fairly healthy and am at a healthy weight. At this point I am doing some fine tuning and doing my best to avoid a Dad bod. Hopefully with some more hard work over the next 5-6 weeks I will see some of the physical changes I am hoping for….just in time for Christmas turkey!