To me Truth and Reconciliation means that we are hoping to work towards a world that is more understanding and supportive. It is very important to realize the fact that we need to honor everyone that has come before us. Through articles I have read it explains Truth and Reconciliation in different ways but the words that resonate with me includes truth is not always what is agreed upon but is made up of trust, respect and facts. The words that I believe are most important while talking about reconciliation include unity, healing and mutual respect. I really do believe these six concepts can be fundamental in building a community where everyone feels special and included.   
Treaty Education is an essential part of the curriculum because it can create deeper meaning in all subjects that we teach. For example, in social it is very important to teach how to build relationships and Treaty Education allows for this through TR41:  Analyze how relationships are affected when treaty promises are kept or broken. I also believe that it even though how we treated Aboriginal people is degusting I still believe that it is important to teach Treaty Education along with about residential schools and indigenous ways of knowing allows us to make sure that nothing ever happens where there is an attempt to get rid of a culture.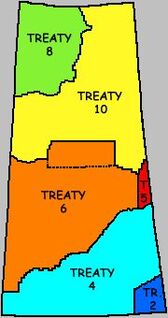 Implementation ideas: 
– Have an Elder to come and talk to the students on certain subjects because I believe it would be more meaningful for them to hear it from a respected source.   
– Every student can make their own definition of the word's truth, reconciliation and for students that are in grade 5 or 6    understand the point of the calls for action.
– It is important to bring in the Indigenous Ways of Learning and one way I hope to do this is to make a conscious effort of including a holistic approach in my lesson plans of physical, emotional, spiritual, and cognitive aspects.
– The teacher should encourage and participate in Aboriginal Awareness days and if there is a student that is passionate about a cause let them speak to the class on it.
– It is important to take the students to the Treaty Four Gatherings in Fort Qu'Appelle. It allows students an opportunity to appreciate another culture while learning more about it.
I am always willing to listen to people who have more knowledge on Treaties and Truth & Reconciliation than I do. A good starting spot is to teach students to be respectful, kind and loving to all people and things and this could be the beginning of creating a safe place to talk about Treaties, Truth & Reconciliation among many other important topics.