I really enjoyed getting to know my classmates through the online platform of EDTC 300.
During the COVID-19 Outbreak, we have all become more socially isolated. The opportunity to connect to classmates, even though it is over a computer, is a gift, and I have been grateful for these opportunities.
I made this video to summarize my learning experiences in the course.
Contributions to Course Community
Twitter
Joining Twitter was a learning curve for me! I felt hesitant at first. As a Yukon University YNTEP Student, I was aware that Twitter is a resource used by some of the Education Students. I felt intimidated, but ready to give it a try. I created a Twitter handle and bio. I discovered and followed classmates and people and pages of interest on Twitter. I discovered that there is a wealth of Education resources available on Twitter – this was a new discovery! I interacted with classmates, asking them questions, commenting on their posts, and responding to their questions on mine.
One of the things I could offer my classmates, is positive, encouraging and inspirational posts. I also tended to share news articles about the north, LBGTQ2S+, and general education topics, especially lists!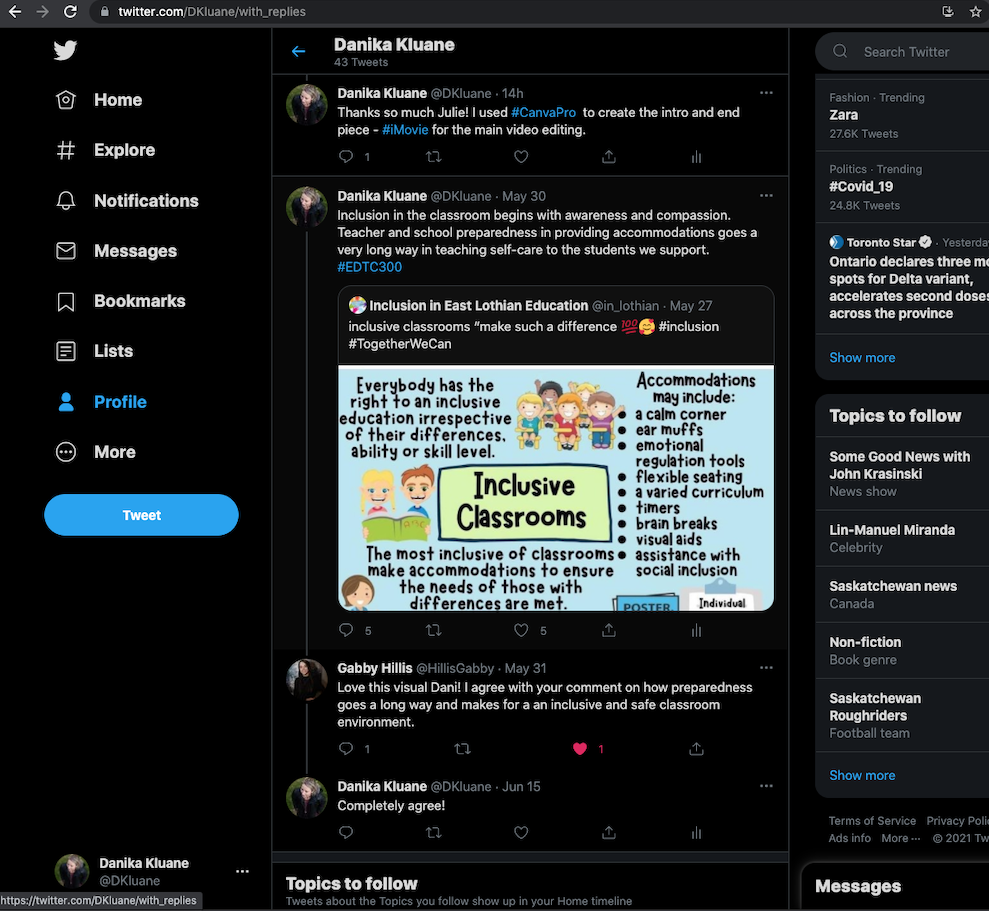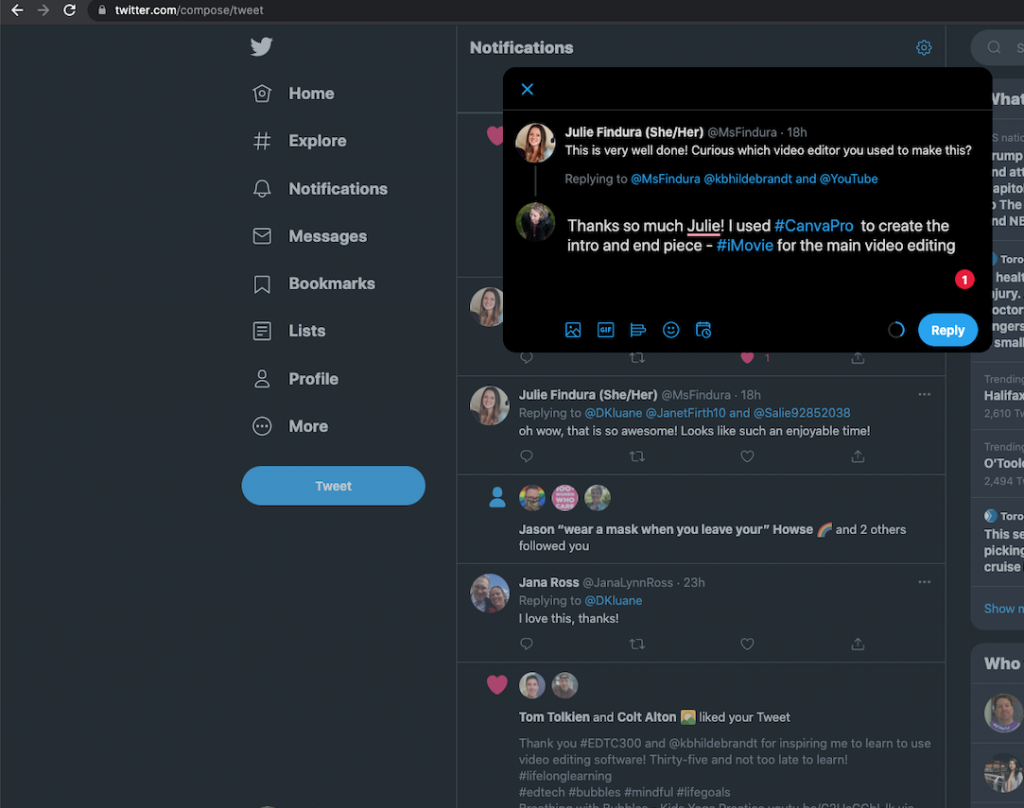 Blog Posts – Others
I really liked reading the blog posts of my classmates. It was a great way to learn about people in the class and to feel connected with others.
I liked offering encouragement and support.
Some of my favourite bloggers to follow were:
What I appreciated and valued about each of their projects were:
Linnette's dedication and determination: despite some challenges and setbacks, she kept challenging herself to keep walking. She was not afraid to admit her shortcomings or difficulties. I also related to her, as a Mom, and knowing how much more challenging that can make things feel sometimes – you just have less time to fit everything in – self care and schoolwork included – because little people always come first. In the end, she was successful in accomplishing her goal of 10,000 steps!
Rosalie has been working really hard on her beading skills. She is really good at it! She has persisted in her learning, despite the challenges of needing to get instructed from her sister over the internet. Beading seems to be something that is much easier to learn when you have direct, in person support. Rosalie did not have that, as she is living in Yukon, and her sister is in their hometown of Paulatuk. Despite this, Rosalie persisted, and she was able to make beautiful earrings, experimenting with different types of patterns.
I could tell that Andrew was really set on improving his cooking skills – and I think he did really well! Not only did he learn to cook himself, he provided detailed instructions and insights that would help any beginning cook to get started and feel more confident in the kitchen. It was neat to watch how Andrew explored various elements of cooking, such as tool organization, list-making, and how to use a dishwasher. He also highlighted the benefits of family mealtime, which I thought was awesome!
Here are some of my comments: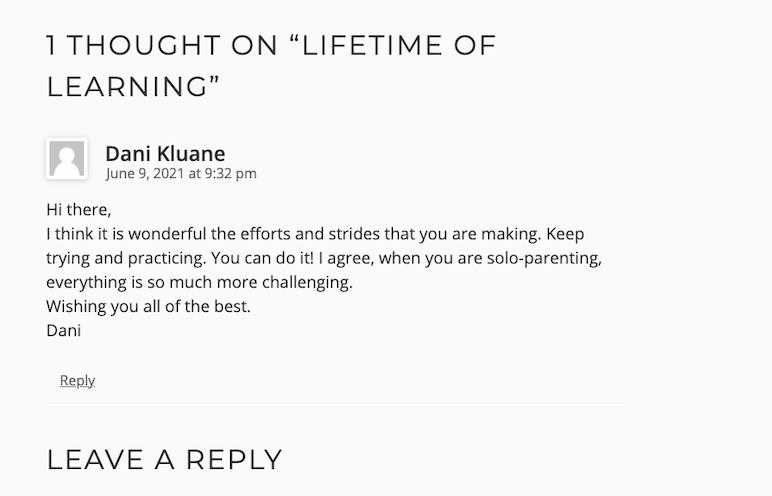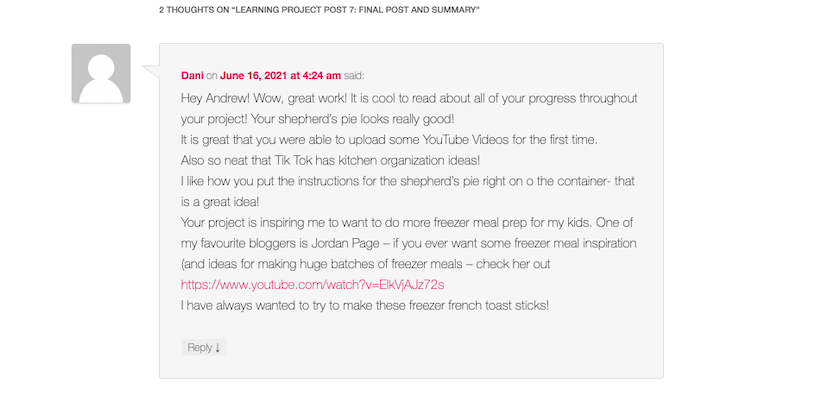 As well as commenting on these student's blogs, I also had a chance to visit the blogs of other classmates and share regular comments throughout the course.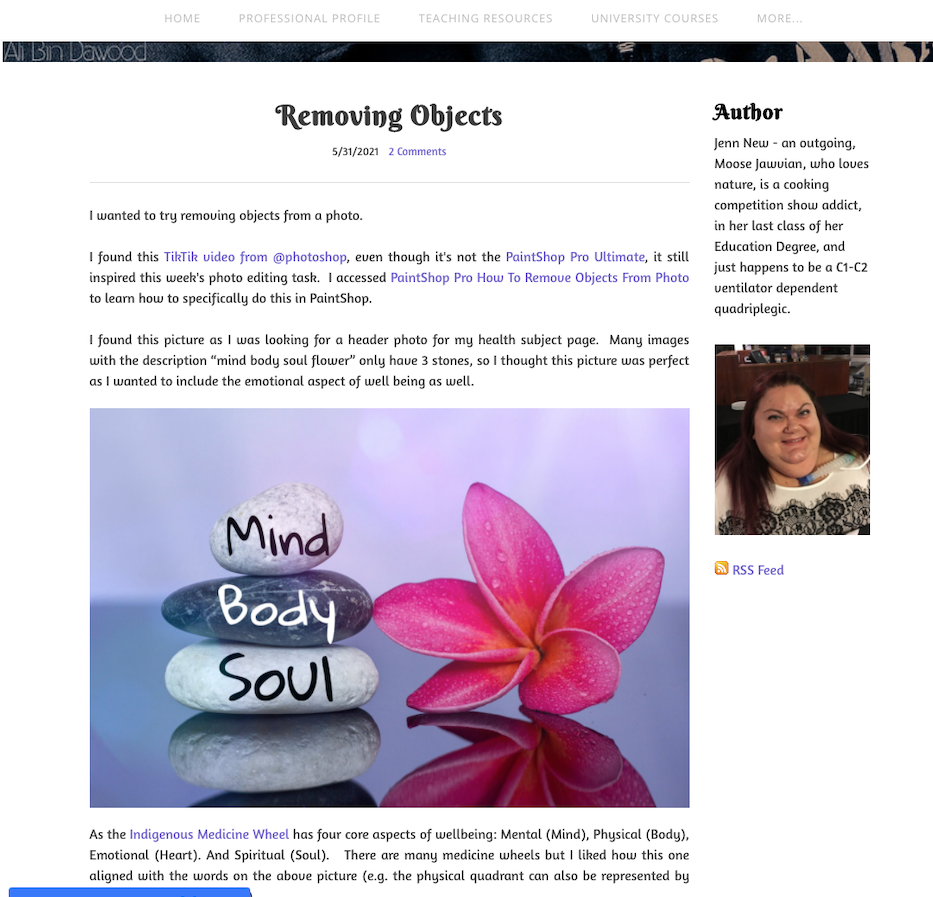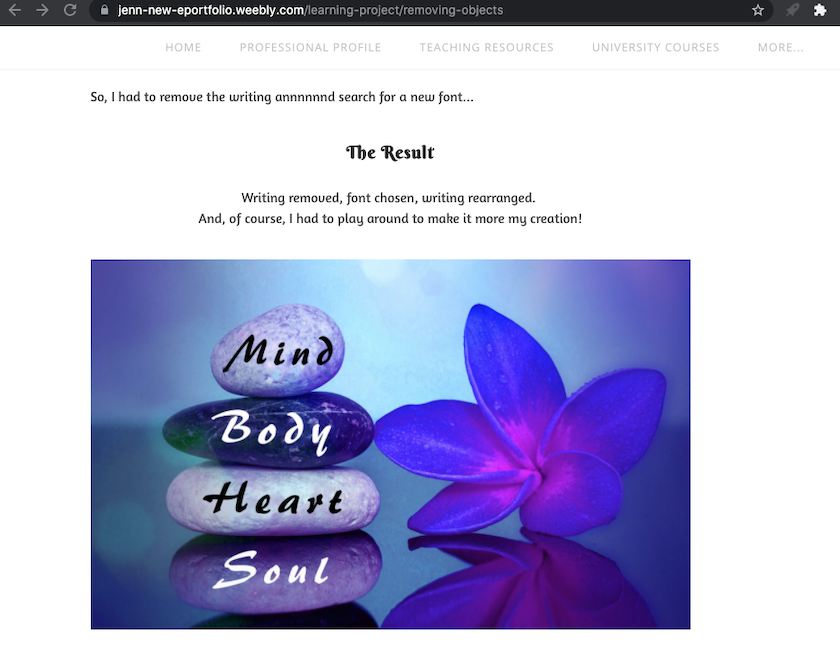 Some of my interactions on other student's blogs:

Blog Posts – My Blog
It felt meaningful to me to have other classmates take the time to read and comment on my blog. I appreciated hearing their comments and insights.
One of the conversations that felt the most important to me is about student mental health. Mental health affects everyone. Despite growing awareness, I believe there is still a lot of stigma. We need to keep having the important conversations. We need to keep normalizing mental health difficulties. Every conversation matters. I am glad I could contribute to this a little bit.
Interactions on my blog: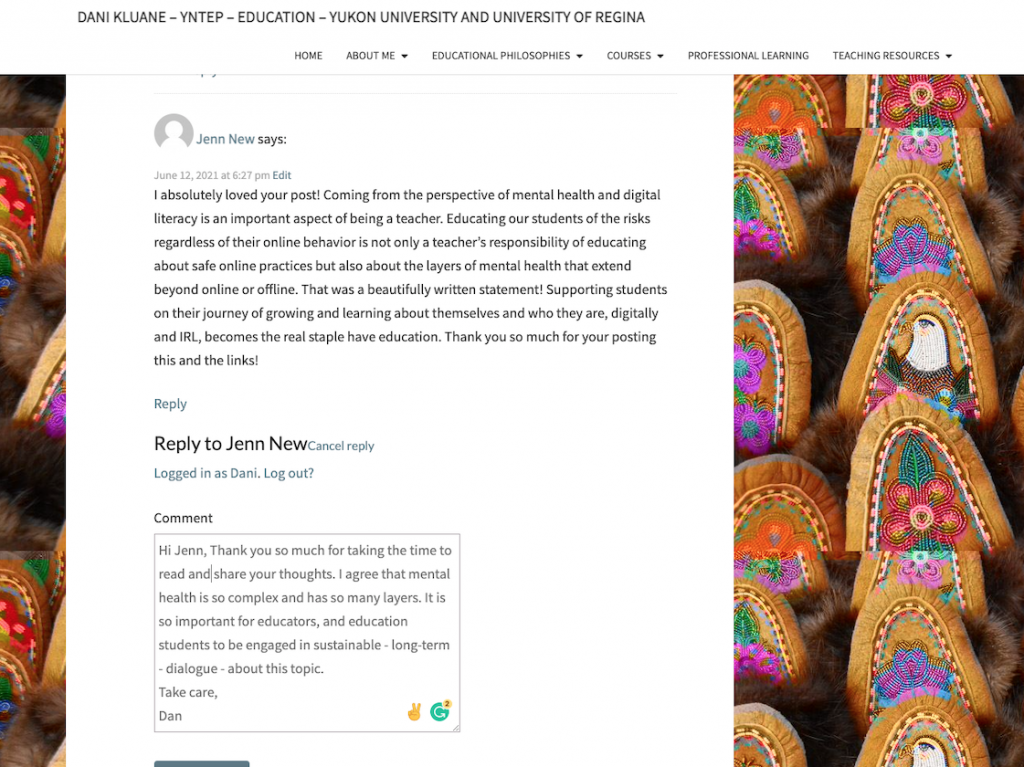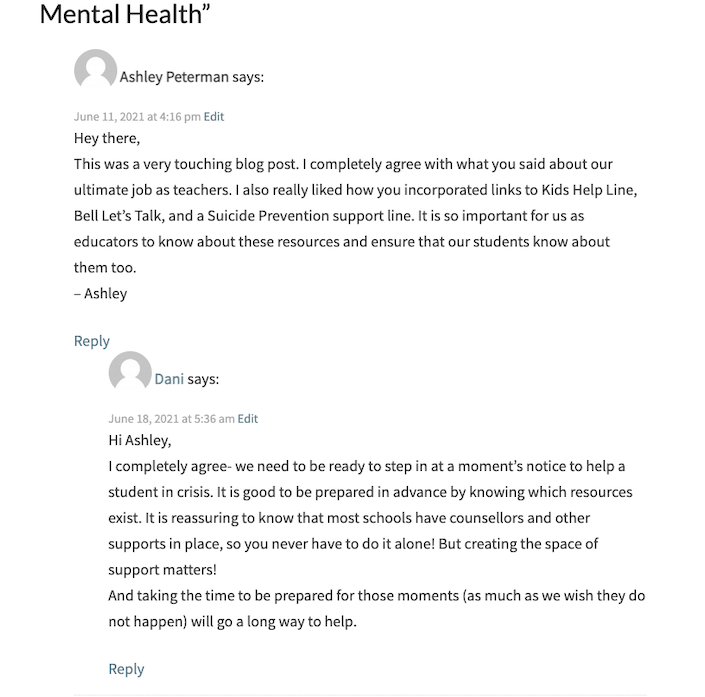 Students used Discord to ask questions, problem solve, and help each other.
I found it useful to download the App onto my phone so it was easily available.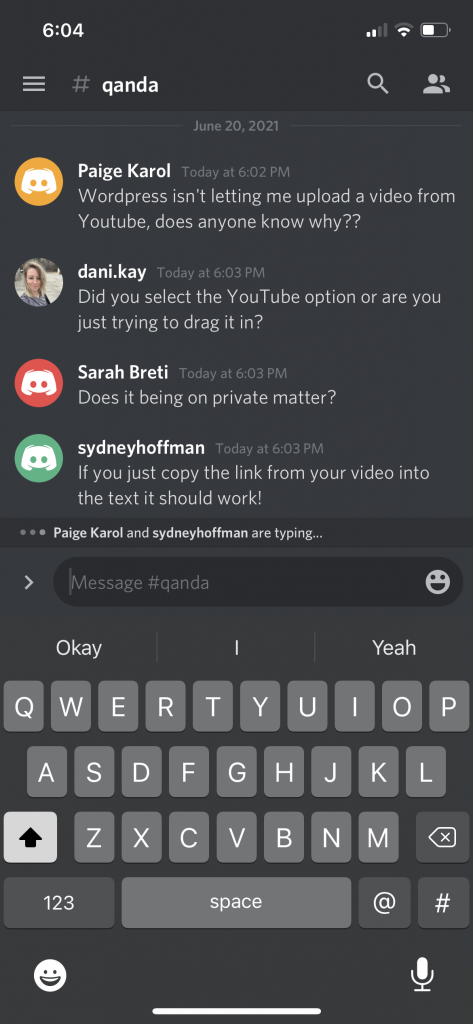 Connections with other students
I did my best to keep up with other students' posts and comments on twitter, although I must admit – with being a busy mom, and working three jobs – some days it felt like a challenge!
Students in EDTC300 shared some amazing resources on Twitter and I liked reading some of the posts they made! I replied to comments, and made comments on other student's posts. When I found a resource that I found helpful, I would retweet it and thank the other student for sharing.
I like to connect by offering thanks to others, and offering them messages of support and encouragement.
I observed how incredibly helpful and supportive everyone was of each other on Discord! Students were quick to jump on and answer each other's questions, offering in-depth support and solutions whenever other's needed. I felt that if I ever needed to ask a question, my classmates would be there for me to help.
Yoga Meditation for Education Students
As part of my learning, I became curious about the process of video editing. In practice for the longer work of editing videos of doing yoga with my kids, I decided to take on a more simple challenge of making a meditation video. I wanted to create a meditation that would be helpful for education students during times of stress or overwhelm. For me, this was another meaningful way of contributing to the class community.
Thank you for reading and for sharing the journey!
Until next time!
-Dani