I cannot believe that this is my final learning project post. It's crazy to think how quickly this semester flew by! Over the last several weeks, I have taken on cookie decorating as part of my EDTC 300 course. Through this learning project, not only did I get the opportunity to learn a new baking skill, but I have also learned several ways to use technology to help me learn and document my learning progress.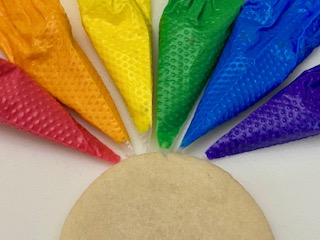 As soon as I read what this assignment was all about, I knew that I wanted to do something that involved creativity and that I knew I would enjoy. After gathering a list of ideas in my mind, I decided to go with cookie decorating. Cookie decorating was something I have been wanting to try for a while and was also something that several people have pushed me to try; however, I never did. I explain this in more detail in my first learning project post. Anyways, I thought that this project would be the perfect opportunity to learn this skill!
Project Recap
Week 1 was an introductory week. In this post, I gave my rationale as to why I chose to learn cookie decorating, as well as provided a plan of how I would break down my learning for the weeks to come. In addition, I also included some of the resources that I planned to use. During this week, I also did some research about specific recipes and tools I would need to get started.
Resources/Tools used:
Although I did include various resources throughout my first learning project blog post, the main one I used was Google. With the help of Google, I was able to find the resources I needed to support my learning.
I think that Google is the Holy Grail of learning and researching things online as it provides links to various helpful resources and websites – you can find almost anything on Google! With that, I give Google 5/5 star cookies.
Cooking/Baking Blogs
From Google, I was able to find some very helpful cooking blogs that focused specifically on cookie decorating. Two blog posts that I took a look at during this introduction week were The Simple Sweet Life's post that offers 10 simple tips before starting cookie decorating and The Bearfoot Baker's Beginner's Guide to Cookie Decorating (this post has SEVERAL helpful tips and tricks from ingredients all the way to actual decorating).
Reading blogs are a great way to learn from professionals or even beginners. They usually offer great advice and resources and unlike Google, you can actually connect with the people by commenting or asking questions! Thus, I also give these resources 5/5 star cookies.

The goal I had set for week 2 was to find the perfect cookie recipe and actually try it out. I ended up using Owlbbaking's Perfect Sugar Cookie Cut Outs recipe and they were everything I had hoped for – delicious (nice buttery flavour and great texture) and created the perfect shape (no spreading!). To document this, I took some pictures and made a quick time lapse video of myself making the dough.
Resources/Tools used:
Cooking/Baking Blogs:
See Week 1 summary.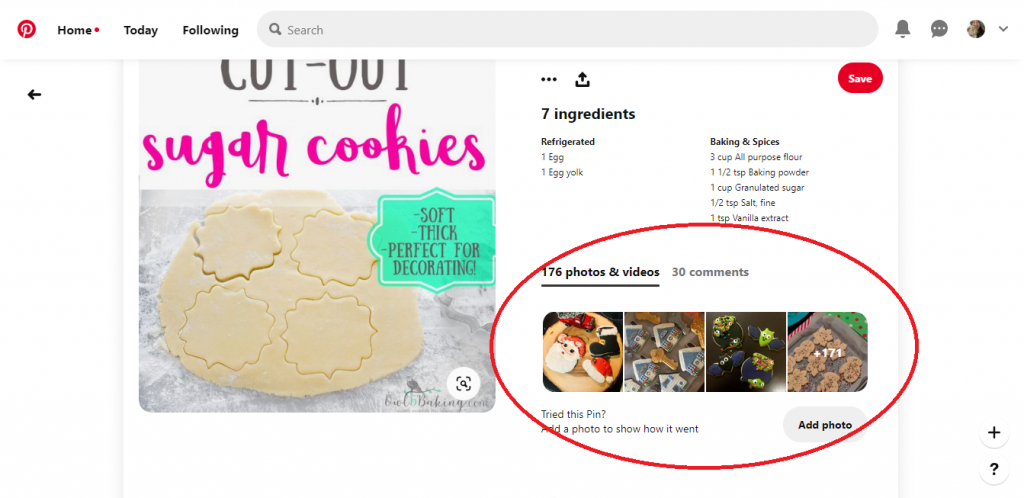 To help in finding the perfect sugar cookie recipe, I used Pinterest. Pinterest is a great way to find inspiration for DIY projects and recipes. Something that I really like about Pinterest is that it allows for people to review and even share their results of a pin they tried. This became really helpful when looking for a recipe because the options to choose from were limitless and all claim to be "the best". Thus, the comments other users made helped in limiting my options to choose from. In addition, I also found that a lot of the pins were repetitive. However, the repetition did help me choose the recipe I chose because I thought that since it was pinned SO many times, it must be good!
Pinterest is great for inspiration, tutorials, and recipes – however, pins can become repetitive. I give Pinterest 4.5/5 star cookies.

To edit my time lapse video, I used iMovie. I always used Windows Movie Maker to edit videos in the past, however, it is unfortunately gone. So, I decided to try out iMovie on my phone. This app was fairly easy to use. It offers lots of free songs to use as background music, effects, options to record audio, speed and volume adjustment, and text. The only critique I have for iMovie is that there is a limit to how fast a video can be sped up to when creating a time lapse. This wasn't an issue for the video I created this week or the following week, however it did make it difficult in the weeks where I edited my decorating videos, as I needed the speed a little faster. With that, I had to save and reupload the videos a couple times to get it to my preferred speed.
Despite the limited speed options, iMovie is a great app! Perfect for beginner video editors. I give it 4.5/5 stars.

This week was all about icing. I learned how to make royal icing (the second time around – see my week 3 blog post to hear that story) following Sally's Baking Addiction's royal icing recipe. I also learned about the different royal icing consistencies by watching Cookielicious NZ's YouTube video. Finally, I also had my first attempt at actually cookie decorating! I found my cookie inspirations from Instagram using the hashtag #sugarcookiesofinstagram.
Resources/Tools used: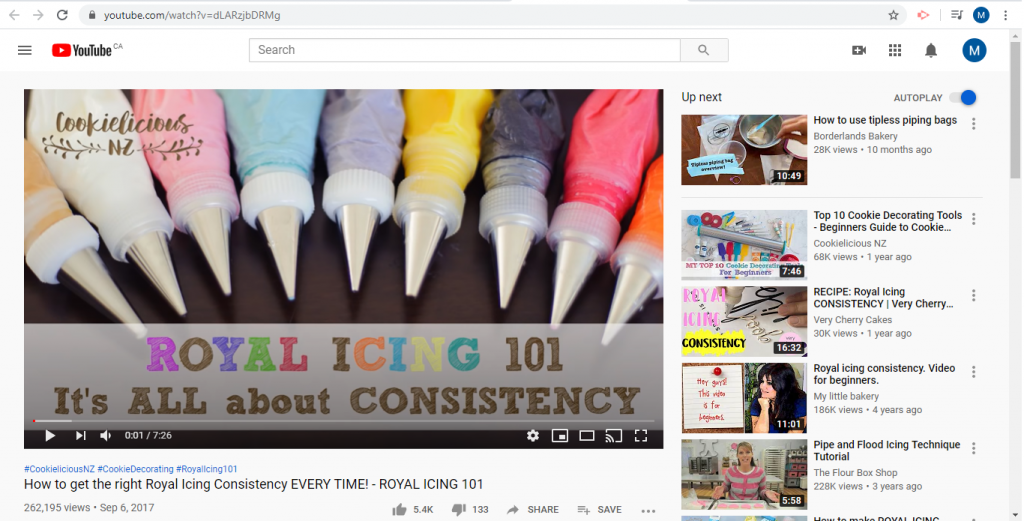 YouTube was a great tool for my learning project! The tutorials offered visuals and explained the different icing consistencies and techniques very well. However, since it was just a video and I couldn't actually feel how the icing is supposed to feel, therefore my consistencies were a little off – this is where in-person tutorials would be helpful. Despite that, YouTube is a great tool to help with learning new things digitally! Video speed can be adjusted or can be paused when needed, questions can be asked in the comments, they make video recommendations that might be helpful, and YouTube was also where I posted by own videos that documented my learning to display on my blog.
YouTube allows for people to find resources to learn from (great substitute for face-to-face learning) and to share their own learning. I give YouTube 5/5 star cookies.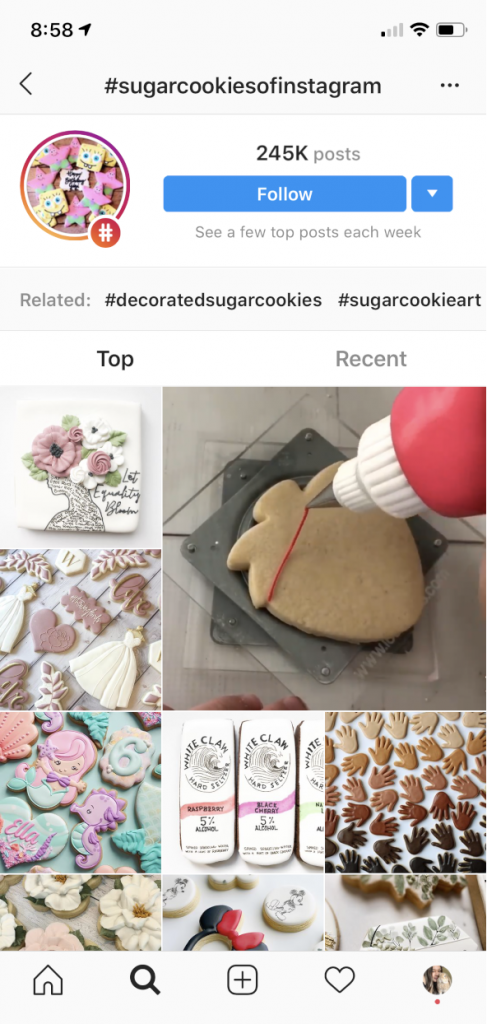 Instagram is a great place to find inspiration! Just by searching a simple hashtag, I was able to find thousands of cookie accounts. These accounts also post quick video tutorials and links to recipes and resources. However, the main purpose of Instagram is usually to share photos, so often times these helpful tips were lacking.
For this learning project, Instagram offered lots of cookie inspiration, however, did not provide as much growth in terms of my learning of cookie decorating and techniques. Although, I can see how Instagram could be used to share learning by posting about your own learning journey. However, I do feel that Instagram is a very filtered platform. Most of what is seen is single-sided and does not show the process. With that, I give Instagram 3.5/5 stars.

iMovie
See Week 2 summary.
My focus for week 4 was lettering. I also learned how to use a new online video making tool called Animaker. To help me get starting on lettering, I read a blog post on a website called biscuiteers.com that offered a how-to on writing with royal icing. With the help of Wilton's YouTube video, I also learned how to make parchment triangles, which can be used in place of piping bags.
Resources/Tools used: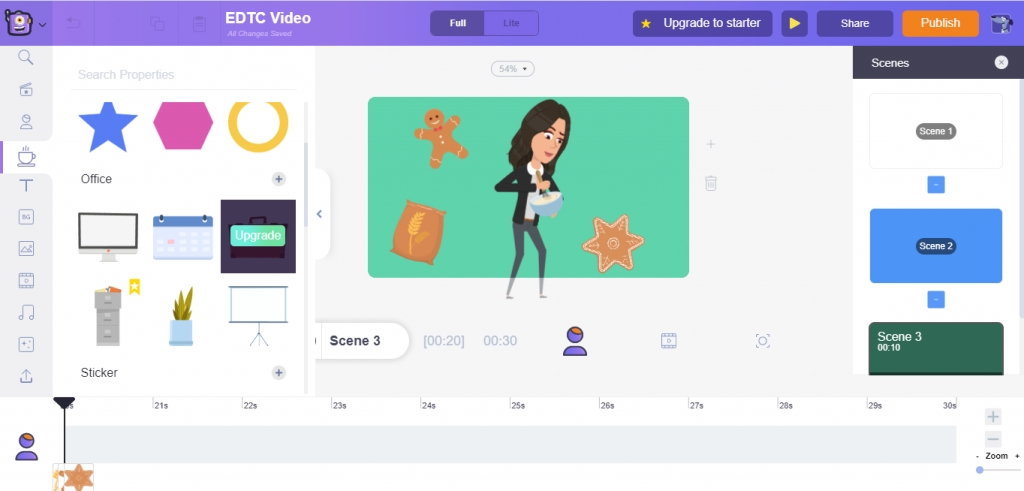 Animaker was fairly easy to use. Even though I used the free version, it still had lots of features, such as a character builder, voice over recorder, text, as well as images and clipart. The only critiques I have is that the website slowed down a lot and would freeze every here and there. However, when that was all sorted out, it created a lovely little animation! With that, I think it is better used for shorter videos. The character builder was a cool feature, however I found that the choices for the character's appearance were limited. For example, there were no options for different body types.
Despite the little hiccups and the limited options in the character builder, I would give Animaker a rating of 4/5. It's really good considering it is a free editor!

See Week 1 summary.
See Week 3 summary.
Week five was technique galore! I learned how to do several icing techniques through various YouTube videos and Pinterest pins. These techniques included: Quilted, Tie-dye, floral, watercolour, more lettering, dipped/marble, line work, and brush embroidery. In addition, I also talked about an online community I joined called Cookie Connection where I had the chance to connect with both professional and new cookie decorators worldwide.
Resources/Tools used: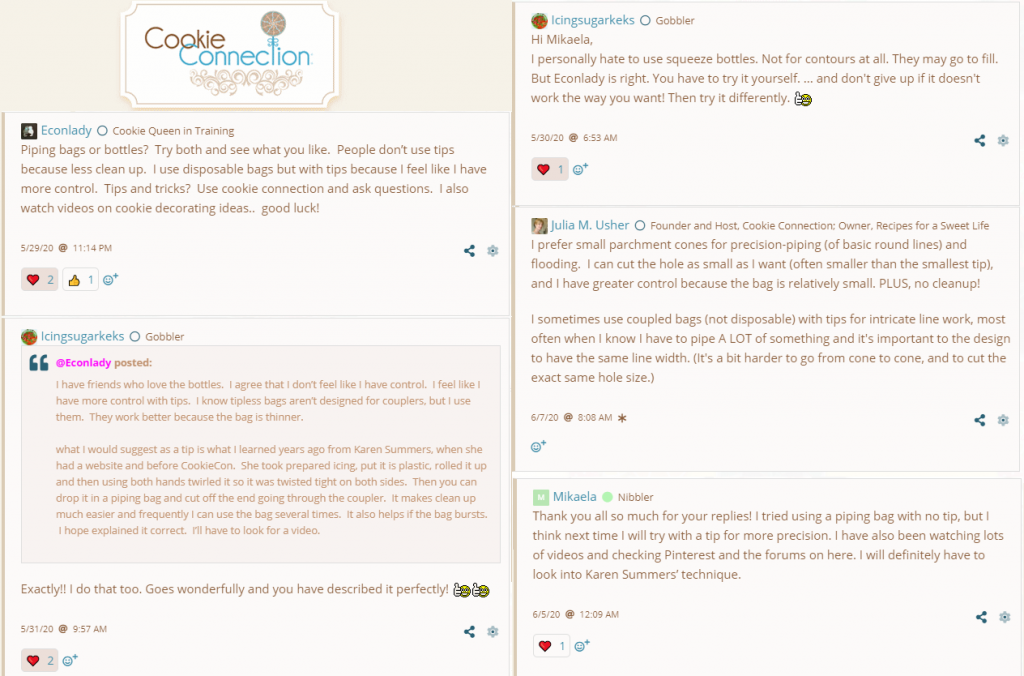 I learned how helpful online communities are through using Twitter as a professional learning tool. With that, I searched the web to see if there were any communities specifically for cookie decorating and I was lucky enough to find Cookie Connection. Through this community, I was able to ask questions, find forum posts that answered other questions I had, and even found some great tutorials and tips.
I believe that finding online communities and expanding your PLN is a great way to grow, learn, and find support in any learning project. The only critique I have with this online community specifically is that it is a little dated. Although there are many active members, I find that the forum posts are more limited. However, I found that even the older posts were still helpful and members still continue to post their own cookie creations! With that, I give this tool 4.5/5 star cookies.

See Week 3 summary.
See Week 2 summary.
See Week 2 summary.
For week 6, I decided to put my creativity to the test and design my very own set of sugar cookies. I decided to go with a dusty blue and gold sunflower theme. To create my plan for the designs, I used two different online apps: Google Drawings (which I learned about from a Twitter chat!) and Pixlr. When creating the cookies, I had the opportunity to use the techniques I learned from week 5. I was SO pleased and proud about how the cookies turned out.
Resources/Tools used: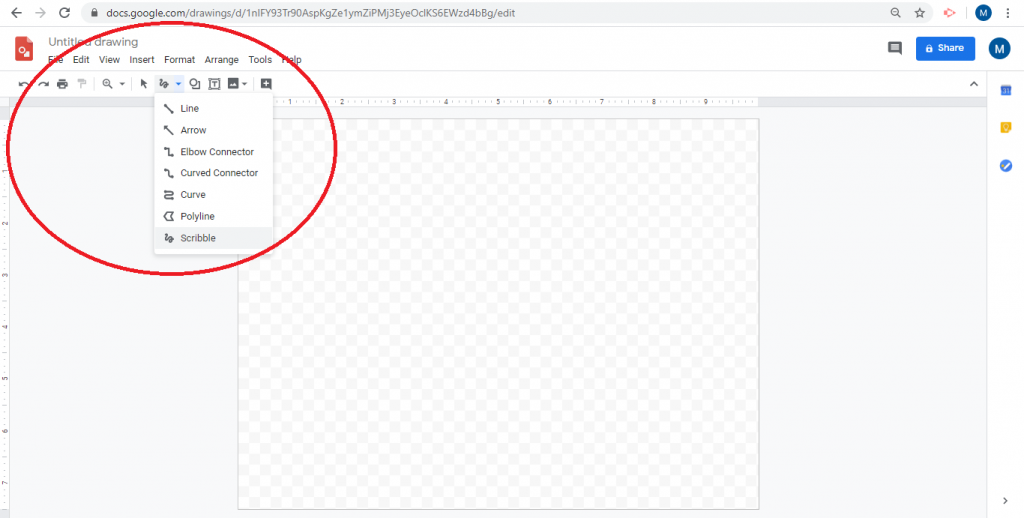 I believe that Google Drawings would be a great tool to use for simple illustrations, charts, or graphs. I can definitely see how it can be used to create posters or information sheets, as well. The tools were very easy to use and pretty straight forward. However, it was not the greatest tool for the project I had planned. I found that the drawing tools were very limited.
As of now, I would rate Google Drawings a 3.5/5; however, I would like to explore it some more and see if my critique changes the more I learn to use it!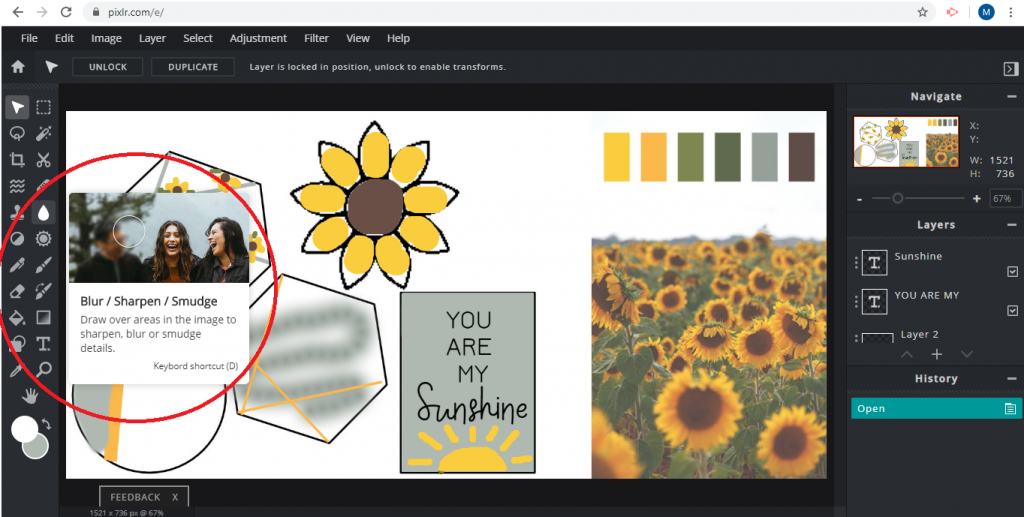 Pixlr. Is. Amazing. It is VERY similar to Adobe Photoshop, except it is online and FREE! It has so many tools to choose from and is pretty simple to use. If you are unsure of what each tool is used for, simply hover over it with your cursor and it gives a little explanation.
Honestly, I can't find any critiques for Pixlr. I think that it is the perfect tool for creating or even editing pictures. I very much enjoyed using it. I give Pixlr a 5/5.

Top 3 Takeaways from Online Learning
1) There are tons of tools
From online tutorials to video documenting tools, there are countless of digital tools that can be used to support and document any type of learning. I found that the visuals that video tutorials and cookie inspiration photos helped me the most throughout this learning journey. My favourite tool to document my progress was iMovie. I have never used iMovie prior to this, but have developed a deep appreciation for the app over the last few weeks. Since these tools are all online, I found them so convenient and easy to access!
2) Online learning is flexible
Using online tools to learn from and document learning is incredibly flexible. With that, it allows for you to learn at your own pace. For example, when something is beyond your level, a more simple tutorial is just a click away. In addition, the flexibility also allows for learning to be done at any given time. Bored at 2 am? Perfect time to watch another tutorial! Something pop up in your schedule requiring you to pause your learning project? No problem, just hit pause or save and it'll be right there waiting for you to get back. Online/Digital learning is accessible any time of day!
3) It allows for us to showcase our progress and build support systems
Posting my learning journey on this blog allowed for me to receive encouraging and uplifting feedback from my peers. I always appreciated and looked forward to reading any feedback and connecting with everyone who took the time to read my posts and leave a comment. The online community I joined also gave me the opportunity to connect with professionals and newbie cookie decorators (like myself) from across the globe.
Final Thoughts
Using digital tools to learn new skills is incredible. Although I've always used the internet to find tutorials, recipes, and project inspiration prior to this assignment, I never really took the time to actually appreciate what the digital realm has to offer. I believe that this learning project allowed me to deeply examine what digital tools and the internet make possible, as well as critique them; which I believe allowed me to gain a deeper appreciation of them. Without the online/digital tools and resources I used, I would not have been able to obtain the results that I did.
Over the course of 6 weeks, I can definitely see improvement in my cookie decorating skills. I had so much fun learning this skill and I believe that if it weren't for this project, it would've taken me a long time to actually try out. I know that I still have some room for improvement and I will continue to use online tools to learn more techniques, gain design inspiration, and even try out different cut-out cookie recipes to decorate! Below, I have attached pictures of all the cookies I created throughout the semester, including the batch of cookies I decorated for my Summary of Learning. Thank you for supporting me throughout this journey – it was definitely SWEET!