Before taking this class, I had no experience with Twitter and had never used it before. I was very unfamiliar with the platform and did not understand the advantages of using it. I typically only heard about Twitter in the media when celebrities or politicians went on rants that got a lot of publicity.
At first, I was a little nervous when I saw that we would be using Twitter for this class, however, after participating in the #SaskEdChat last week and seeing how it can be used to share information and resources with other teachers and professionals, I have changed my mind and I consider it to be a very useful tool.
I really enjoyed the opportunity to engage with my peers and other education professionals during the #SaskEdChat event on May 12. I thought it was great to be able to answer the questions posed, but also see other people's responses and what insight they had to share. I thought it was an extremely useful way to share information, and resources and also to network with others.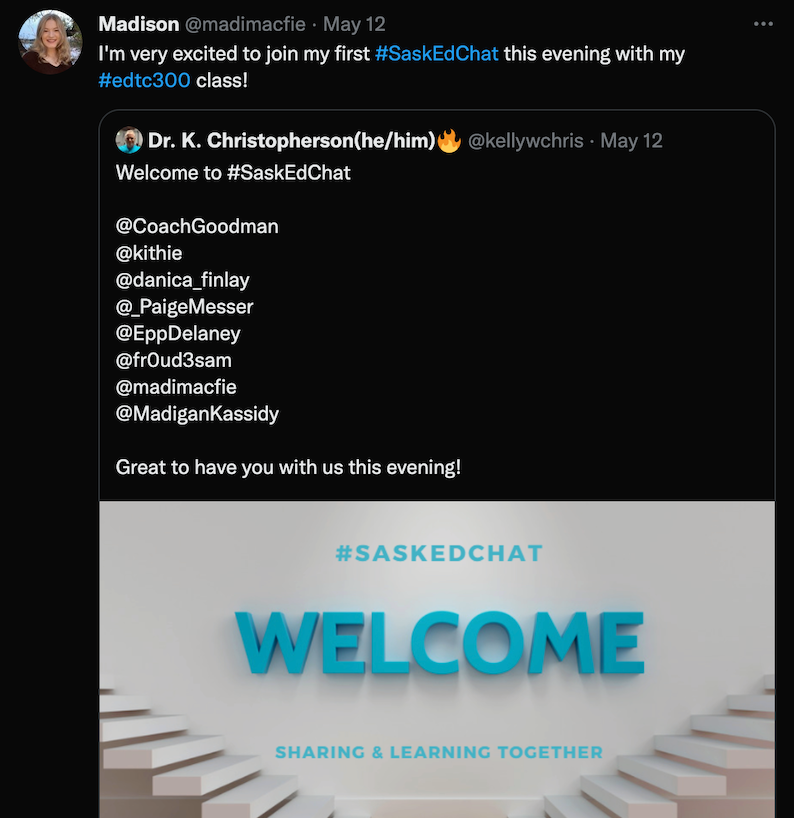 A useful way to incorporate Twitter in the classroom might be to have students utilize Twitter for research. Students could look up hashtags to see what people might be discussing and this could be used for looking into current events. As my major is Social Studies, I could see Twitter being particularly useful for teaching that course. For example, if we were talking about current events students could be given a few minutes to look up the event on Twitter before beginning our class discussion.
Another element of Twitter that I find useful is how other teachers can share resources and tips. For example, the other day I retweeted this interesting Tweet where a teacher was showcasing how in their class, they use "Knowledge Maps" to keep track of what students have learned and the connections they have made. I thought this was a great way to display information in the classroom and would be very useful for me as a Social Studies major.