As this course comes to an end, so does my learning project. I was super thankful for the opportunity to devote time specifically to learning a new skill. I have always wanted to learn to crochet as I grew up watching my grandmother and I have seen super fun projects that friends have worked on, but I never ended up giving it a try.
I feel very proud of my progress and the effort I put it to learning to crochet. Looking back at where I started to where I am at now, I can see my improvement and how much I have enjoyed working on crocheting.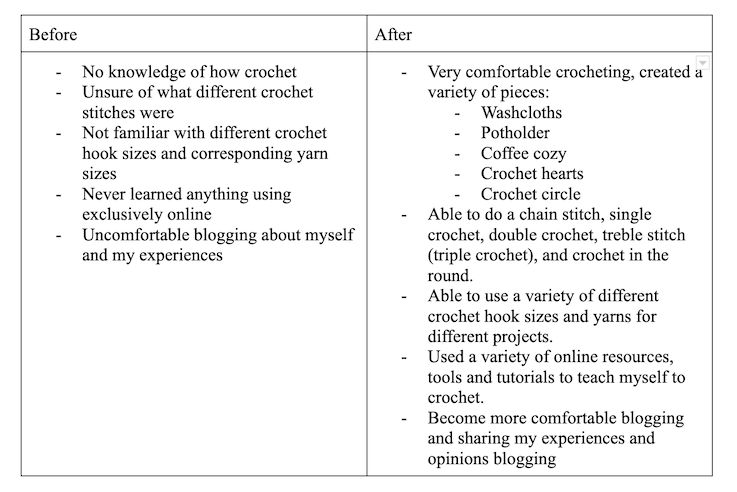 An Overview of my Learning Project:
Week One: Learning to Crochet
This week, I discussed my motivation for learning to crochet, why I chose this project, my goals for this journey, potential projects and pieces I could make, and how I planned to achieve my goals.
Resources:
Blog – The Spruce Crafts: Crochet for Beginners and Patterns for Beginners
Week Two: Getting A Grip: Crochet Attempt 1
This week I started to learn the basics of crochet so that I could build a strong foundation for this project. I began learning the basic slip knot, the chain stitch, the single crochet. I began my first piece with a single crochet which was a washcloth. I outlined the resources and why I chose them.
Resources:
YouTube – HappyBerry Crochet: Crochet Lesson 1 and Crochet Lesson 2
Week Three: Successes and Failures: Making Adjustments Along the Way
This week I completed my first washcloth using the single crochet. I discussed the resources I used and what I thought of my first piece. I also tried to create a small crochet heart after seeing a tutorial video on YouTube. I reflected on my experience trying to make one and why I deemed it a failure as well as my takeaways from the experience. I also shared more resources related to the double crochet stitch and compared learning the double crochet stitch to the single crochet stitch.
Resources:
YouTube – Hooked by Robin, MJ Carlos, and Crochet Guru
TikTok – HappyRockCrafts and Sofasaurus Crochet
Week Four: Feeling Proud Of My Progress
This week I made a potholder/kitten blanket using the double crochet stitch without following any videos, tutorials or patterns! Instead, I used my knowledge of the double crochet stitch from the previous week and decided to try it again to practice the stitch and improve. Also decided to retry the crochet heart from week three that did not go as planned. This time, I looked for more resources and videos before starting and I used my experiences from last week to improve. Since I had practiced the double crochet stitch, I was in a much better place to try the crochet heart and it worked out much better.
Resources:
TikTok – CutieOutfitsByBelle and OneCrochet
Week Five: Taking It One Stitch At A Time
This week I made a coffee cozy which was one of the original ideas for a project that I had from week one when I started to plan my learning project. I once again found various resources on TikTok, YouTube and Blogs to learn how to make this piece. I had to use several different stitches such as the Chain stitch, the Slip Stitch, the Single crochet and the Half double-crochet stitch which I have done throughout the last four weeks. I also included a time lapse of me working on my coffee cozy.
Resources used:
TikTok – JSkyeDesigns and KarasKnots
Week Six: Going in Circles: Learning to Crochet in the Round
For my final week, I decided to try crocheting in the round. I first saw this when looking up crocheting on TikTok and I found a few videos that explained how to do it. I decided to look up videos on YouTube to find a few better step by step tutorials to follow. I found one by HopefulHoney that I really liked and also found that they have their own blog for crocheting and patterns. Instead of following a tutorial for this piece, I decided to follow the pattern posted on their blog to give following a crochet pattern a try for my last week of crocheting for my project.
Resources used:
TikTok – SigoniMacaroni, Sofasaurus Crochet, CustomComfyCrochet
My Virtual Portfolio
Now that I have completed my learning project, I have finalized the portfolio that I made on Canva!
I created this virtual portfolio so that I could visually see all of my projects and the progress I have made throughout this experience.
I think utilizing digital tools like Canva to showcase my work, as well as resources like YouTube, TikTok and Blogs are a great way to find information on different topics and a useful way to learn new things!
Final Takeaways and Recommendations
After going through the process of learning a new skill on my own, teaching myself using only online resources, I have a few takeaways and recommendations.
The following are my thoughts on the main three resources that I relied on during my learning project.
1) YouTube:
YouTube is a very helpful resource when trying to learn a new skill or find information. I have watched YouTube tutorials many many times in the past so I knew that this was a resource that was going to work well for me. YouTube is a very helpful resource when trying to learn a new skill or find information. I have watched YouTube tutorials many many times in the past so I knew that this was a resource that was going to work well for me. One of the main reasons I like YouTube video tutorials is because I am a visual learner. I need to be able to see something before I can do it myself. I also really like how you can pause the video when needed or rewind in case I need to see something again, something I relied on heavily for my learning project. I also like that you can change the speed of the video, where you need to speed it up or slow it down. I often slowed down the video if I felt the tutorial was going over a particular step or stitch too quickly. This way I was able to see every detail better. I would recommend YouTube tutorials for anyone looking to learn something new. Sometimes you may have to search for a video that works well for you, but overall it is a great tool!
2) TikTok:
One of the more prominent ways people are finding information and spending their free time lately is on TikTok. Initially when the app first came out I wanted nothing to do with it but recently I have been finding it to be a fun tool for different resources. I was able to find a lot of videos and tutorials for crocheting on this platform and it was very accessible. One of the downsides to TikTok tutorials, in my opinion, was that I wasn't always able to pause and rewind the videos easily. When rewinding, I couldnt go back 5 or 10 seconds or any set time for that matter. Some videos didn't have the option to rewind if they were shorter than a certain length. For other videos that did have the option to rewind, I had to scroll with my finger at the bottom of the video which was not very convenient or effective and I often went too far back in the video. However, when looking at how accessible the videos posted on TikTok are and how many videos there are to choose from, I still think its a great resource and the tutorials posted there are great for learning!
Final Thoughts and Thank You's
I also wanted to take the opportunity to thank my course instructor, Dr. Katia Hildebrandt for creating the opportunity for me to learn something new while exploring educational technology and media throughout this course. This was such a fun way to explore these tools myself and find resources that worked for me as a learner and a future teacher. I also wanted to thank all of my classmates from EDTC 300 for their support, comments, feedback, and resources they have shared with me throughout this class, it was greatly appreciated! I really enjoyed this course.