I have always teased my fiancé that I have wanted to have my own food truck! He would quiz me on what things I would serve out of it. For a long time I figured I would master different lasagna recipes and have a lasagna truck!
Then when we were in Banff last March on a snowboarding trip, we stopped in Canmore at the Rocky Mountain Bagel Co restaurant. We enjoyed some breakfast bagels on our way home. I bought a dozen of their bagel as well. I highly recommend stopping there for a bite to eat if you are ever in the area. With those bagels, I created some interesting combos… butter chicken bagel, pizza bagel, and a favorite in our house, the ultimate breakfast bagel. Sunny side up eggs, bacon, ham, cheese, lettuce and tomato with a secret cream cheese sauce I am not willing to share! (You know, just in case my food truck dream takes off!)
So, for this weeks "baking with Shana" adventure I MADE BAGELS! I spent some time researching recipes on Pinterest for homemade bagels! I came across an account by Sandra, a self taught cook and her blog "Shes not cookin" It is where I found the recipie to use. It honestly had me a little freaked out though it called to BOIL the bagels… As I was laying in bed with Spencer and telling him all about my plan the next day to create these bagels, I told him "I'm so nervous… it wants me to boil them before baking!" I never knew that was a thing to do, when it came to making bagels.
The next morning, I started my day off making my bagel dough! it was easy enough to follow Sandra's recipe. however, I do wish that she included pictures so I could compare what mine looked like to hers!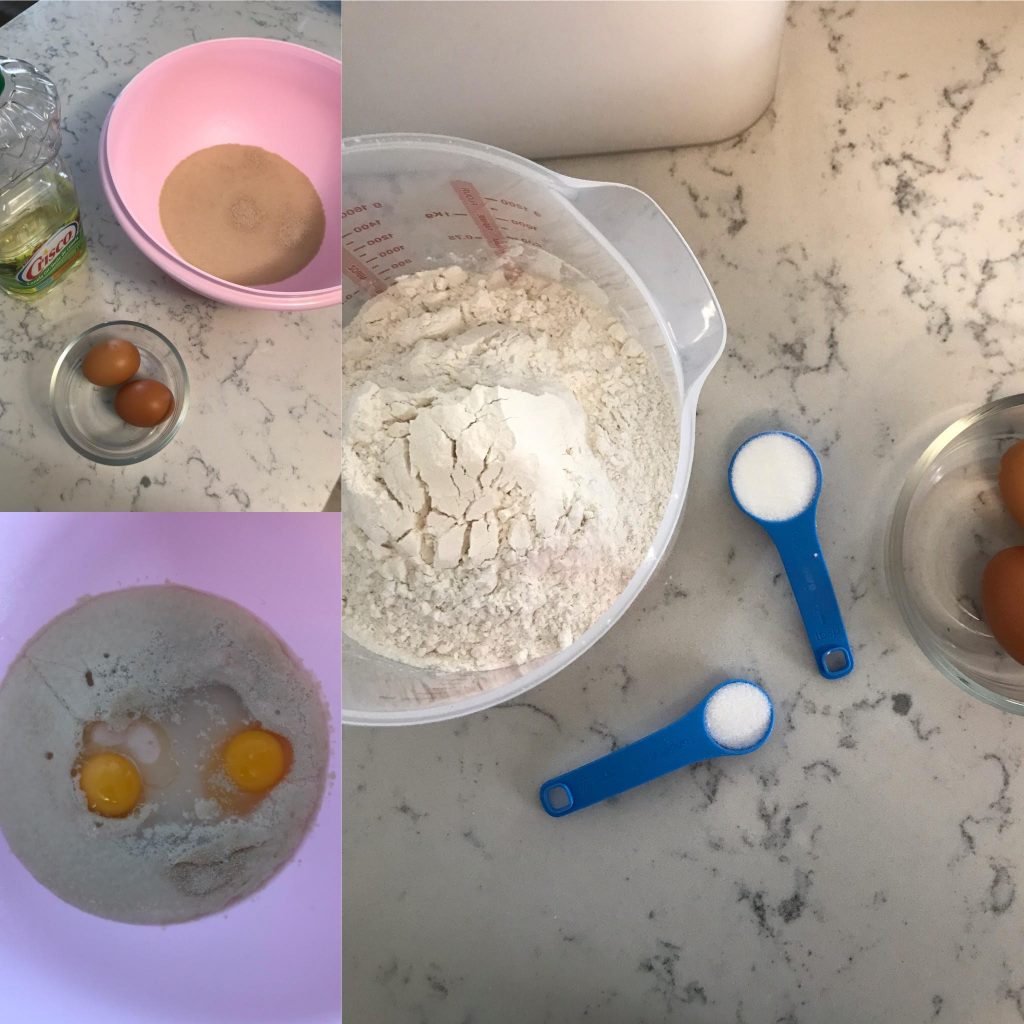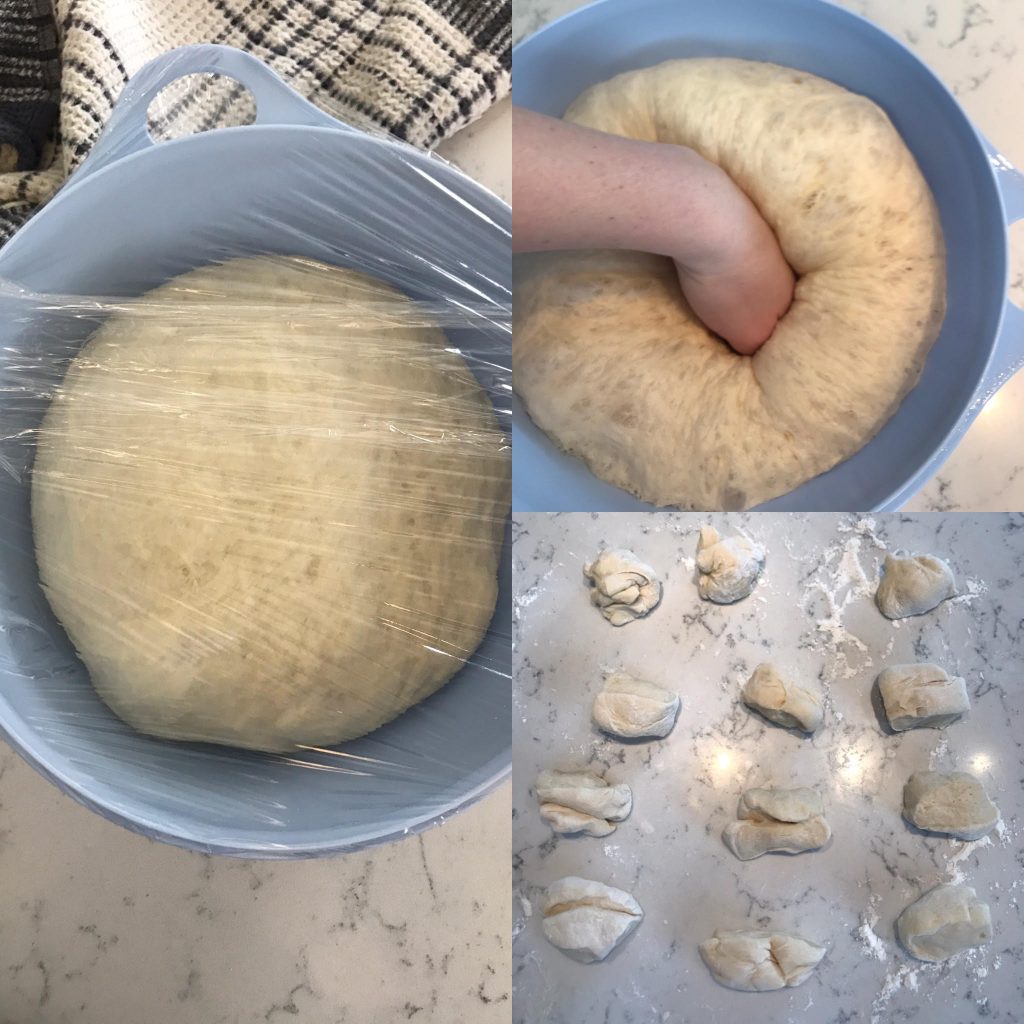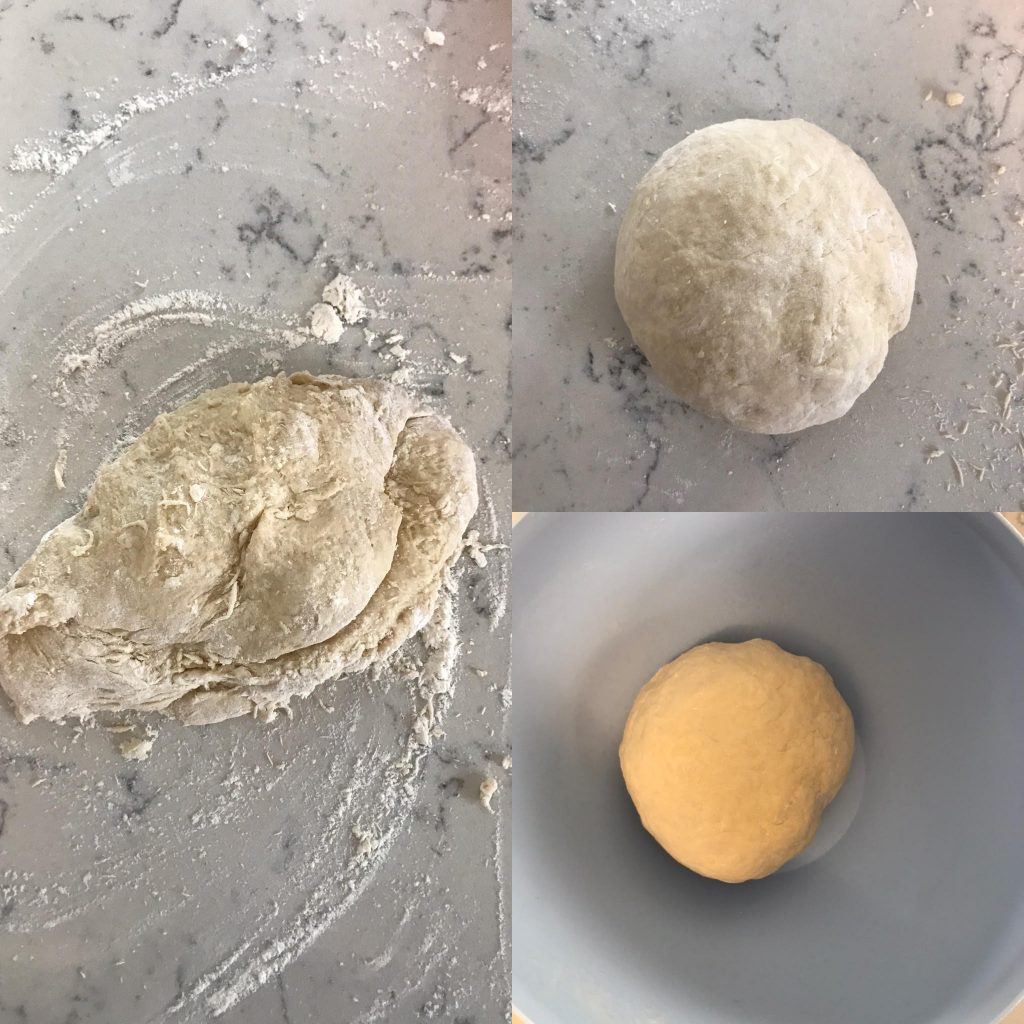 ---
The dough was EASY PEASY to make!
Here comes the part that had me a little freaked out! After I rolled my dough into ropes and pinched the ends closed to make my circle with a hole. I let them rest again for 15 minutes. Now, I am boiling 8 cups of water with sugar (the recipe called for 16 cups, but I didn't have a big enough pot for that). WHY the heck am I boiling these bagel doughs? I needed to know the answer so I took to Google and found this blog post called "Food Crumbles" and learned that when boiling the bagels the starches in the flour of the dough gelatinize. During this process the starch granules absorb water, swell and ultimately break releasing more starch molecules (the same happens when boiling potatoes). This process stiffens the starches and thus the bagel, starting from the outside. By cooking the starch on forehand it won't loose as much moisture anymore in the oven. As a result bagels won't get that super crunchy crust that some sourdough breads for instance might get. That tip is also my baking tip #7 for my blog!
---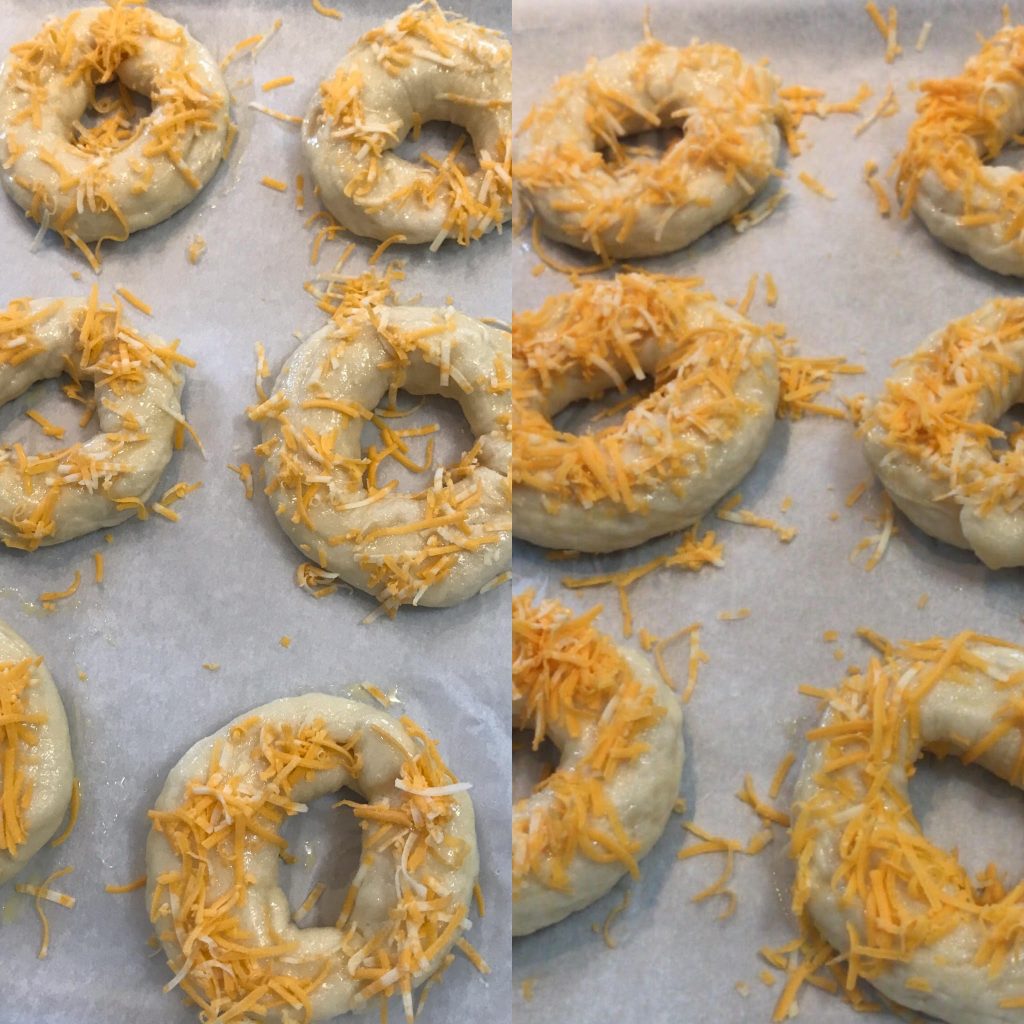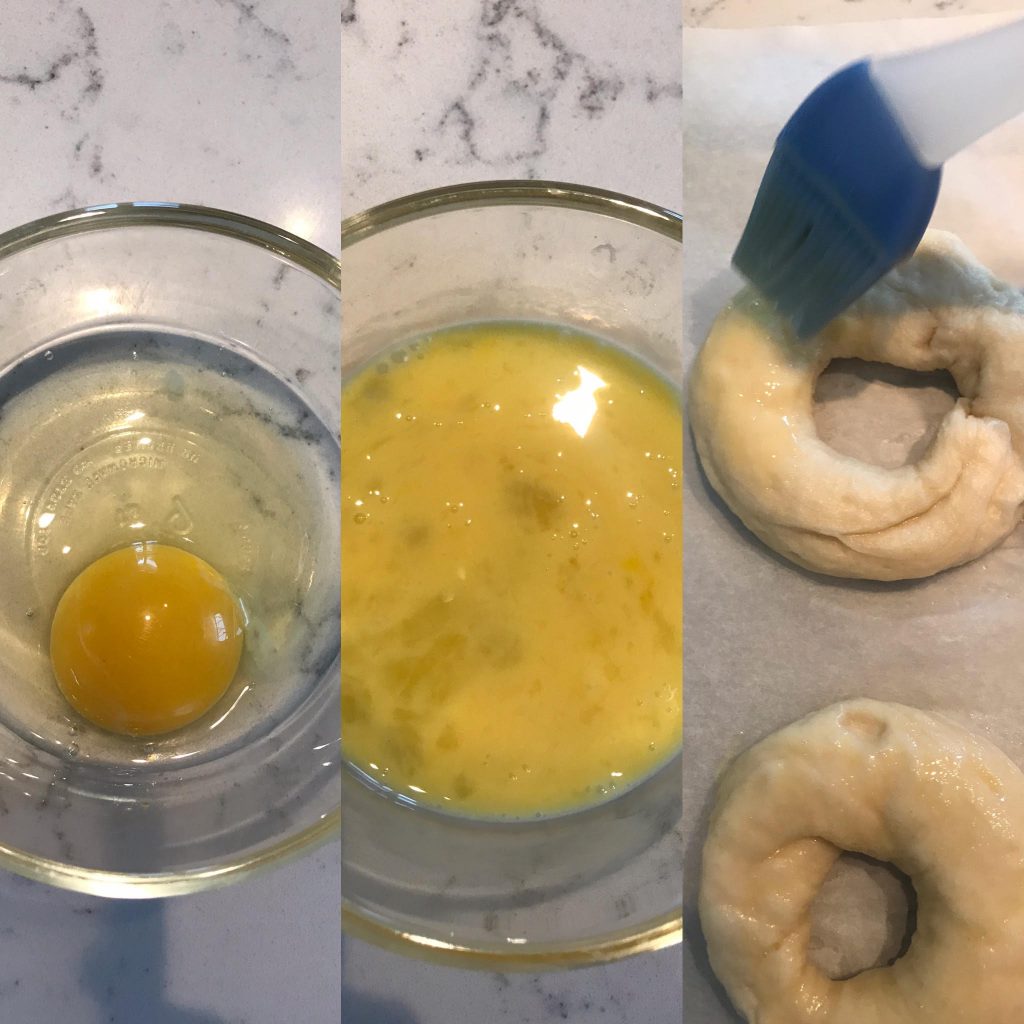 ---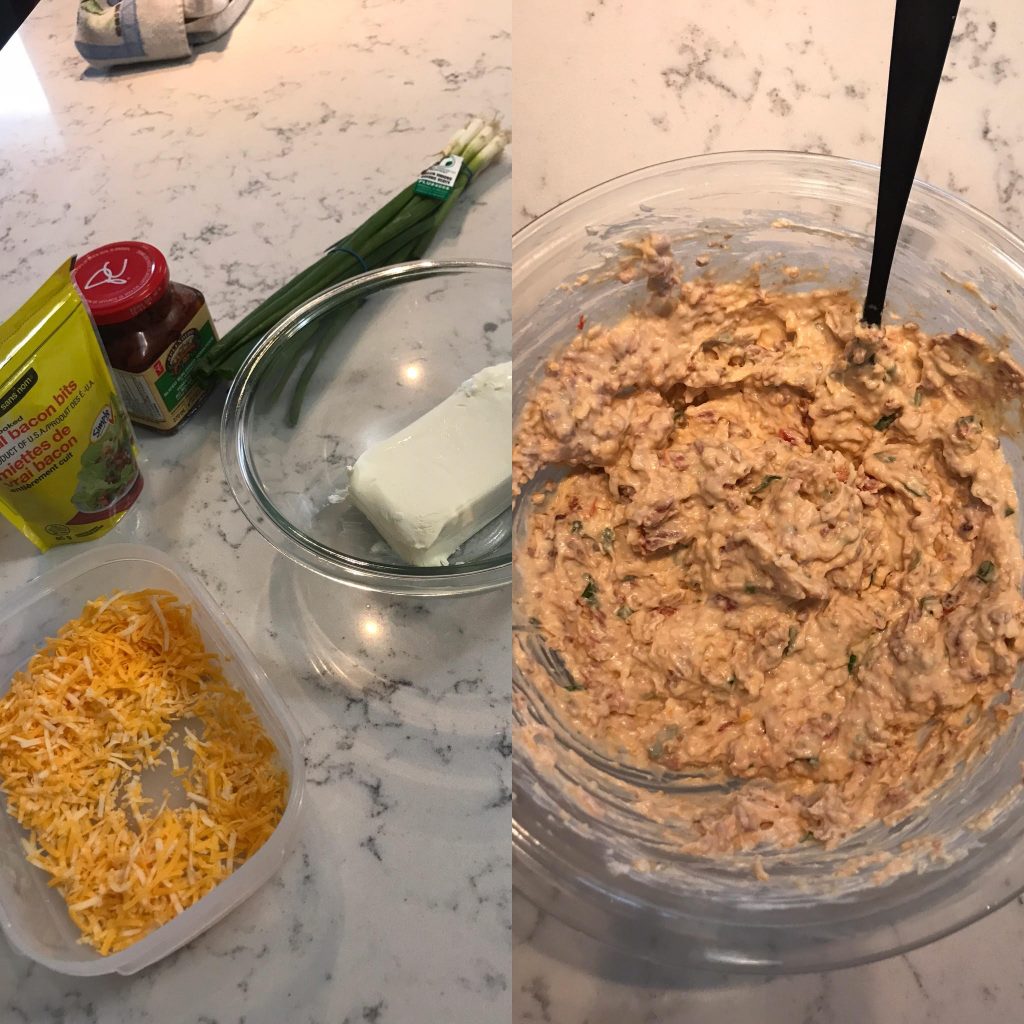 Ok, LIKE HOW GOOD DO THEY LOOK? I am so impressed with myself! BUT we cannot have a bagel without cream cheese! I found a recipe on Pinterest that I liked and made it.
These bagels turned out AMAZING! I am so happy with myself and the final product. I was beyond nervous about tackling this adventure, but following the directions and researching when I was unsure made the process so enjoyable. I have come along way in the kitchen. I highly recommend the bagel recipe linked earlier, You can use my pictures for reference since her blog doesn't include any. I stepped out of my comfort zone and I am so glad I did! This bagel recipe will be a staple in our house hold now! (Or I might tweak it in the future to make it my own:)
The final product!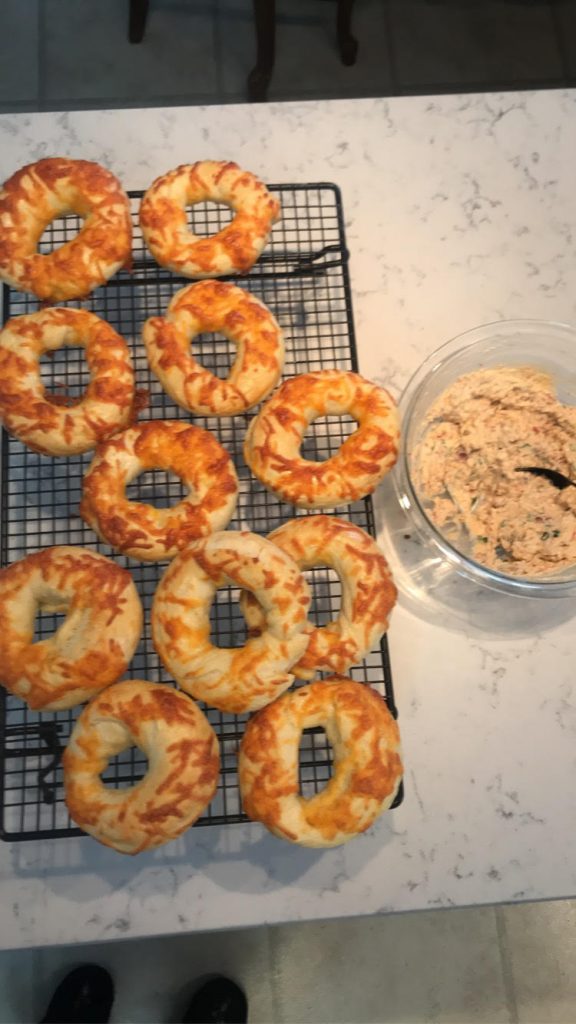 The bagels were rated 10/10. I do want to let the dough rest longer once I get them formed the next time I make them!
Stay Sweet,
XOXO,
Miss Blenkin