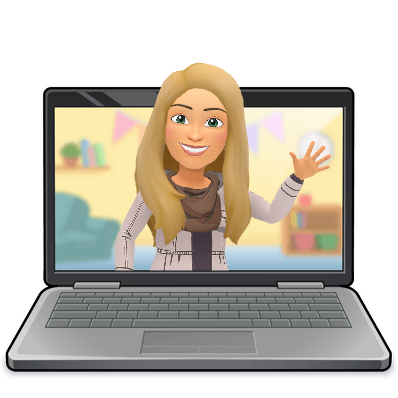 I swear my fiancé comes home with some sort of Facebook "news article" that he read at work and he cannot believe it! I actually just had a discussion with him that what he is reading is potentially fake news. A lot of what he sees is about the pandemic and vaccinations and I think his "feed" would be leaning towards what he wants to read and not necessarily truthful articles. I think with the worldwide pandemic occurring fake news spreading can be very harmful. After lasts week lecture, discussion, and reading through some articles provided to our class on fake news and the dangers with internet and social media's instant spread of non-true information, it can have lasting and damaging effects on society and individuals.
I checked out the comic "Your not going to believe what I'm about to tell you" and it had me question and heighten my emotions and wondering what was true and what was false. The Backfire Effect, which is terminology from the "You are not so smart" podcast. Talks about your "Core Beliefs" and what people cherish the most. It would also suggest that what you believe is likely what you will find true in articles whether it is true or not. Your core beliefs stem from your upbringing and what life experiences you have had.
That is why it is important to teach without bias's and be open minded. This article related well to my Fiancés Facebook theories when he arrives home from work. But this is also important to discuss in your classroom with your students. We can tie this into the NTCE framework where we are teaching students that spreading false information can be dangerous! Teaching students to be critical and to check their core beliefs to make sure they have no bias in the way of their digital literacy experiences.
Tying this framework to the curriculum for Elementary students will look different then for older students. However, younger students still use technology and teaching them how to use Tik Tok, You Tube, or whatever else they may be interacting on is important. They need to learn what is fake and what is real so they are not "trying" to recreate what they are viewing. We can also bring in fake articles to look at and discuss why it is fake. In the Grade 4 Curriculum, you can look at the ELA Outcomes and Indictors and teach about digital literacy strategies and incorporate it into your lesson plans.
In Katia Hilderbrant and Alec Couros article, Developing Critical Literacies: What We Need to Know in a "Fake News" World, they say; "today's fake news is a more insidious specimen; in many cases, there is a sinister intent to its creation and dissemination." I can recently attest to this. We have been on the search for a RV Trailer and I have spent many searches on kijiji and facebook market place looking for a camper for us via my phone. If you do not know many recreational activities have increased since Covid and price tags for recreation items have increased as well, but my phone notifies me of a camper that came up on Facebook market place. It was a beautiful looking camper and such a great price I had to email the listing (right there I should have caught that this is probably too good to be true!) There was no facebook profile with the listening and I couldn't send a message via facebook messenger I had to email. I emailed showing interest in the camper I will share the email I received back: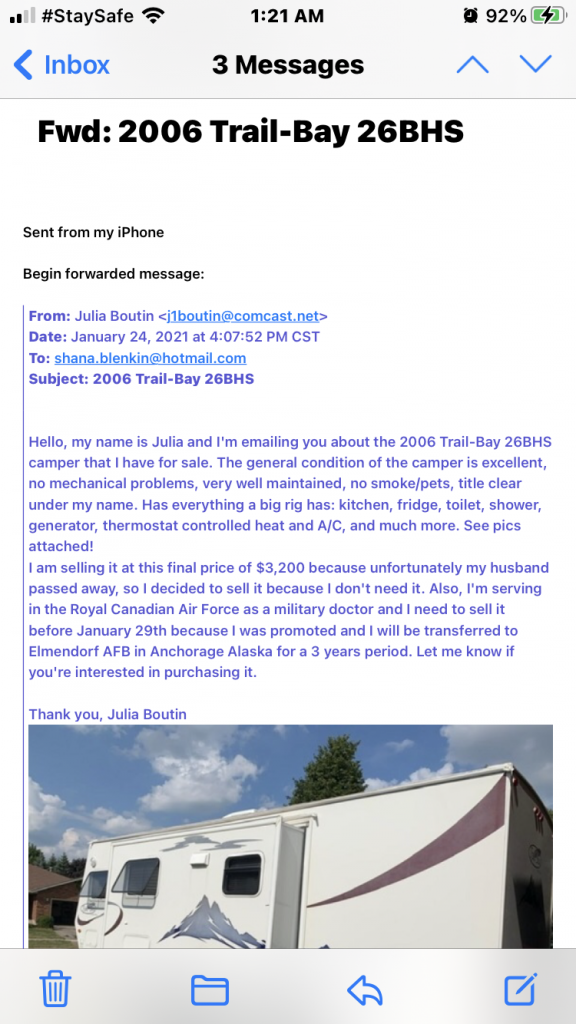 Now to me there was some red flags appearing before the first email I received, but after I read about her husbands passing, that she is in the Canadian Armed Forces, and I tried to google and Facebook search Julia Boutin without success. I knew this was not a legit sale. The price was right though! I did end up sending her an email back asking where she was located and if I could look at the camper. She told me it was located in Edmonton and it could be shipped to me or anyone in North America with no additional cost. She was also very persistent on selling by January 29th, and needed the money sent to an ebay account. After I experienced this to good to be true scenario, I wonder how many people send money to these scam accounts!
I also watched John Spencer's You Tube video, "Helping Students Identify Fake News with the Five C's of Critical Consuming" He talks about the very real problem of students not understanding what is real or fake! He came up with the 5 C's of Critical Consuming. These are strategies to challenges students to determine what they are reading.
Context
Creditability
Construction
Corroboration
Compare
As educators we need to teach students to look for context clues. When was the article wrote and who wrote the article. We need to teach them to search for information on the article to see if it has a good reputation. We need to construct their knowledge and see if there is any bias's in the article. We can show them how to cross reference and see if any other resources are sharing the same news.
As a classroom teacher it really is a necessary part of our jobs to help students critically exam news/ social media posts and articles. For the most part I think students see what is happening in our world before the teachers have a chance to look at their phone or watch the news at the end of the day. Helping them navigate this crazy world and become more aware will benefit everyone in the long run.