Do you have that one thing that one of your Grandma's is known for making? Like you go to their house for one of the holidays and everyone is so excited because you know that she made it. Well today I am going to share with you on of the recipes that is the first to go every time, my Grandma's vegetable dip. I know what you are thinking, like seriously, a dip for your vegetables, but let me tell you, it gets ate by the spoonful.
With not being able to get together because of Covid, I have seriously been craving it so decided to call her and ask her for the recipe. It is so easy to make and lasts forever because the recipe makes so much of it. I personally half it, that way it is the perfect amount to last me a week as I like to pack it in my lunch.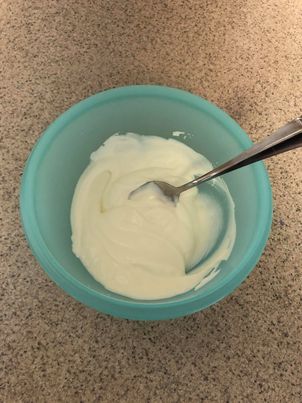 Here is the recipe:
500ml container of sour cream
1 cup of mayo
1 ½ tbsp dill
1 ½ tbsp lemon pepper
1 ½ tbsp onion salt or powder
2-3 tbsp bon appetite
The picture on the right is of me mixing the sour cream and the mayo together. For the picture I only used 250ml container of sour cream and half a cup on mayo. After I had mixed that together, I added the spices but halved those as well.
The next picture shown is how it looks once everything is mixed and stirred together well. At this time I taste test and see if I need to add more of something. Sometimes the spices can taste really salty and over powering so I might have to add more sour cream or mayo.
When it comes to the veggies that are eaten with the dip, you can choose literally anything, sometimes even potato chips or maybe just to get a spoon and eat a plain spoonful. I myself prefer to eat celery with it.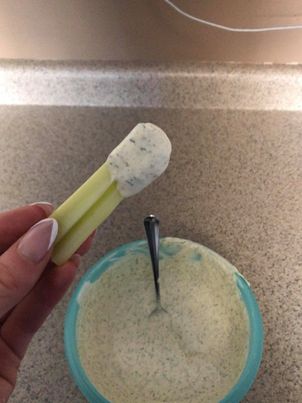 Here is the final product!
Thank you for tuning in. Let me know if any of you try it out!
Ciera