Whenever I found new tech, apps, or websites concerning education and training, I always try to explore them. I always try to make every learning session just a fun and entertaining one so that I can get the highest possible participation and engagement from my learners. I always try to make it more transparent so that I can easily catch my learner's understanding because learners are often shy to raise questions about their understanding. When I was going through the Socrative, I found this tool very engaging and transparent.
Socrative does a great job of making fun engaging ways to assess student learning. With Socrative, a teacher can easily set and engage students through multiple assessments, including a variety of fun games and activities using any device.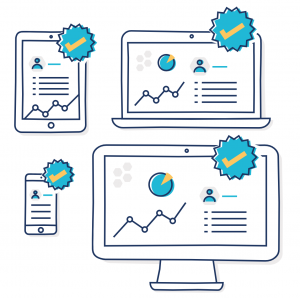 For both teacher and students, it can be dowloaded from google play and App store. It can also be used from web browser.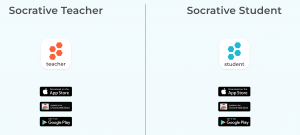 It allows them to visualize their answers in Real Time, and it also provides detailed reports after each activity. It also provide a room facility where I can discuss certain lessons with my students.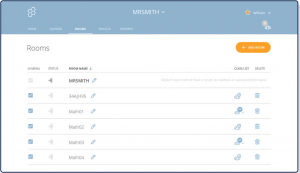 Directly from my teacher dashboard, I can launch all types of assessments- start a quiz (True-False, Multiple questions), do a short question or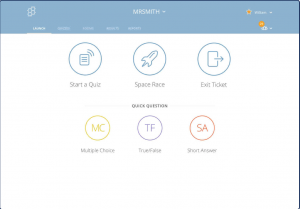 polling activity, play a fun space race game, or do an out-of-the-door exit ticket. For attendance, it can also display the class count of the students.
Quick question is a great way to introduce students to the concept of learning without having to go through the usual prep activities. It allows the teacher to see the students' responses in real time and discuss the results and every quizzes will be save in the dashboard and can be launced at anytime.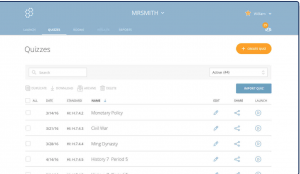 I can also create an exciting space race game for students as an assessment activity. It can be played in groups or individually, and the students will get the chance to compete against each other and the grades will be posted at the end.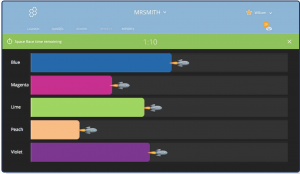 I can also create my assessments and export, email and transfer it in google docs or google drive and share them with my colleagues or with other Socrative users. If I want, I can tag them with a state or common core standard.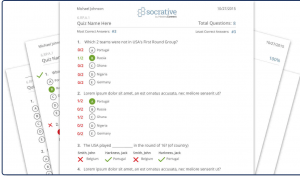 The results of the quiz will be displayed in my live results table. The columns show the student's grades and allow me to identify the questions that I need to go over with them.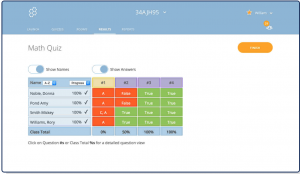 This tool is offered both in the free and paid (Socrative Pro) version. A teacher can easily use the free version. In the Pro version, Socrative offers some special features like- restricted access with student ID, organizing quizzes with folders, emailing quiz results to students, shareable links for easy login, and so on but still the free version is quite a user-friendly for teachers.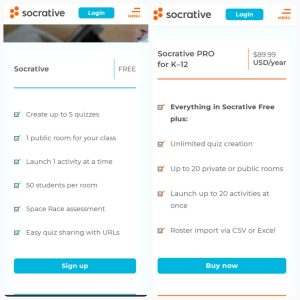 Strengths:
Socrative can be used both in synchronous or asynchronous learning. Socrative has the edge for every teacher that is a teacher can connect it directly and import it from their google classroom. The quality of the assessment is very transparent. It has an awesome ability to engage students. It helps to create a fun type of competition. It can be used on any device. Students can easily login through their student id. Through the quiz marking board students will receive instant feedback. A teacher can keep the track of students' understanding by throwing the question at the end of the session.
Weaknesses:
A teacher needs proper prep for each quiz with some brief explanation to have proper learning. The paid features of Socrative can provide a better insight into the areas in that students need to improve their skills through different room discussions. In the pro version, a teacher can also organize each quiz according to a particular manner and can do manual grading and assign partial marks.
Is it for you?
Socrative classroom quiz game is more fun than ever with the countdown feature that turns every round into thrilling team-based activity. Socrative allows teachers to monitor the answers to each student's quiz and create exit tickets in real-time. It also lets teachers collect feedback on every day's lesson. With valuable features and insights, Socrative can help teachers assess their students' needs. With the ability to create up to 50 student-engaged activities at the same time, it can significantly increase the number of participants in the classroom. From my point of view, this tool provides a very educative atmosphere where teachers can easily hold and manage students' engagement in the lessons and their further understanding. Hence, any teacher can adopt this tool.