I spent a day and a half completing this learning project. I am not happy when I am writing this post. There are two reasons:
Fotobabble is a useless website.
Powtoon is not friendly to free users.


---
Fotobabble
Let me introduce Fotobabble first, not to promote it but to tell you how hard-to-use it is, here is a video that recorded my use experience:
Fotobabble enables users to add a soundtrack to the photo. This function sounds new to me. However, after I found it can not be embedded into Edusites, I gave it up. I mean, I want it appear in the version of a photograph instead of a hyperlink, or what is the significance of using this website?
---
Powtoon
After Fotobabble, I tried Powtoon which is an online video-making website.
It has some Pros:
There are many decorative animations.
Precise timeline for beginners to do editing.
Make collaboration in video-making possible. People across the world can edit the video simultaneously, which was impossible to happen in the past. This feature can be useful during remote learning because it conquers the problem of long distances. Therefore, it fits into the Redefinition(R) level in the SAMR model.
Every coin has two sides. Here are its Cons :
Not friendly to free users! Many functions are only open to subscribers, e.g., templates, scenes, props, downloading function…
Requite an extremely strong web connection during editing, or your video will get stuck. My website is 5G but it still doesn't work. I have to edit the video again to cut the stuck portions.
It is not visible when you insert a hyperlink. Therefore, video producers need to notify the viewer in advance if there is some hyperlinks in the video.
Unremovable watermarks.
The most ridiculous thing is I was sure all the functions I used are free but I failed to export my work at last because the system said I used some "premium products":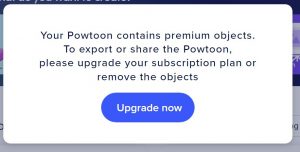 Could you imagine how upset I was after finding the piece in which I spent lots of time cannot be exported to YouTube? ?
However, I still make a tutorial about Powtoon, in case some people who lack decorations for their videos. In the tutorial video, I compare the difference among Powtoon, Google Docs, and Powerpoint. I also introduce a few basic instructions and tips for using it, for example, how to adjust the gap between music and pictures by dragging the icons on the timeline. If you have interests in this website, please feel free to watch?:
---
Primary Colors in Oil Pastel Painting
The last part would be my learning project, this week I learned the three primary colors which are red, blue, and yellow.
Red+Yellow=Orange
Red+Blue=Purple
Yellow+Blue=Green
I used Powtoon for this learning project. As it does not allow me to export my video, I can only do a screencast using Screencastify. Below is my learning project video (I insert a hyperlink on the last page "Resources", it is about a Youtube video in which I learned primary colors):
---
Next week's learning project question:
What are secondary colors?