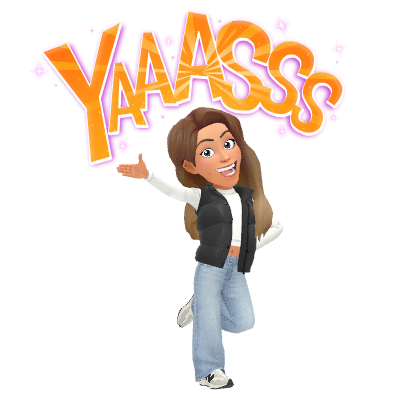 This is the most accurate representation of myself after using Fitness+ to help with my yoga learning project.
Fitness+ is a game changer!
Because my sister and I share each others Apple watch fitness information, she sent me a yoga workout she completed and recommended for me to try out using the fitness+ option within the Fitness app (for those who don't have an apple watch, sharing our information means you can see how active each individual is being as it shows how many calories you are burning, along with how long you have worked out or stood up throughout the day. It also shows any workouts that you have done and tracked with your apple watch).
To get a better idea, here is a comparison of mine and my sisters fitness progress for Thursday March 31st at 11am.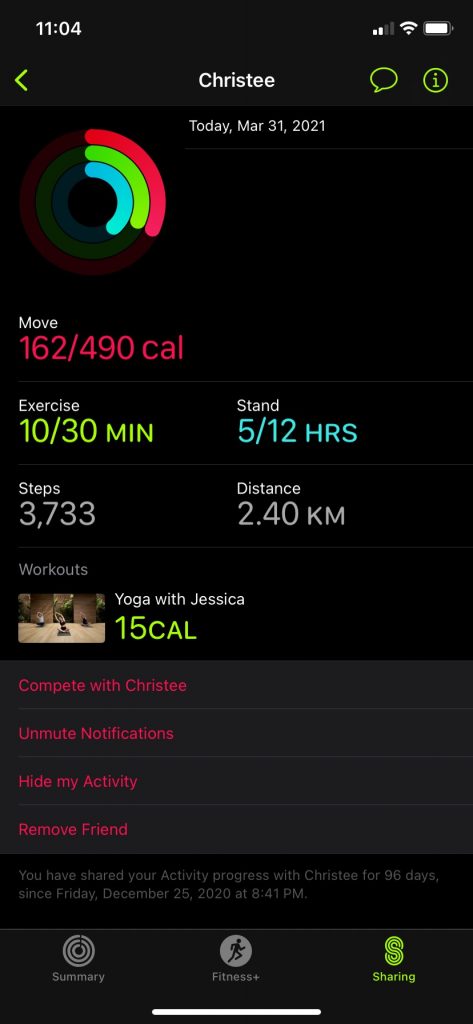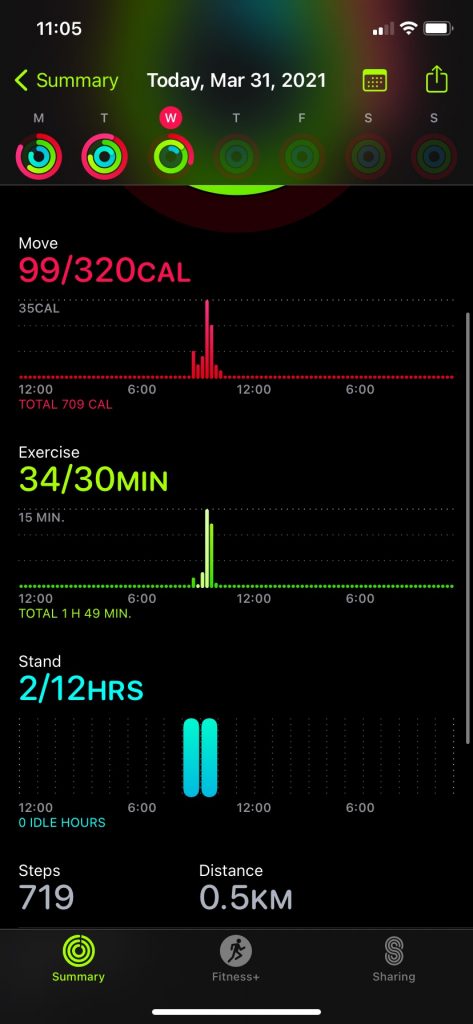 The one and only down fall to the app:
You have to pay for it, a steep $12.99/ month or $99.99/year. Thankfully, I had the option to click on the 1 month free trial and I plan to cancel once my free month is up.
Fitness+ tour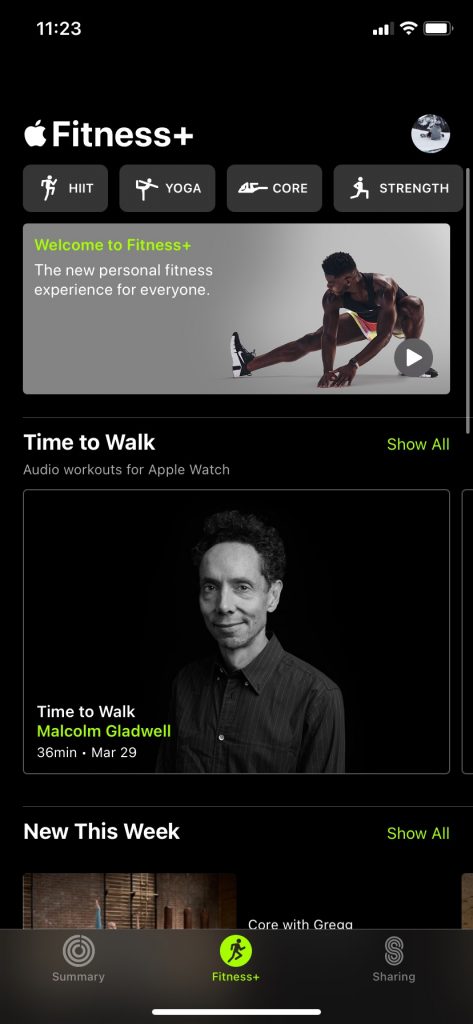 At the very top of the main page you can see the HIIT, Yoga, Core, and Strength options but if you slide your finger left on those options it provides SO many more workouts to choose from.
Once you click on your desired workout, you will see a screen with tons of workouts to choose from with a detailed description. I could scroll for so long there were way too many yoga workout options to choose from, I loved it! I also really appreciated the filter option to help narrow down your options.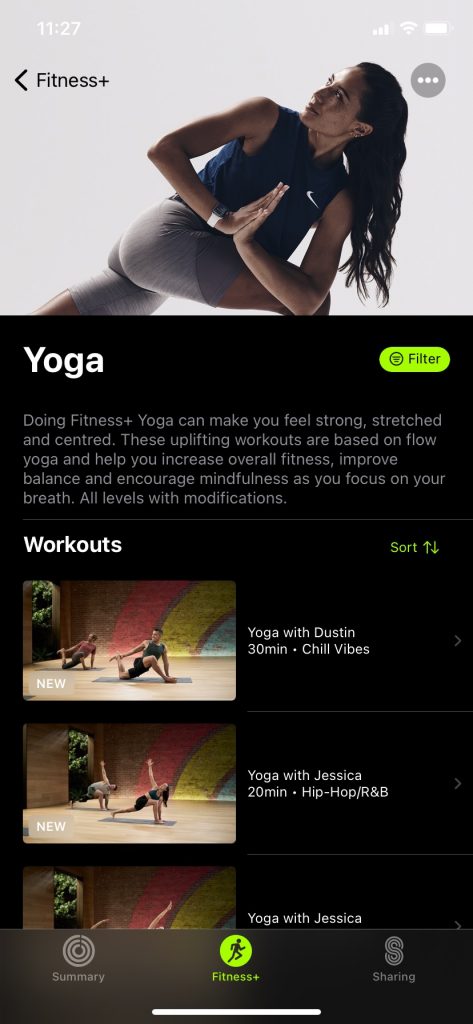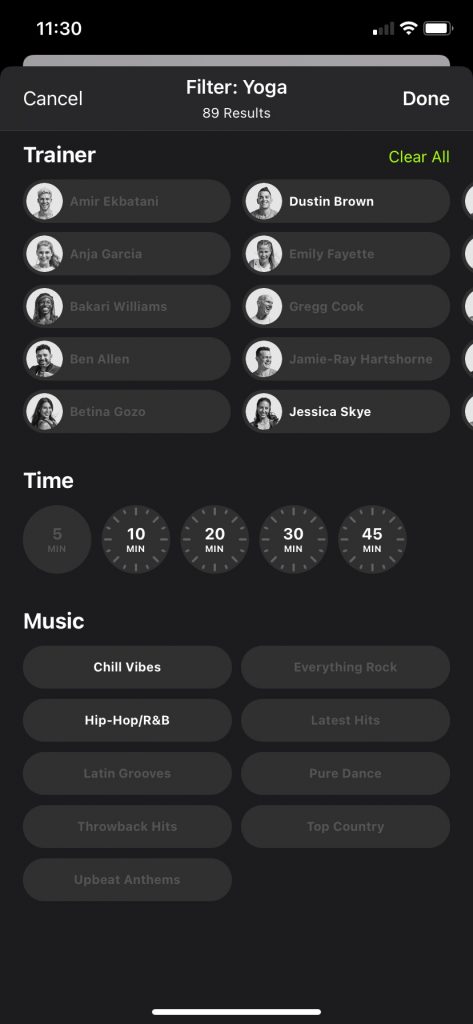 Following my sisters recommendation, I chose "Yoga with Jessica"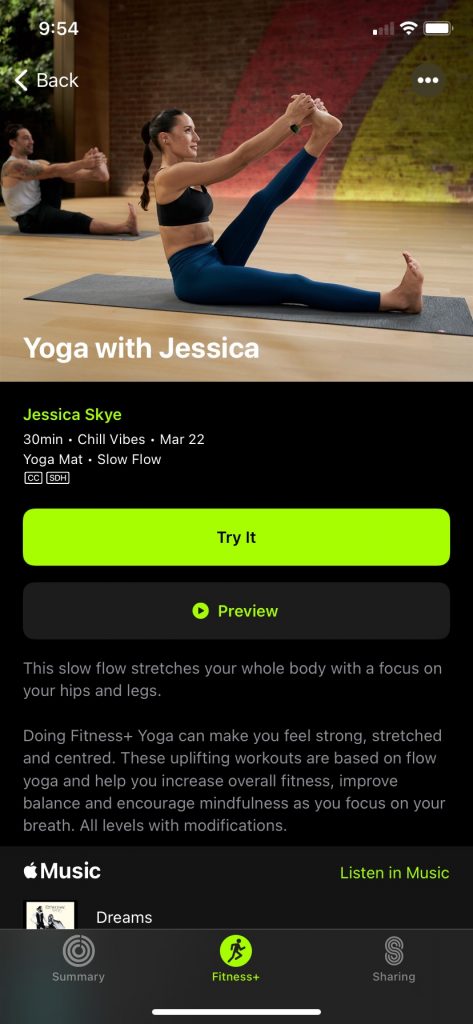 The preview option provides a quick 30 second clip of what the yoga practice entails, which I thought was awesome. Theres nothing worse than choosing a yoga sequence and then halfway through it realizing you don't like it or that it doesn't match the level of yoga you have been practicing.
As you can see, this yoga sequence includes music in the practice. The yoga sequences that I have performed usually have a quiet, tranquil background tune that reminds me of elevator music. This made me love this practice so much more because the playlist included Fleetwood Mac! BONUS: What is also really nice about the music aspect is that you can download a song from this sequence into your music app if you really liked a song.
The practice it's self was WONDERFUL! Jessica was great. She often reassured the audience to not worry if you couldn't perform a certain pose and encouraged me to try my best without straining my body. To hype up this practice even more, Jessica had two other members performing the flow with her (in the Yoga with Jessica image above, you can see how the guy in the background is performing a variation to Jessica's pose). As Jessica did her practice, one person showed an easier variation of the poses, while the other showed the more difficult version. This allowed for more visible variations in the practice. Often times the instructor verbally states the variations to the poses but doesn't perform them. This helped me because I am still not the most flexible and I was able to watch one of the background performers and see how they performed the variation to the pose because she also had tight hips like me.
Another bonus is that as soon as I clicked "lets go" it automatically began to track my yoga workout on my apple watch.
Overall, Fitness+ gets another plus. It deserves it. I absolutely LOVE this app. I might even consider paying for it monthly. I am also excited to try out the other workout options. I highly recommend anyone who likes to workout, or wants to get into working out to give this app a shot with the free trial!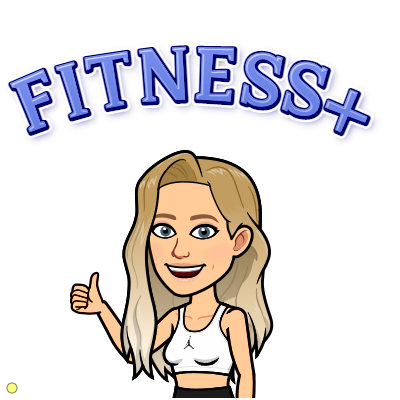 Here's a quick little video clip I made using the video editing app Animoto:
Does anyone recommend any online resources to learn yoga? Comment down below!