This week has been a week, and this weekend has been a busy one. My oldest daughter has spent the weekend competing in her first penning competition, which was very exciting for her. As a family, we have all spent the weekend outside at the arena as spectators as well as volunteers. The event was a success and we are very proud of her. If you are interested in Penning here is the link to the Saskatchewan Penning and Roping Association & here is a list of the rules of the sport. Here is a video of her best run of the day, her team made it in 36 seconds!
Our days out there began at 9 am and didn't end until 7 pm. So after 10 hours out in the sun, how do I squeeze in a workout, or even have the energy to do so? Also if you get a sunburn, as I did, here are some pointers for healing a sunburn!
Here are my pointers:
When you get home from an exhausting long day, do not sit down!!! If you sit down all motivation will be lost and the TV will hypnotize you into fat pants and a bag of chips.
Instead, change immediately into your workout gear and head down to whatever space you have to utilize to work out.
The next important step is to choose a condensed and shortened workout that allows you to still get a workout in but a quick one. Today I chose this workout which was 15 minutes from start to finish, including warm-up and cool down. Now, who doesn't have time or energy for a 15-minute workout? We spend way more time than this endlessly scrolling on Facebook or other social media, I fact I remind myself of whenever I find myself making time excuses for working out.
This 15-minute workout consisted of 45-sec hit intervals combined with a 15-second recovery. I really appreciated this video for the following:
The end of the 45-second intervals was signalled by a buzzer, so you could concentrate on your form and balance, versus having to keep your eyes on the screen.
Each move was shown in a preview box during the last part of the current move, so there were no surprises as to what was coming next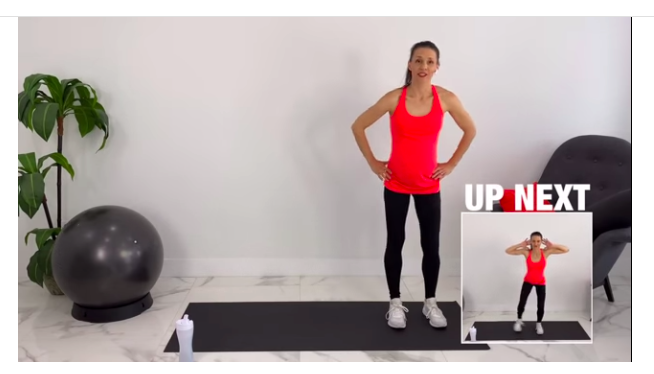 No equipment was needed, this workout could be done pretty much anywhere.
The only criticism I have for this video is that I feel I could have benefited from having more options for modifications. While it has some modifications for adapting the moves for those who needed assistance, I felt they could have also provided modifications for those wanting to increase the intensity.
Finally, and my biggest leap of faith in this week's project was that I used iMovie for the first time, and I actually made a video of my workout. I was very thankful for the filters available in the editing as well as the double speed. Both of these have helped me feel a little less self-conscious about posting my video. While I did not do an extensive amount of editing, I felt this was a fairly successful first attempt.
Overall I really enjoyed the shortened and condensed workouts and I plan to complete more of them this coming week! I also plan to try out a new video editor so that I can compare my experience using iMovie with another App. If anyone has any suggestions of which one I should try please drop them in the comments below!