First the makeup! Ah so what I noticed is there wasn't any description in the video, no suggestions on colour palette, suggested brushes; notta. My goodness the speed of the video was fast and when I was recording myself I was trying to keep up but eventually got a bit behind.
The logistics of setting up a video to be as "professional" as the people in the videos requires many other things I am sure, things that I did not have… like this stand; I bet that is useful.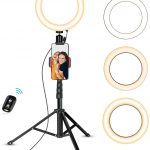 After creating my video, I learned that I could put the videos together back to back but I have not quite figured out how to make them go side by side yet and be in sync with each other. That will be learning for another day. I tried adding music but then in cut my video and I could not get that to work but hey, I dipped my toes in a little further today…
Now to talk about the result of such make up tutorial; lets just say I think I will stick with my own makeup regiment for now; I felt like when I was done I had the look of "I worked on cars all day and had grease marks left on my face" all probably due to not blending properly, not using the right brush, and so forth. Watch below and have a laugh, I sure did.
Now the Hair Tutorial
I am so jealous of those girls who seem to be able to rock the messy buns, make them look perfect, heck lets be honest all the ladies out their who have kick butt hair styles, know that I am jealous!!! So maybe getting into some TikTok tutorials on hair styles might be a great way for me to learn. The video I watched and mimicked had a hair dresser doing it so clearly they have the advantage and my sister (a hairdresser) can't come over because I'm self isolating so I gave it the "old college try" as my husband says.
I was unable to get the videos to directly embed here so I left the link instead. I also have the videos set up as private so I do not know if you will be able to see them let me know though!
Make up Link:
https://www.tiktok.com/@christinebruce01/video/7059832596158565637?is_from_webapp=1&sender_device=pc&web_id7058718141089613318
Hair Link:
https://www.tiktok.com/@christinebruce01/video/7059831262986521862?is_from_webapp=1&sender_device=pc&web_id7058718141089613318