Throughout the duration of this semester, I have focused a lot of my learning and attention to the idea of online therapy. Specifically, I have considered how my interest in supporting adolescent parents and my newfound knowledge of blended/online learning could go hand-in-hand to provide counselling to new parents. When assigned to create a course profile and online modules, I chose an Online Counselling Program for Adolescent Parents. In its early developments, I really questioned whether or not an online counselling program "made sense" or if I was just creating some far-fetched dream. To my pleasant surprise, when in the midst of self-doubt, I heard Dr. Katherine Owens on the John Gormely Show. Dr. Owens spoke of a new Saskatchewan online therapy program for those faced with anxiety, depression and other health issues like pain management. That day I tweeted:

Listening to Dr. Owens explain the benefits of this new online therapy program and it's accessibility for people across Saskatchewan really encouraged me to continue my vision of creating an online counselling program for adolescent parents. I began to research her online therapy program by exploring its website and reading an article about her initiative. Statistics from Dr. Owens online therapy program, such as those shown below, affirmed my belief that an online program would allow people who are in challenging situations the support they require but for numerous barriers, go without (access, set days/times, cost, etc).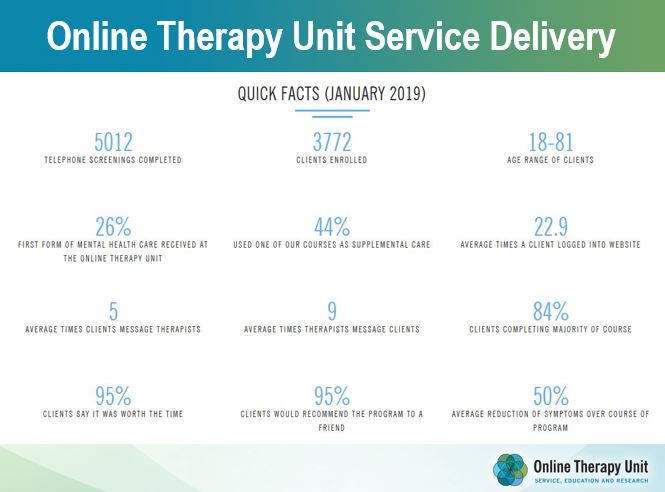 Fast forward to the last week and after creating my first module for EC&I 834, I started to wonder if agencies within Regina would be interested in creating an online counselling program for new parents. I began to consider how organizations that already support families within Regina (in face-to-face contexts) could make their resources and programs accessible through LMS options where parents could participate in modules in the comfort of their own home, on their own schedule. I contacted two agencies within Regina that work closely with teenage parents and young families regarding this class, my course profile and online modules. Both agencies were interested in hearing more about this idea and exploring it's potential. I am excited to meet with both of these agencies this week and see where this idea could possibly take my interest in supporting this target audience and my knowledge of online/blended learning. Any advice on how to navigate this (very new) idea/opportunity would be greatly appreciated!
Kelsey