Hey everyone!
I am super excited to share my findings with you this week.
Last week, I explored different learning management systems. TalentLMS is the online training platform that I am going to use to host my course. I chose to delve into TalentLMS because the website did a wonderful job of explaining the system and its features, and other LMS websites failed to do so. I honestly did not have the time to schedule a phone call with every LMS host that I was interested in, and so I saved time and jumped right into TalentLMS.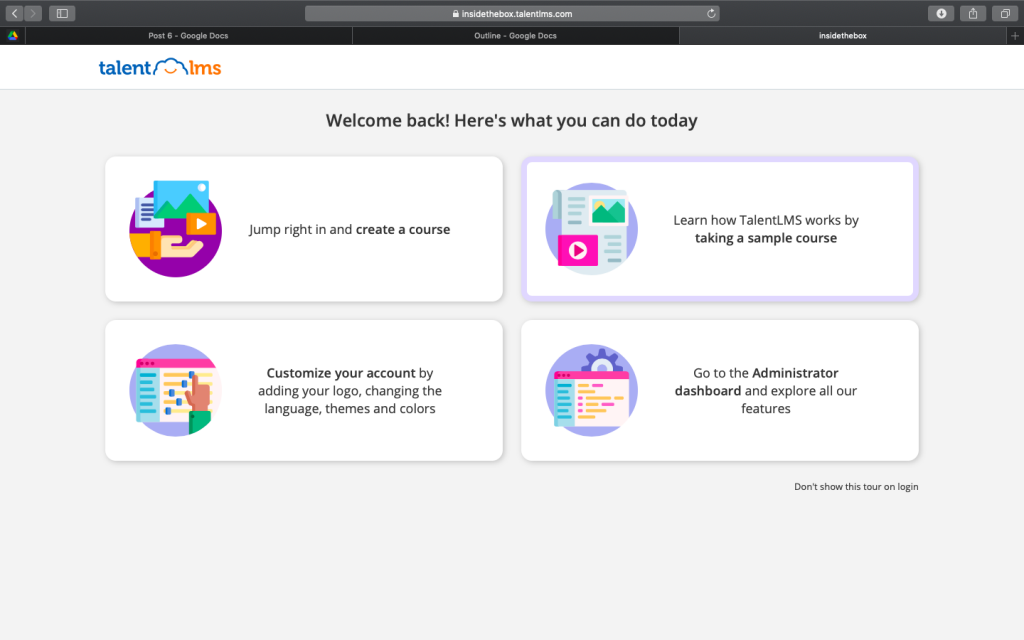 Right away, I registered for a free account on TalentLMS. All that was needed was an email address and a password! From there, you are to create a domain (which is free because it still uses .talentlms.com at the end). For instance, since my organization is called Inside the Box: A Mental Health Initiative, the domain is insidethebox.talentlms.com!
After signing up for an account, there are tutorial videos that walk you through the system and its different features. In fact, it has a course that demonstrates how to build a course. I loved this because it helped me to understand how the courses function as a student, but also as an instructor.
I watched this video which taught me how to customize the site a tad. I was able to add our logo, a short description, and change the header colour. For now, I added our slogan as the description: "Because it should not be outside the box to talk about Mental Health". I chose a dark blue for our header colour because our colour palette so far has been sticking to blues and greens. We can easily change these features at any time.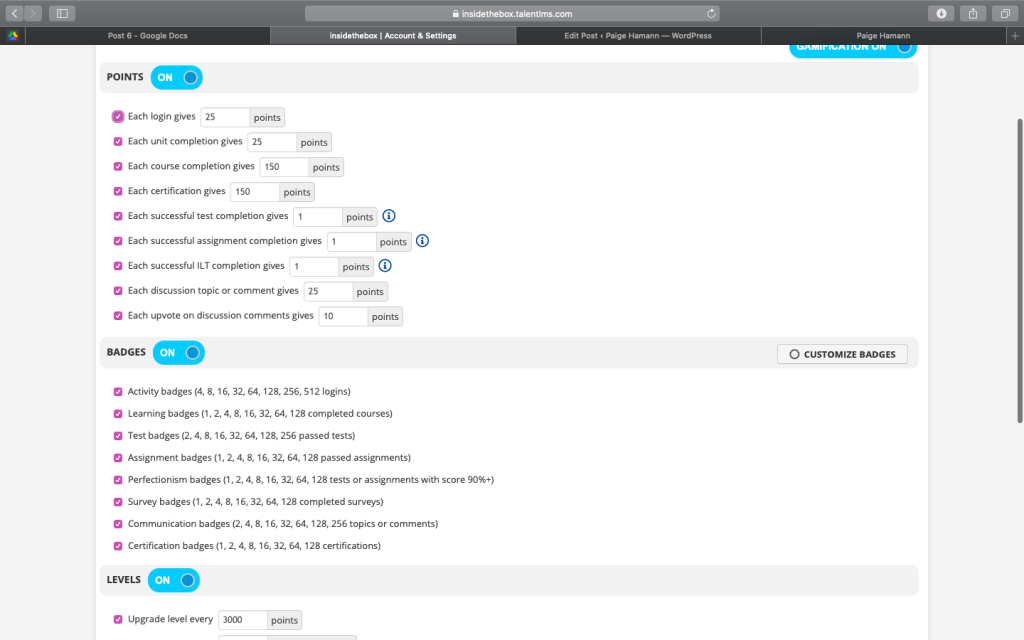 An aspect of TalentLMS that I found super cool is the gamification. Essentially, learners receive points for different tasks, which acts as an incentive! Administrators are able to determine how many points are awarded for specific tasks. Additionally, there are badges that can be earned for certain things including assignments, tests, and certifications. Students are able to cash in their points or badges for discounts on courses! The discounts and amount of points or badges needed is determined by administrators. 
TalentLMS has multiple payment plans and options. The cost varies due to the number of users and number of courses. As the price increases, so does the amount of features and support. Throughout the creation of this course I will stick with the free version, but as time goes on we will likely upgrade to a pain version!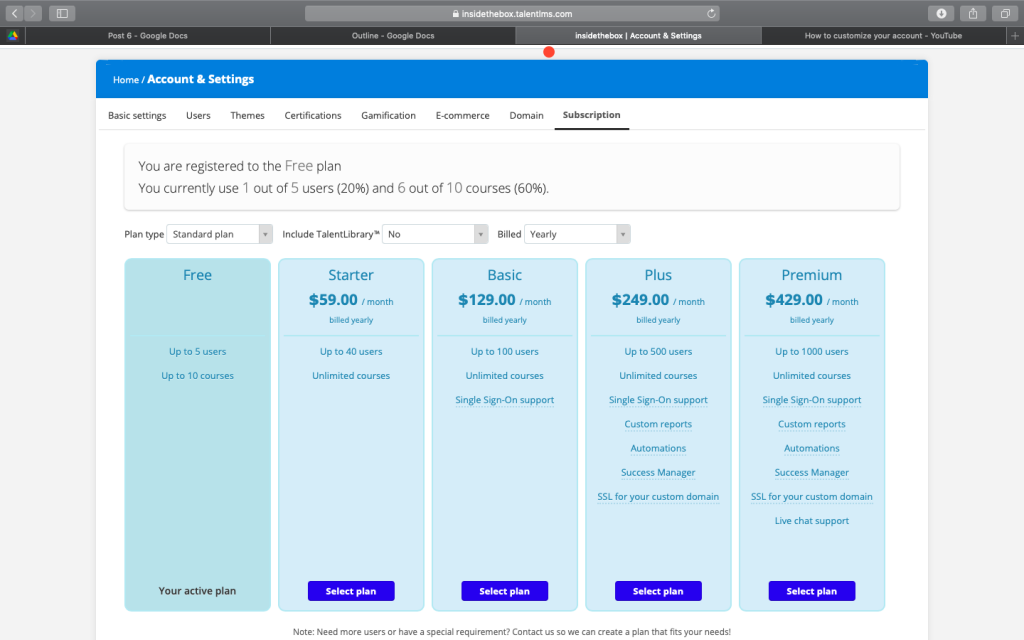 I really appreciate the options that are available to upload content. This is a list of the different formats you can use to create content in TalentLMS:
Simple content
Web content — embed content from external URLs in two clicks
Video — embed YouTube videos or simply upload your own directly to the platform
Audio — upload an audio file or record a new one without even leaving your TalentLMS account
Presentation — choose between uploading a presentation file or embedding from SlideShare
SCORM / Tin Can / cmi5 — add more interactivity to your courses by choosing among these three eLearning standards
ILT — Use instructor-led training and webinars to stay in touch with your learners even if they are a million miles away
Flash object — of course, we support Flash, too!
iFrame — copy and paste any URL and depending on what you want, it'll either show as embedded or as a pop-up.
TalentLMS will even convert PowerPoint slides and PDF documents into a video so that learners don't have to keep pressing continue.
If you are interested in any of the TalentLMS tutorials you can find them here!
I am really excited to start creating and uploading content. 
Thanks for tuning in!
x Paige Hamann