This has been an incredibly busy week, with this set of spring classes coming to an end, I know we have all been feeling that end of term exhaustion. It has been important to remember to take care of ourselves and for those that might need it, here is a link to an article that gives us some tips and tricks to overcoming academic exhaustion.
For me this week also meant taking some steps forward in making room for this baby…..literally. We recently renovated our basement to create bedrooms downstairs for our older children, to accommodate a baby room as well as bring the home office upstairs. I must admit I am elated to ship their teenage messiness down into the basement away from my eyes. Anyone else with pre-teens or teenagers have any tips on containing their mess?
My husband has finally finished painting the bedrooms downstairs and on Monday we successfully moved them downstairs. They still have some work to do with organizing their new rooms and cleaning up their old ones. Not to mention the home office sits in pieces awaiting its space to be cleaned and painted, and the baby stuff remains shoved in the garage as it also awaits its new room to be re-painted. While things look like a disaster at the moment, I routinely remind myself that sometimes it has to get worse or hard before it gets better. I believe this is true in almost all areas of life.
However, this was a huge step in the process of making this change. While this step forward was exciting and necessary, the toll that it has taken on my back is not great. While avoiding lifting heavy things during this move, the multiple trips up the stairs as well as the awkward angles of carrying things has left me with a very sore back. So resultingly my prenatal fitness has had to take a side step.
While I was tempted to use this opportunity to not do anything at all, I decided to use this opportunity to pursue prenatal yoga and prenatal stretches. I started by looking up prenatal yoga and what you need to know, in order to refresh myself on what the benefits are and what to avoid.
My next step was to find a prenatal yoga video that I could do every night before bed. I chose the video below, as I have really enjoyed her other videos in previous weeks. I also appreciated the 15 minute time frame which was easy to fit into this weeks chaotic schedule.
My final step was to find easy stretches that I could do in bed in the morning when I woke up as well as seated and standing stretches that I could do while at work throughout the day.
My favourite seated stretch was the following as it was really easy to incorporate into my workday as well as my time in zoom classes in the evenings.
My favourite standing stretch was this one, as it was easy for me to do in my spare moments between preparing customers' food.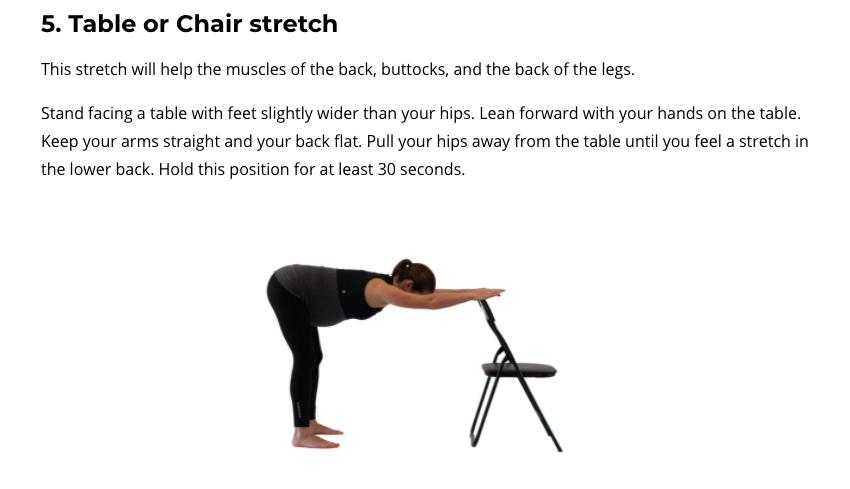 Every day I find my back is improving, and I believe it is in large part due to these stretches and this 15-minute video. After almost a week of making a real effort to stretch and strengthen my back, I believe that I will be ready to resume my cardio and weight lifting workouts next week!!