Hi everyone! I hope that this post finds you in good health and spirits!
Here is a look at my new Feedly page. I am still trying to get the hang of how it all works, but so far, it seems like a handy resource! It is super helpful having one space that organizes all of the new info posted that I am interested in.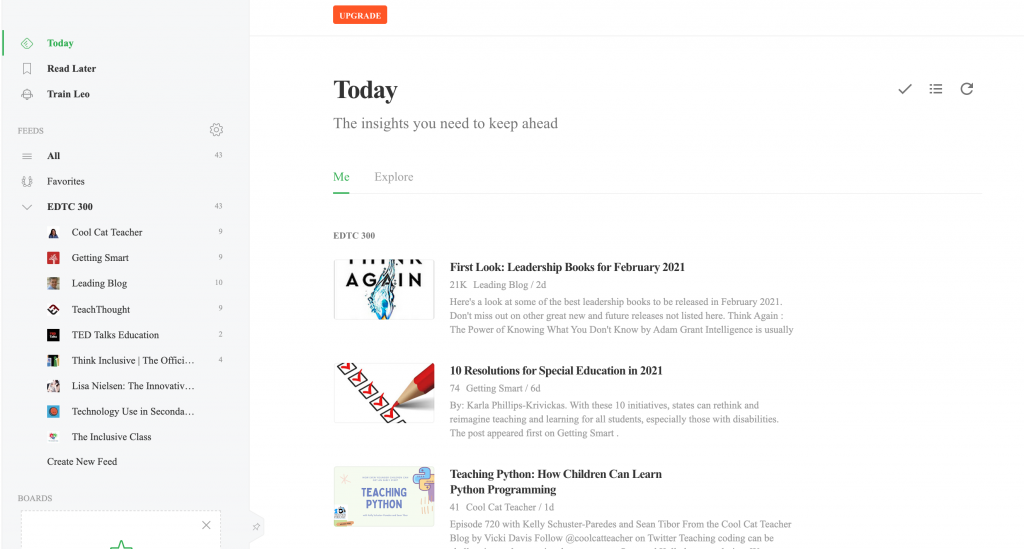 As I was going through trying to find pages and topics to follow, I had a lot of luck finding general educational platforms and many Inclusive Ed websites. However, I had no luck finding a page specifically for my major, Social Studies- So if you have found one, please share it with me in the comments!
To my delight, I found an amazing page called The Inclusive Class. This website is a dream for someone new or experienced in Inclusive Education. There are articles on anything and everything Inclusive Ed. One that I would point out, in particular, is the post 10 Strategies for Teaching Students with Different Ability Levels in Your Classroom and What New Teachers Need to Know About Inclusive Education. This is something that is not going away, people! It will only get more important, so ger familiar with it now – your students deserve it.
Here is Strategies for Teaching Students with Different Ability Levels in Your Classroom post at a glance:
Mindset
Create a welcoming environment
Know where your students are at
Work with a theme that allows your students to show their best work
For every subject, know where your students are at (grade level, need support, not at grade level, beyond grade level)
Use the principles of Universal Design of Learning

Use multiple means of mean of introducing the topic
Multiple means of the students interacting
Multiple ways to express knowledge

Create tiered activities
Have a reference guide
Give explicit instruction
Start with a whole class lesson
Another page I have started following is called Getting Smart…I know, not the most creative name, but dont let that fool you! This website is jam-packed with so much information. There are several topics covered, such as ed-tech, leadership, equity and access, place-based learning, and so much more. As the Inclusive Education fanatic that I am, I focused on their equity and access posts. Given Inclusive Ed is fairly new to the education talk, I wasn't expecting the number of resources they posted! I will definitely be saving this website to read and reflect on.