Making Waffles for Breakfast
For my learning project this project this week I decide to make breakfast. I planned to make waffles, eggs, bacon, and hash browns for my family. First I began to gather the ingredients to make waffles. Here is the ingredients I used:
1 egg
2 Cups of Bisquick Mix
1 Cup of Milk
2 tbsp of vegetable oil

I then repeated that recipe twice to make enough food for my family. After I mixed the batter, I poured it into my waffle iron. While the waffles were cooking I began cooking, eggs and hash browns on the stove. Then I served the finished food setting out syrup, whipped cream, ketchup, and chocolate milk.

Conclusion:
Overall I think my meal turned out well! My family enjoyed the breakfast and I didn't have much trouble making the recipe other than I got a couple egg shells in the bowl that I then needed to pick out. My biggest challenge was cleaning up afterward as the mix made a mess and I had lots of dishes to wash. It was good to switch things up and cook something I can eat in the morning! I believe I need to continue to progress to more difficult foods each week. I am very happy with how this meal turned out and I can't wait to try something new next week!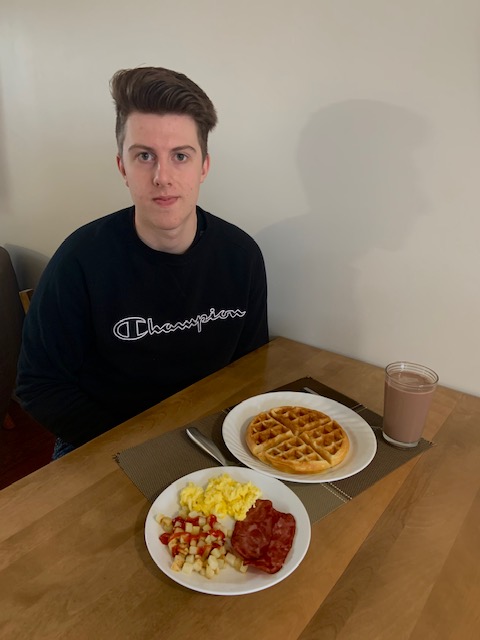 Using TikTok as an educational Tool
TikTok is an app that allows users to post short videos that are up to a minute long. It is a tool that allows content creators to gain followers, follow other interesting creators, and discover new things. This was my first time posting on TikTok so it was a learning experience for myself. I began with recording short video clips of myself cooking. I then uploaded all the clips to the TikTok app on my phone and began trimming them to the length I wanted. Then I began adding text to each clip explaining what I was doing. After that I found a feature where I could add a voice to read the text on my slides. I applied this to feature to my first slide to introduce what my video was about. Lastly, I added catchy background music to make my video more appealing. Here is the link to my video:
https://vm.tiktok.com/ZMe73bLpm/
Pros and Cons of using TikTok for education:
TikTok is a great app to create and share videos with other people. It is free, easy to use, and allows students to create videos that can quickly share information. You can interact with others, learn new skills, and get creative with your videos. Some features TikTok has are the ability to choose background music, text fonts and colours, transitions between clips, and different stickers. Some of the negatives of using TikTok as an educational tool are that you are limited on how long a video can be, some inappropriate content is posted, and it is easy to get distracted watching other people's videos! TikTok could be used as an educational tool to post a quick summary of a book, quick facts about a topic, or to show someone how to do/make something (like I did in my video). On the SAMR model I believe using TikTok would fall under Modification, as the app can be used to create creative videos that require research, finding images/videos, and summarizing important facts/ideas. Using TikTok was a fun learning experience for me! The platform is fairly new and I had little experience using it. I believe TikTok would be a great resource to use in the classroom as it would encourage students to be creative!
Credit for cover photo: cottonbro via Pexels