For week #2 of my learning project I decided to make hamburgers, corn on the cob, and noodles for supper. I used my moms simple recipe and read some interesting tips on Twitter talking about how to cook a good tasting burger!
Ingredients: The ingredients I used to make the burger patties were, 1lb extra lean ground beef, 1 egg, and a 1/2 cup of seasoned panko crumbs. I then mixed together the ingredients and shaped them into burgers to cook. As the patties were cooking, I sliced up tomatoes, lettuce and buns. I also cooked pasta noodles using the recipe provided on the package, and boiled the corn on the cob. Next I assembled the burgers, adding mayo, ketchup, and cheese. I finished preparing the noodles and corn and had my family try the meal.
Results: This meal was a bit more difficult than last weeks (tacos) as I slowly progress to cook more difficult foods. After making this meal I now feel more confident in my ability to properly cook the meat. Overall I think the product turned out well as my family enjoyed the food, and I did not mess up any of the directions or overcook the meal.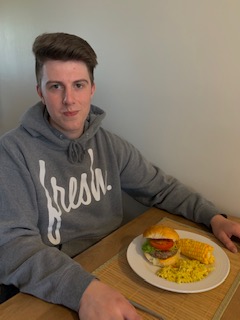 Credit for cover photo: Valeria Boltneva via Pexels