Wow, I cannot believe this is my last time cooking for my blog!! This journey has been so much fun and I am really glad I chose to cook for my project! Any who, this week for my last week of cooking I decided to make a garlic butter salmon dish. Now, I know not everybody likes salmon but this one you've gotta try! I once again found the recipe from Pinterest (this is always a life savor, you can find anything on there!).
The recipe came from Dinner at the Zoo that I found scrolling through Pinterest. I came across a lot of recipes but this one stuck out to me as the ingredients were simple and only needed a few! The instructions for this recipe were super easy to follow and was not difficult at all! This recipe only took me about 10 mins max to make. Super quick and easy!!
First thing I needed was some salmon that I picked up from the store and the ones I bought were skinless but it doesn't matter at all. I had a pan on medium high heat and added a little bit of oil to it. I then added the salmon on the pan and just let it sit untouched for about 5 minutes or until it was golden brown on the side. Once it is looking golden I just flipped it then did the same for the other side. Now, it is time for our butter garlic sauce! I removed the salmon from the pan in order to get the sauce started. I added about 3 tablespoons of butter to the pan and about 1 teaspoon of minced garlic and cooked that for about 30 seconds. I then added in some lemon juice and added the salmon back in. I then used a spoon to get the sauce and constantly pour it onto the salmon for a few minutes until I felt it was done. And then boom you have yourself some garlic butter pan seared salmon in just 10 minutes!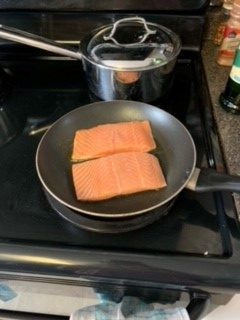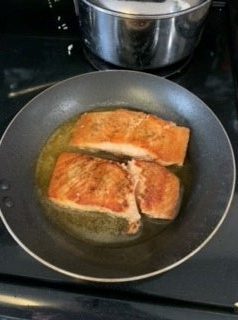 I also made a side of white rice and green beans to go with the salmon! As well as added an extra lemon slice to add as I eat! Overall, I thought this recipe turned out really well and was super tasty! It did not take long to make at all, maybe about 10 minutes. I would definitely make this recipe again in the future!! 10/10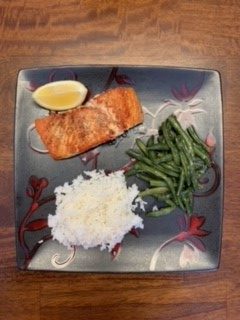 Ingredients:
4 salmon fillets 4-6 ounces each
1 tablespoon olive oil
3 tablespoons butter
1 1/2 teaspoons minced garlic
2 teaspoons lemon juice
salt and pepper to taste
1 tablespoon chopped parsley