Over the course of the semester we were introduced to three different resources that would eventually be used throughout the semester very frequently. These three resources were Twitter, Slack and Blogs. With joining all three platforms, I was able to connect with my classmates, other educators from around the world/community as well as contribute to the learning of others in a positive way. These platforms allowed me to create great online relationships and open me to new resources that I will hopefully bring with me to my future classroom!
Now, lets first take a look at Twitter! I was a little skeptical on Twitter at the beginning of this course because I did not know much about it and did not understand how this social media app could help educate me. Until I downloaded it and gave it a shot, it definitely changed my perception on it. Twitter allowed me to share different resources that I have found to my classmates, as well as have mindful connections/conversations with my peers. One main thing I really enjoyed about Twitter was the #SaskEdChat. I really enjoyed taking part in a few conversations over the course of the semester as the questions allowed me to think about my own perceptions about Education as well as my well-being. This was a great tool that allowed me to make connections and share my findings with other future educators to use for the future!
Here are some screenshots of my Twitter: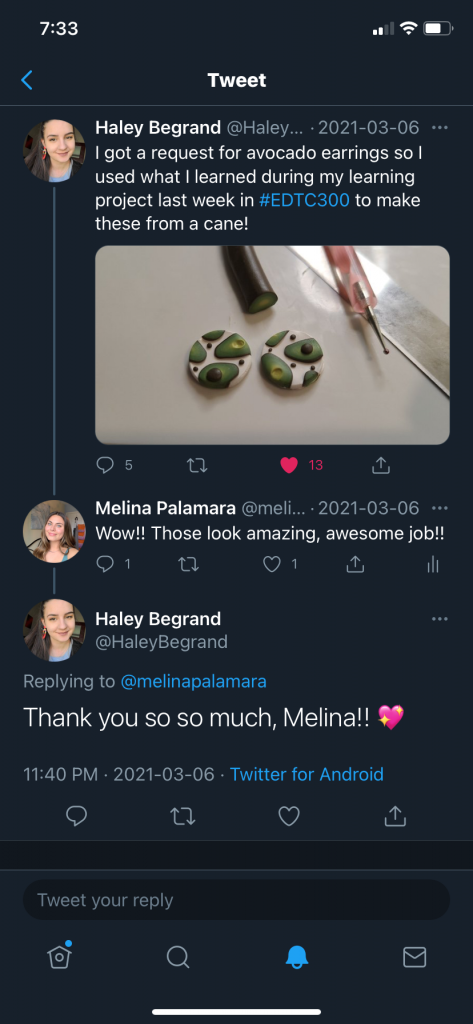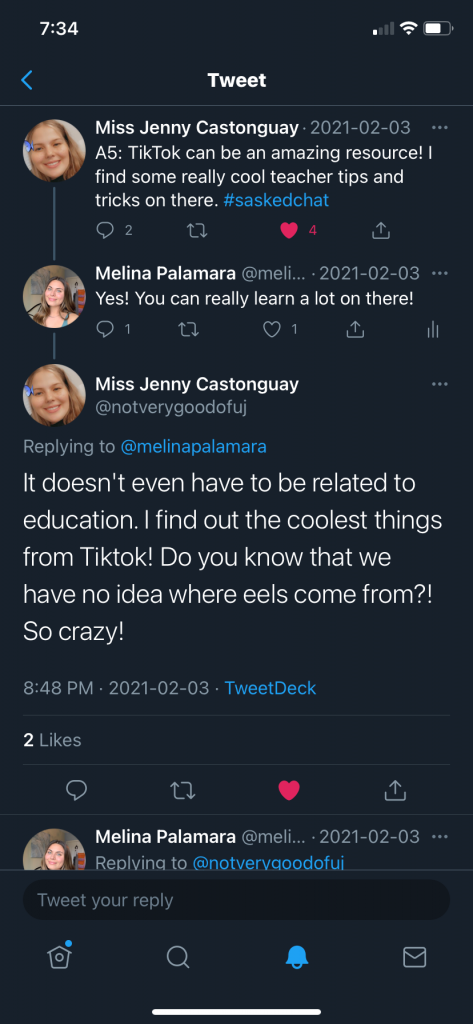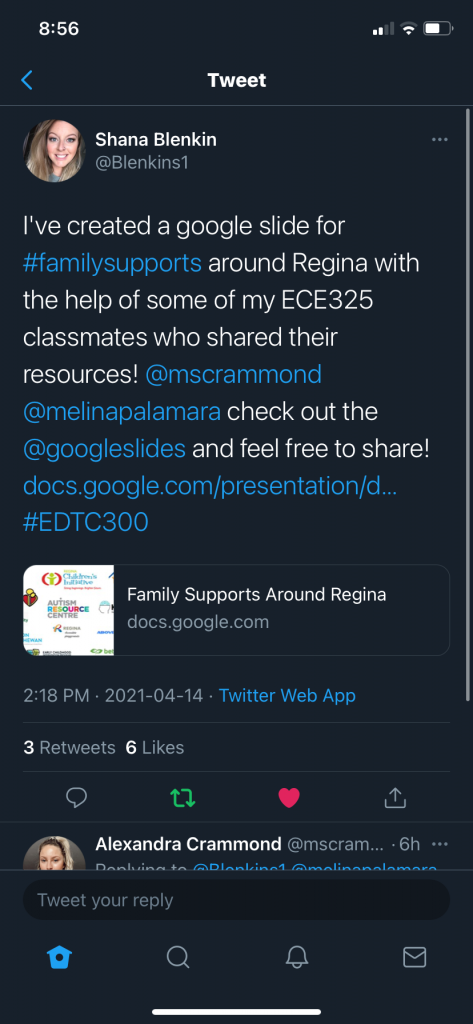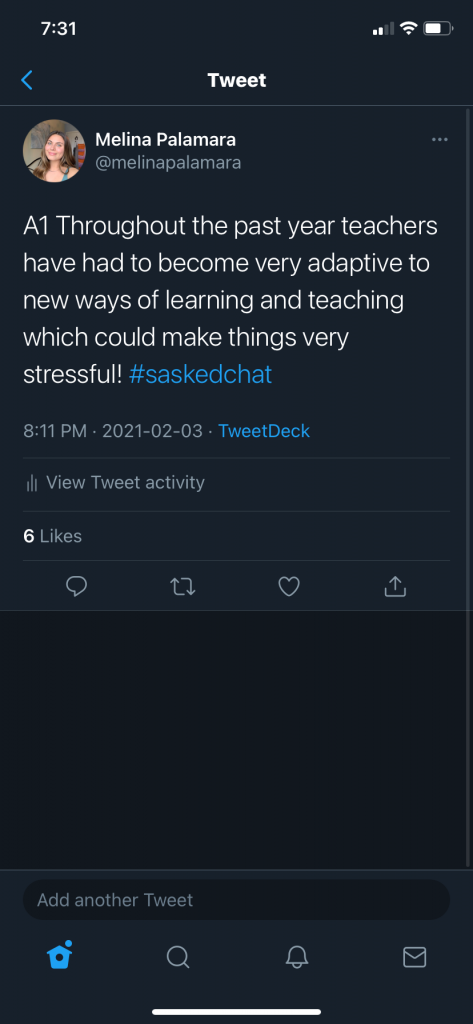 Now lets take a look at Slack. I have never heard of Slack before this class and did not know much about what it all entailed. However, I learned that this is a great way to communicate with your fellow classmates and exchange information/resources with one another. This app was great to have downloaded as it allowed classmates to ask questions from our peers and receive feedback in a quick manner. I enjoyed having this app and would definitely be sure to use it in the future as it is a great community to build relationships and connect with one another. I however, did not ask questions on the app but lots of others contributed to the chat. Here are some examples of what the Slack community can look like: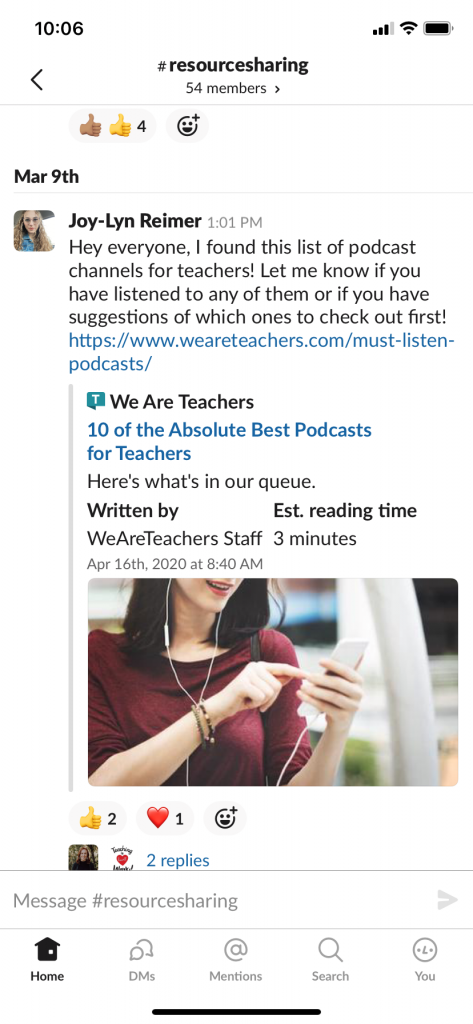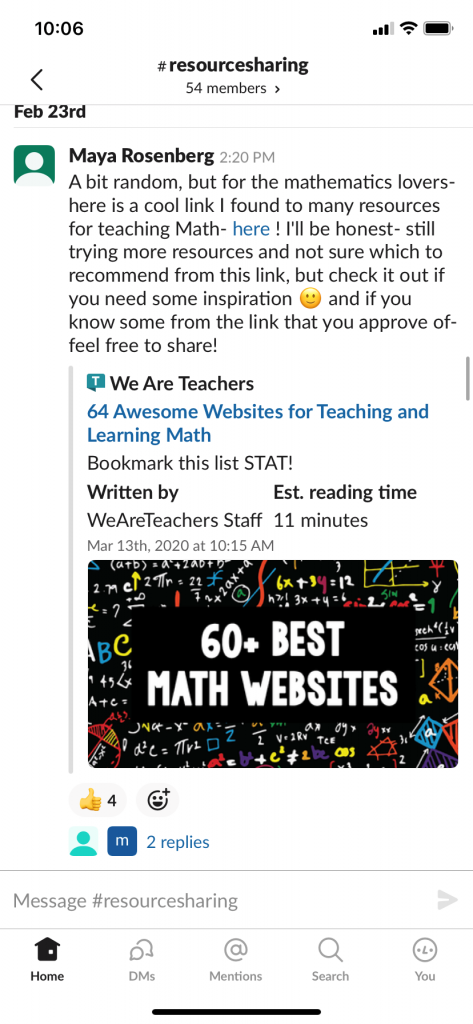 Finally we had blogging. I have blogged in the past and really grew into it. I loved having this tool to communicate with my classmates and be introduced to new resources and technology. I aimed to comment on several classmates blogs a week in order to build those connections and support them in their learnings. I loved the Learning Project we had to do over the course of the semester. I really enjoyed readings other blogs of my peers and learning what their project was about. This allowed me to see their progress and see all the new things they have created over the course of this semester. This was a great tool and easy way to communicate with others in a mindful manner.
Here are some examples of blog comments: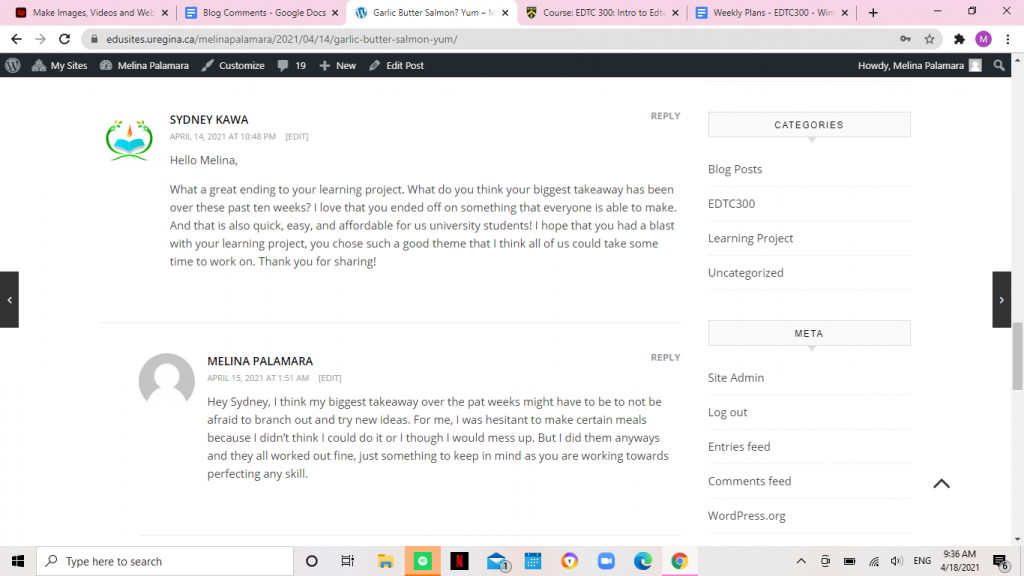 This course has led me to create multiple connections with others and allowed me to develop a better sense of my own digital identity. I was introduced to many resources/technology sources that I will bring with me into my future classroom! This was a great place to learn with one another, share resources, and help each other.
Take care,
Melina