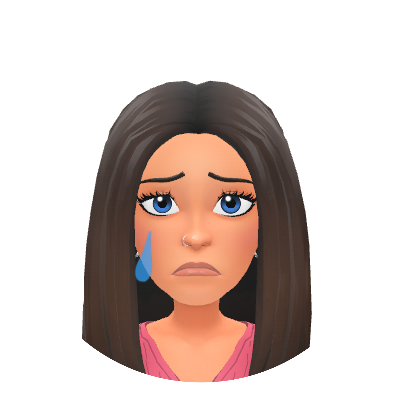 Wow, I cannot believe this semester is already coming to an end and this Learning Project is over. I absolutely loved this project and enjoyed making something new and different every week! I had no idea I would have enjoyed this project so much but over the semester, I really came around to enjoy every part of it. This allowed me to finally learn how to cook which is something I have been wanting to learn how to do for some time now. This project was a great start for my cooking journey! I am so glad I was able to participate in something such as this. This project allowed me to explore different websites, tools, as well as recipes that I never thought I could use. This was such an amazing experience and opportunity!
Reflecting on my Learning Process:
Week 1: Alright, It's Time to Learn How to Cook!
I decided to learn how to cook for my learning project as it is something I have been wanting to do for a long time
Finding resources from websites, videos, social media, as well as from people I know
Experiences from people
Week 2: Did Someone Say Pasta!?
–Resource Used: TikTok
For my first meal I tried out a vodka sauce that I have been seeing all over my TikTok
It was a little overwhelming cooking for the first time and had a few problems along the way
Overall, it turned out well and was a big hit!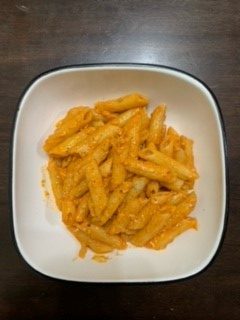 Week 3: Round 2… Here We Go!
Resource Used: None
Second time cooking wasn't so bad, off to a good start
Tried making a stir fry with chicken and some peppers, on a bed of rice
I have made stir fry in the past so I was familiar with what had to be done!
Week 4: Video Making and Cooking All in One?!
Resource Used: Recipe Tin Eats
This week I made chicken cutlets with a side of smashed potatoes
I used my moms recipe for the chicken cutlets but found a recipe for smashed potatoes that I really wanted to try online
During this week I also had to put together a video using a tool listed in class and I chose Adobe Spark
This was my first time using Adobe Spark and I had no issues with using it and was able to create a video in no time. There were a lot of instructions and guiding tools within this website that helped me create this video
Week 5: Stuffed Bell Peppers… Yum
Resource Used: YouTube: How to Make Easy Stuffed Bell Peppers
This week I made stuffed bell peppers, which I have only had once before but thought they were really good I wanted to give them a try and make it myself
I found a YouTube video that was easy to follow and allowed me to add in my own ingredients to my peppers to make them how I like them
All that was needed was bell peppers, ground beef, cheese, corn, tomatoes, and rice
Overall, this meal turned out great, it had a lot of flavour
Week 6: Taco Tuesday!
Resource Used: Betty Crocker
This week I thought that since it was a Tuesday why not make tacos?!
My whole family loves tacos so I knew they would enjoy this one
This recipe was easy as I just followed the website and only took about 10 minutes!
Getting better at time management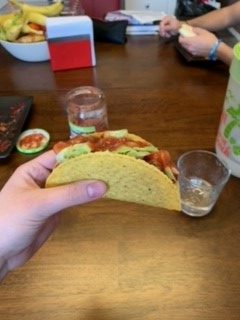 Week 7: Olive Garden's Famous Fettuccine Alfredo But at Home
Resource Used: The Cozy Cook
I was very excited for this weeks supper as it was a recipe recreating Olive Garden's fettuccine alfredo, one of my favourites
My sauce came out a little too thick than what I would have liked but I still made it work, might of added a bit too much cheese
Overall, was not better than Olive Garden's but it was still pretty tasty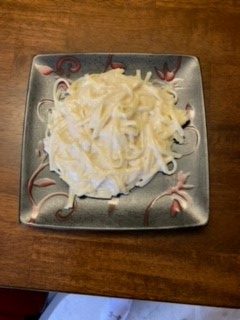 Week 8: This is No Kraft Dinner
Resource Used: YouTube Macaroni and Cheese Recipe
This week I made mac and cheese but not from the box, this was homemade
I had a little trouble this week with my time management and struggled making the sauce as well as my noodles. I was so focused on my sauce that I may have forgotten about the noodles for a few minutes and over cooked them.
In the end the mac and cheese was not that bad at all, I don't think I would make this particular recipe again but I'm glad I gave it a try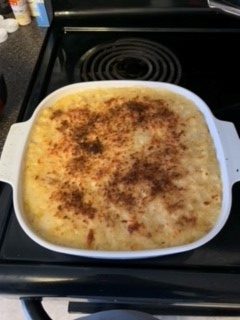 Week 9: Garlic-Parmesan Wings
Resource Used: Pinterest
First time making chicken wings with a different type of seasoning
I really enjoyed this recipe as it was really easy to follow and use, plus I had most of the ingredients at home already!
The chicken wings turned out great and had a lot of flavour! I would definitely make these again!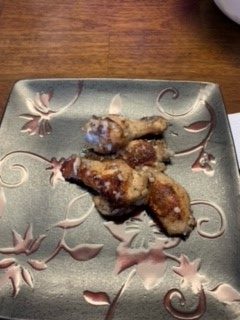 Week 10: Garlic Butter Salmon? Yum
Resource Used: Pinterest
For my final week of cooking I decided to make salmon, with a garlic-butter sauce
This was my first time cooking salmon and I was a little nervous because I didn't know what to expect however, I thought it turned out really good!
I got to make a garlic-butter sauce that I poured on top of my salmon to give it a bit more flavour
Overall, I loved this recipe and would definitely make it again!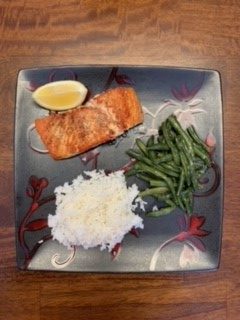 What's Next?
Even though this semester has come to an end and I am no longer taking part in this learning project I am still going to continue my cooking journey! Throughout the semester I was able to try different recipes and try new foods that I never thought I would make. I will still continue to learn how to cook new recipes and foods every once in a while. This experience has taught me a lot and showed me that if I just try my best at something and give it a try I can achieve great things! As I was not able to cook/bake with my grandma as I hoped just because of Covid, in the future I will make that happen as it is something I want to experience with her and enjoy! Thanks for following this journey with me! 🙂
Here is my Summary of Learning video: