I have kept a journal for a few years now so I was excited to incorporate it into one of my classes. I chose a blank page from my garden planning section and sketched a few of my favorite plants that I grow year after year. When I was instructed to consider my environment, I imagined the environment under the soil which is why I also included the roots, worms, and microbes in my sketch. Water is important to the plant growth so I included water drops.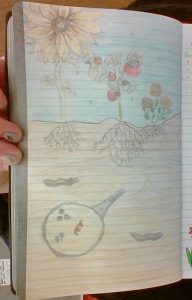 When I am in my garden at the peak of the season, I tend to sit quietly on the ground just to connect with and listen to my surroundings. I almost always feel my grandma's presence in my garden. She taught me how to garden and was very special to me. If I sit quietly, I can hear the sprinkler, usually on in the back corner for the pumpkins, and birds. Sometimes the birds will land and walk around me without fearing my presence. I don't hear traffic since I live in a small town outside the city. I can smell the fresh soil and different plants depending on where I sit. My favorite plant to smell is tomatoes. I observe the smallest pieces of my environment including the bugs crawling in the soil. 
This reflection process reminded me how lucky I am to have been encouraged to connect with my environment. The Sound of Silver Bells story was very informative on how people can become so absorbed in their daily lives that they forget to step back to observe their surroundings and count their blessings.