As the title states, I am always looking for a new hobby. By having a hobby I am passionate about I am able to use my free time to do this, and usually is a great stress reliever for me. I have tried many different sports and hobbies throughout my life but can never find anything that actually sticks. Here is an exhausted list of sports I've tried; soccer⚽️, volleyball🏐, badminton🏸, cheerleading📣, hockey🏒… you get the point haha. I have found recently that I don't exactly need to do a sport as I am not sure I am very coordinated that way, but I just want to be 'fit'. I have started working out at a gym🏋🏼 with two of my best friends and I think it is really the thing for me, working out isn't boring anymore and doesn't seen like a chore. In lieu of hobbies, I have also tried many things; polymer clay earrings, painting🎨, sewing, etc. It is not that I hate doing these things, but they weren't something I felt passionate about creating and selling.
Just recently I believe to have found a hobby I am not only passionate about, but also something that many of my friends were interested in purchasing as well.. BEADED NECKLACES✨! Many fast fashion websites sell these, but I am hoping less people will support these sites and help support my small business instead. I am very excited that we are able to choose any type of learning project for EDTC 300, and I am choosing to do these trendy beaded necklaces. I started making these about two weeks ago and my clientele has grown quite a bit, I am excited to share where this small business of mine goes, and will make sure to report back to you guys!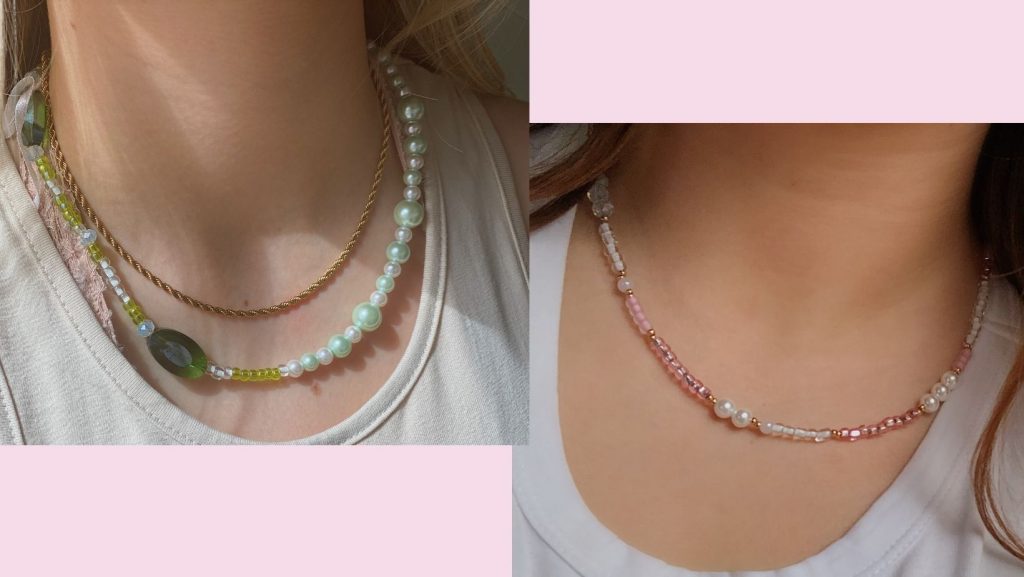 When I first decided I wanted to create necklaces, I knew I would need to spend quite a bit of money to grow my collection of beads and have the right supplies. I started by watching a Youtube video about the basics to necklace making and the supplies I would need. This video was all I needed to begin learning how to make these necklaces, the video was straight forward and while watching I wrote a list of all the things I would need.
I also began finding necklace patterns and ideas from Pinterest by searching 'beaded necklaces'. It is really nice to be able to scroll through Pinterest and not only see thousands of different ideas, but also be able to pin them to my board so I can go back and find them. I love Pinterest as a way of learning because of the many features it has, and find myself scrolling my home page more often than not 😁!