First things first, I made an account. Easy peasy. To begin my Feedly quest, I started to search for some education related blogs to follow. In the search bar, I typed in "education" and a bunch of blogs came up right away. Making sure I wasn't going on a crazy follow frenzy, I decided I needed to be careful with what I want to engage with. So, I began browsing through the accounts checking to see how many followers the blogs had along with how active they were in producing interesting articles. I followed the blogs that shared articles that I found most interesting as well as the blogs with over a thousand followers. Once I followed a blog page I would scroll through skimming their articles and ended up reaching the 'you might also like' section which helped me find similar blogs to pick through and follow!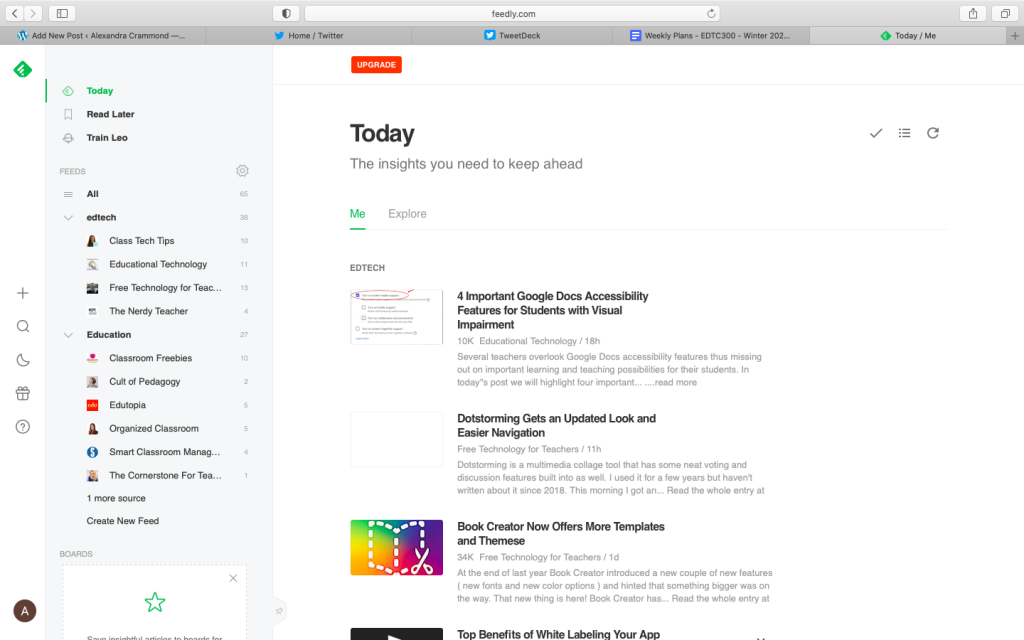 One source that I found particularly interesting was Classroom Freebies. It covers all sorts of education related topics that will be useful as a future educator. A few articles it offers are things like suggestions for lesson plans, ways to provide lessons virtually (ugh when will it be over), along with blogs pertaining to teachers overall well-being.
Another source I will be checking out frequently is Educational Technology. This blog is perfect for me as I am someone who sometimes struggles with new technology.
A few articles they shared that I found interesting were:
I already know that Educational Technology will be beneficial to me!
What else should I follow? Let me know!