This week I was interested in practicing Bikram yoga, or what most people know it as.. hot yoga! Bikram yoga is a series of 26 yoga postures practiced in a room heated to 105 degrees F. I have heard so much hype about hot yoga but never had the chance to practice it. So why not try it at home?!
To incorporate a new resource, I decided to try using Pinterest for this weeks learning. I simply typed in 'hot yoga' in the search bar and had tons of resources pop up. I clicked on this article to learn how to practice hot yoga in my own home.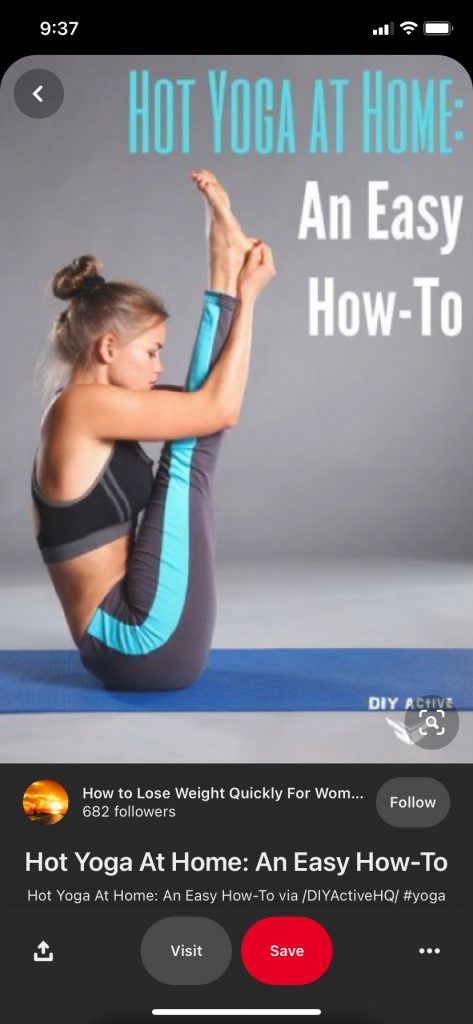 I really appreciated this article because it not only taught me how to create a hot yoga environment, but it gave me background information on the hot yoga practice itself. One downfall of this article is that it didn't provide an actual flow for me to do so I had to search my own.
The 'hot yoga 101' section in the article provided me with all the benefits of hot yoga including:
cardio
improved posture
deeper breathing
spine protection
detox
increased blood flow
increased flexibility
muscle strength
SO many great benefits how could I say no to it.
My sizzling hot yoga space
First off, the article told me I needed a space that could best suit hot, humid temperatures. It suggested to use your bathroom so you could crank the hot water and turn up the heat in your house to really get the hot yoga environment at home if the space is big enough, which mine is not. I was super disappointed I couldn't try this out because it would be so different and fun to have the heat at a more realistic temperature for bikram yoga but oh well. So, I decided to pick my bedroom. Then it told me the heat needed to be at 105 degrees Fahrenheit. 105 degrees Fahrenheit! Yikes, I almost shut the hot yoga idea down after reading that. To be realistic and fair I decided to turn my heat up to 80 instead of 105 because 1: bills and 2: that's way too hot for the rest of my house! I closed the door to my bedroom and turned on my humidifiers to make it get a little steamy.
I also really appreciated the 'Tips and Tricks' section of the article! If I hadn't read this before practicing I probably would've worn my regular workout clothes and gotten way too sweaty.
I followed along with the video below of a hot yoga sequence with Adi.
I found this sequence to be fairly easy opposed to the power flows I was doing the weeks prior. It probably would've been more challenging if I could have actually practiced this yoga sequence in an environment set at 105 degrees Fahrenheit, but I made the best out of my situation. I could have searched for another power flow and really gotten a good sweat/workout in, but now I know for next time!
Even though this weeks yoga didn't feel as challenging or get my heart rate up as much as I wished, I still felt refreshed and energized for my day. The way I feel after is always the best part of practicing yoga. I feel so much better mentally and physically!
What type of yoga should I practice next week?
What other resources should I learn yoga from?