It all started with a book, a book I read this summer, a book that became more than just a book. This book became a learning project for EC&I 831 and evolved into something quite special. This book is called "Fish out of Water" by Joanne Levy.
"Fish out of Water" is about a boy named Fishel who needs to come up with a bar Mitzvah project that "gives of himself" back to the community. Fishel or Fish as his family and friends call him has always loved the green, pink, and purple socks his grandmother has knit him. He described them as a loving hug from his Bubby even when she was not there. For his Mitzvah project he decided he would like to learn how to knit and then knit socks for children who were living in shelters or in care to let them know that someone in the world was thinking of them.
Fishel is met with resistance by his Bubby who believes that knitting is for old women, and his friends who think that knitting is for girls. For a long time he didn't want to tell anyone about his project because he didn't understand why so many people didn't think he should do it. When he finally told his teacher, then his Rabbi, and then his mother they showed him that knitting is for whoever wants to do it, even his grandfather – Zaida – thought it was a great idea. In fact #boyscanknit!
When Professor Alec Couros introduced this learning project to our class, it didn't take me long to decide that I was going to learn how to knit. I already knew that I was going to read this book to my classes, but I didn't know that I would be able to show them in reality that #boyscanknit. I was super excited to get started!
In my first blog post I showed how I started by exploring different tutorial websites and YouTube videos. I ended up settling on Sheep and Stich with Devina because of the high quality videos that didn't have much advertising. I really liked her videos because they got straight to the point, and the high quality videos were easy to focus on while also trying out what I was learning at the same time.
My learning started to take off. I learned pretty quickly how to cast on – getting the yarn ready on the needle to start knitting. It is the first step, and then the basic knit stich. I was pretty slow at first (and lets face it I still am pretty slow, but much faster than I was), but soon enough I had completed a dish cloth. As I showed in my second blog post I had a lot of difficulty figuring out how to cast off. Casting off is necessary to complete your work so it doesn't all unravel. It was difficult to tell in the video just how to do it properly, and I thought I was messing it up. A few of my loops ended up coming off the needle and I had no idea how to recover from that. I ended up with: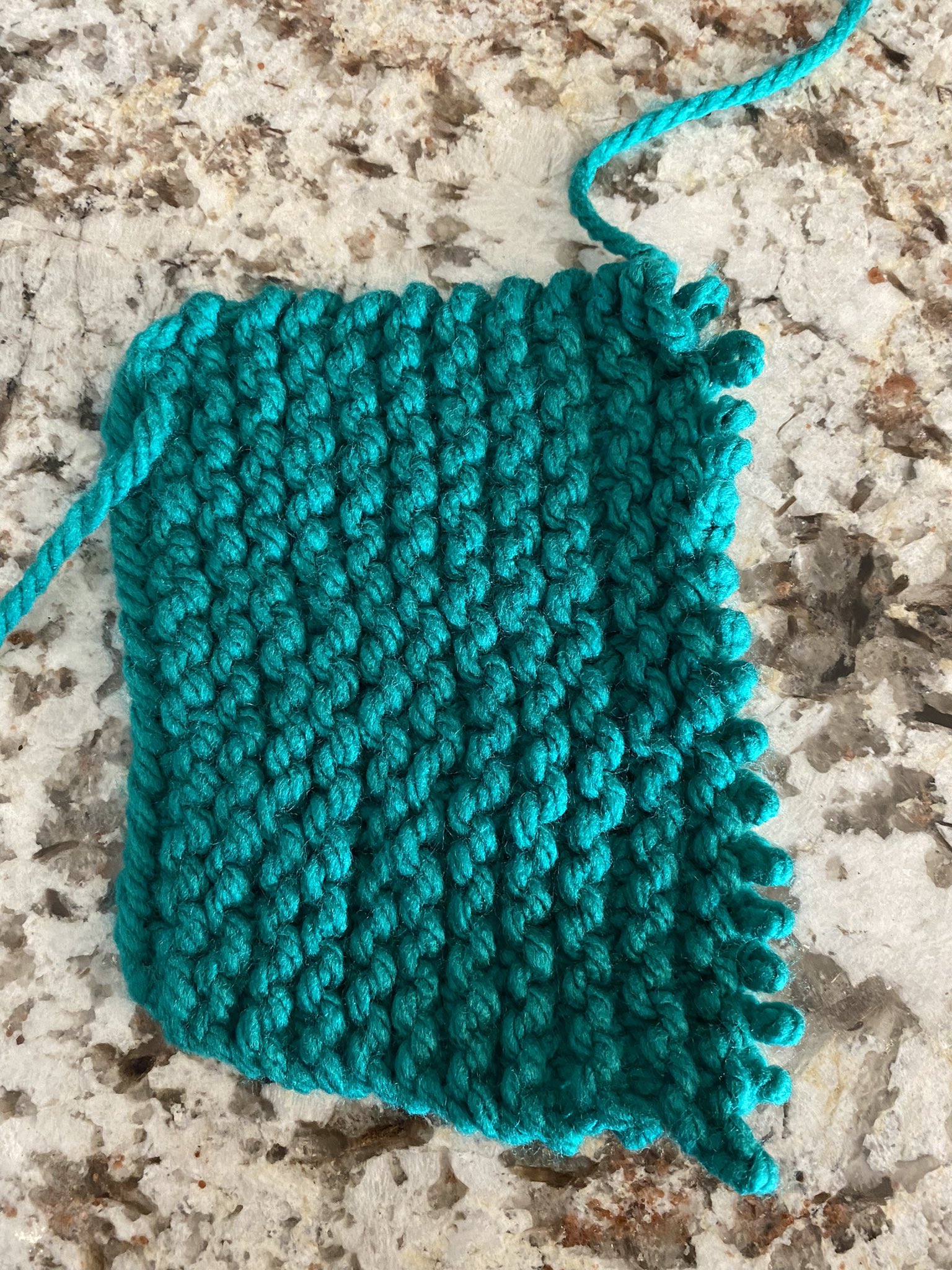 I decided that I couldn't wait a long time before getting another chance to cast off, so I decided to quickly knit a swatch and then attempt it again. This second time was a success. I did it! In my video at the 2:50 mark you can see what I was able to accomplish.
Once I figured out how to cast off the next thing I wanted to learn was how to knit faster, and how to add a different colour into a project. Ohh boy! I didn't quite realize what I was getting myself into. Hours, and hours, and hours later I finally finished a spool of yarn and was ready to add another. My sister in law was super helpful here. It just happened to be Thanksgiving so her family was in town and she is a knitter. She also happens to be a great teacher (so thank-you very much Amanda Thompson).
Once I started it took another very long stretch of time to finish something. Knitting is a perfect example of needing to practice the art of patience because when you are first starting up it is a slow and steady art form. However, after a lot of time and patience I finished something that I am very proud of. You can watch the big reveal in my third blog update video or just see the pic below.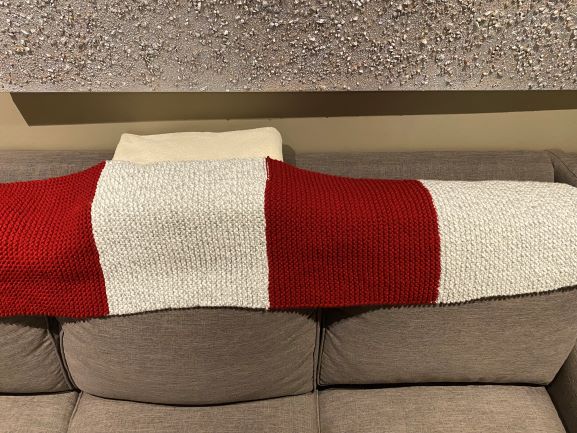 After knitting the above shawl I attempted to knit a toque by using circular needles. I was able to figure out how to use them, however as I demonstrated in the video from my forth blog post what I was hoping would be a toque ended up for a giant head, so my attempt was a failure, but the lessons I learned were valuable. I learned that patterns are available for a reason and I should try to use one the next time I am going to attempt a toque, and based on how curly my finished product ended up I needed to learn how to do a different stich.
Since my last post I learned how to purl with the following video:
I'm still working on it as it is another one that takes a long time. It is basically like reverse knitting so you have to unlearn everything you thought you knew and start all over again. In my first attempt I have no idea what happened but I started with 25 stiches and ended up with over 30. You'll notice that in one part of the project it gets wider and that is exactly where I ended up with more stiches. The one part I found difficult was once I had finished a row of purl stich, I had to do the next row regular knit stich and I had a hard time figuring out where to start. Perhaps that is why it ended up with extra loops???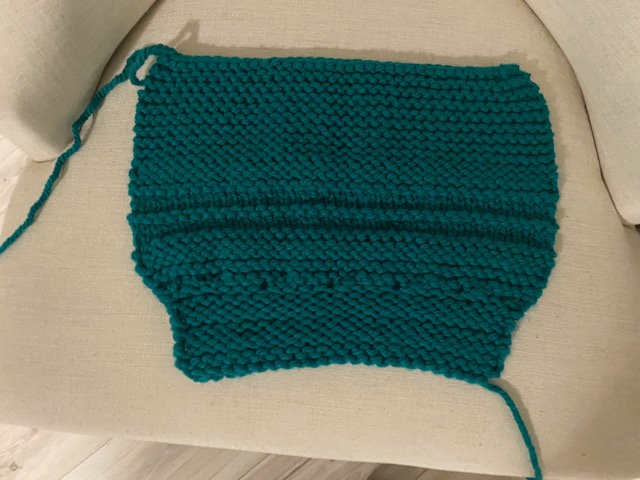 You can tell the purl stich by looking at how the pattern changes.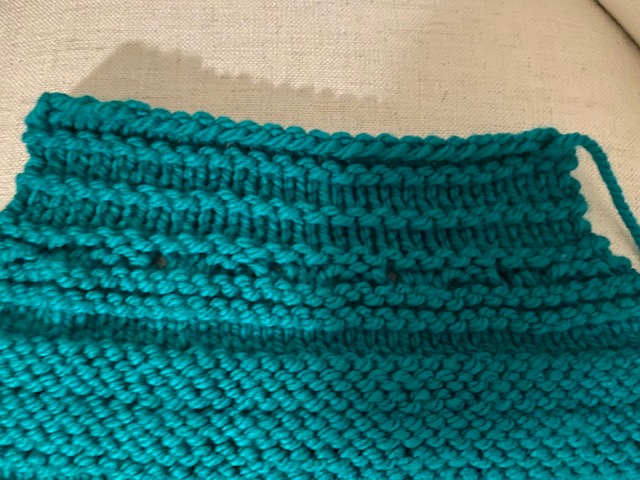 The project I am currently working on is a scarf. I started with a regular knit stich followed by 1 row of purl 3 regular then another row of purl stich. I plan on finishing the scarf with the same pattern. Below is what I have so far.
I have really enjoyed doing this project because of the interesting conversations I have had with others, such as one parent who ended up sending me a book to peruse through.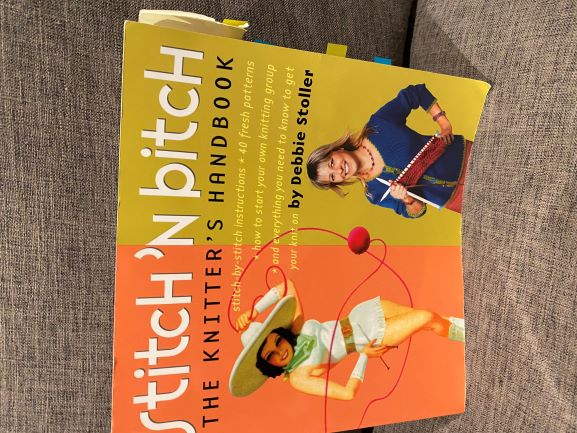 I haven't had an opportunity to really look through it yet but the few pages I looked at were super confusing. I am definitely a learner who has so see something being done and then have the opportunity to do it myself. The images and explanations in this book are daunting to me however I may give a pattern a try over the Christmas break.
I think the most significant thing to come from this learning project has been the conversations I have had with my students. Because we are reading the book "Fish out of Water" in class and I have shown students my own knitting projects, I have found that opening up about myself in the classroom, students have opened up about themselves a little bit more. We have had some really deep conversations and have been able to connect at a completely different level. Many more students have told me about the stereotypes that affect them, and how they don't fit into societies mold of how boys and girls should be and the things they should do. Another thing I have noticed is the number of students who have felt comfortable talking to me about their sexuality, or about being transgender. They have told me many times that there are more than two genders and we have all decided that we need to be careful about using the words boys and girls.
The lesson in "Fish out of Water" is to trust yourself and to do the things that make you happy. The main character Fish doesn't like typical boy things and as he challenges gender stereotypes be breaks down barriers and show to the reader how harmful these stereotypes can be and the value of being true to yourself. I won't give away the ending but I would be lying if I said that I didn't cry a little (out of happiness for Fish) because #BoysCanCry and they certainly can #knit. #BoysCanKnit